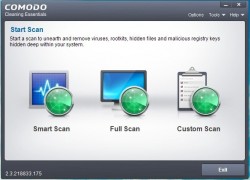 There are tons of different virus and malware removal tools out there. However, the problem is most of these programs have to be installed to do their job. What if you get hit by a virus that prevents you from installing new software and you have nothing to remove it? That is where Comodo Cleaning Essentials comes in.
WHAT IS IT AND WHAT DOES IT DO
Main Functionality
The main function of Comodo Cleaning Essentials is to remove viruses and malware that harm your computer. This cleaner works on a 'two point' system. First, it offers a kill switch to stop harmful programs and processes that may be running on your computer. Second, it offers a malware scanner to locate the harmful components and remove them.
Take note that Comodo Cleaning Essentials is an anti-virus/anti-malware — it uses the same anti-virus/anti-malware engine and definitions database ad Comodo Internet Security — but it should not be used as your main anti-virus/anti-malware program because it lacks active protection. Comodo Cleaning Essentials is only for when you suspect an infection and your other tools cannot get rid of the infection– it is a clean-up tool, not a prevention tool.
Pros
Protects against all types of malware, including viruses, spyware, adware, trojans, worms, rootkits, etc.
Is portable (no installation needed) — can be run off a USB device
Grabs the latest definition database from the internet whenever the program is run but doesn't require an active internet connection — will still run if you cannot download the latest definition database
Cons
Comodo's anti-virus/anti-malware engine does not have very good third-party ratings, e.g. it is not VB100 ranked
Scans a bit slowly, compared to other security programs
Discussion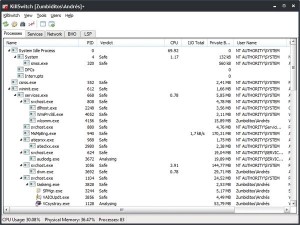 To say that the internet is flooded with virus and malware removers is an understatement. In fact, there are a lot of really good ones out there. However, the best cleaning programs need to be installed on your computer before they can be run. If you're already infected with a virus that prevents you from installing software, you could find yourself between a rock and a hard spot in the situation that your already installed anti-virus/anti-malware program doesn't remove the infection (assuming you have something installed).
The good news is, there are programs out there to handle just such an event. Norton Power Eraser, the soft Vinay covered, is one such example. Comodo Cleaning Essentials is another — Comodo Cleaning Essentials does not have to be installed to run. The program can be run right without installation, even from a USB device (I tested it from an SD card).
After the program is up and running, the user has the ability to use the program's 'KillSwitch' option. This gives you the power to stop unsafe programs and processes that may be running. Chances are, one of these malicious programs is keeping you from being able to install a heavy duty virus remover. Once you have stopped the suspicious programs or processes, you can use Comodo Cleaning Essentials' scanner to scan for and remove malware. Since one of the type of malware Comodo Cleaning Essentials looks for are rootkits, you will be asked to restart your computer and Comodo Cleaning Essentials will run itself before Windows boot. You will then be prompted with the scan results once your computer has completed booting.
As useful as it may sound, Comodo Cleaning Essentials is not perfect. One of the biggest issues is the anti-virus/anti-malware engine and database used by Comodo Cleaning Essentials — the ones found in Comodo Internet Security — is not very well ranked by third-party benchmarking companies. For example, Comodo Internet Security/Comodo Anti-Virus currently do not have VB100 ratings; the last time Comodo had VB100 was in April 2011. Aside from VB100, AV-Test.org gives Comodo Internet Security a mediocre rating — not the lowest but definetly not the highest, either. These ratings mean that Comodo may not be the most effective at removing malware. However, since Comodo Cleaning Essentials is one of those after-the-fact tools (and not a main anti-virus/anti-malware program which you can only have one of), it doesn't hurt to keep this in your toolbox in case this finds and removes malware that others miss.
Another (less minor) issue I ran into is the malware scanner takes longer to run scanners than other scanners I have used in the past. This may be due to the fact that it was running off an SD card and not installed on the computer itself.
CONCLUSION AND DOWNLOAD LINK
Comodo Cleaning Essentials is not the best virus and malware remover on the market. However, it is still a useful tool to have downloaded in case you ever run into issues; its 'KillSwitch' is particularly useful for ending malicious programs/processes. If you find yourself in a situation where a virus is preventing certain programs from running, Comodo Cleaning Essentials is a way to take back control of your computer. At the very least, it will help you gain control long enough to install a stronger cleaning program.
Price: Free
Version reviewed: 2.5.2
Supported OS: Windows XP / Vista / 7
Download size: 22.6MB
VirusTotal malware scan results: 2/40
Is it portable? Yes
Comodo Cleaning Essentials homepage
Related Posts