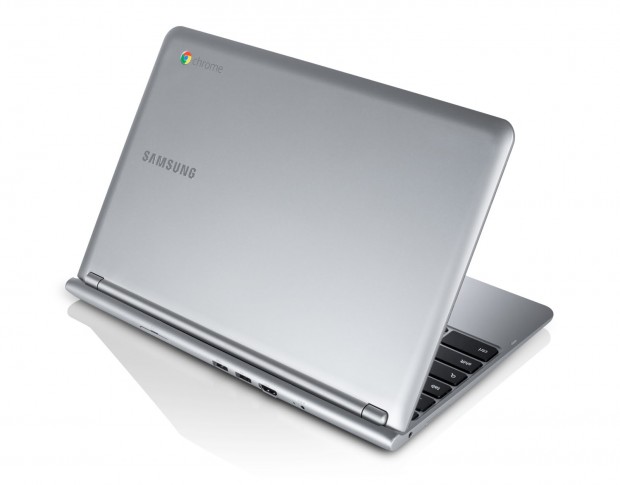 A Chromebook is a laptop that runs Google's Chrome OS. Chrome OS is an operating system that essentially revolves around the web; it uses Google Chrome as its backbone and everything you do is through that browser and web apps. Until now Chromebooks have been fairly expensive which has probably stunted their adoption. After all, who would spend $500 on a Chromebook when you can get a Windows laptop for the same price? Google seems to have gotten the message and has now released a significantly cheaper Chrome — US$249.
It is an intriguing deal — a Samsung-built Chromebook (weighing in at 2.5 lbs and 0.8 inches thickness) for $249. Will it replace your Windows or Mac or Linux laptop? No. But it can be useful for people who want internet access on-the-go (it boots up in under 10 seconds) or people that primarily do their work via the web. It can also be used for taking notes, thanks to apps like QuickNotes for Chrome, Google Docs, or Office Web Apps.
The $249 version of the Chromebook is WiFi-only while the 3G version costs $329.99. Both versions are powered by a 1.7 GHz Samsung dual-core Exynos 5 ARM-based processor with accompanying GPU and 2GB RAM. Internal storage comes in the form of 16GB with free 100GB cloud storage via Google Drive. The screen is 11.6 inches with a 1,366 x 768 resolution meaning the laptop can do 1080p video playback. Other specs include Bluetooth 3.0, one USB 3.0 port, one USB 2.0 port, VGA camera, one HDMI out port, and an SD card slot. The battery is rated at 6.5 hours for the WiFi-only version and 6.3 hours for the 3G version, which seems to be very low for a laptop running an ARM-based processor but is still higher than most (if not all) Windows laptops.
This Samsung Chromebook is currently available only in the USA and UK. You can grab one by hitting up the link below. Be sure to let us know in the comments if you are considering jumping on this — I'd love to hear some feedback regarding the device!
Related Posts