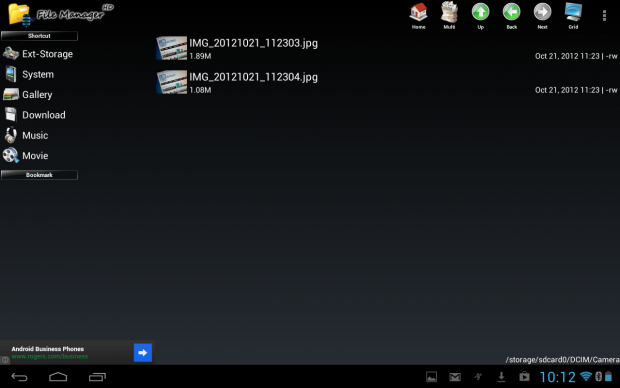 What is File Manager HD? It is a free, simple-to-use file manager that was specifically designed for a tablet, meaning it work well on the larger screen of a tablet which is something that a lot of apps on Play Store still lack. This app is for users who need to manage (open, edit, rename, move, delete, copy, etc.) the files that are stored on their device, and I'm not just talking about photos and videos.
What is it and what does it do
Main Functionality
File Manager HD is a file manager that was originally designed for use with Android 3.0 Honeycomb, which, as we all know, is the version of Android that is specifically for tablets. The first tablet to run this version of Android was the Motorola Xoom. File Manager HD now supports Honeycomb, Ice Cream Sandwich, and of course the latest version of Android, Jelly Bean.
File Manager is a easy-to-use and fast file manager that has all the basics of file management plus more, like being able to act as a root explorer.
Pros
Includes all the basics of file management – open, move, delete, rename, copy, share, etc.
Includes features beyond the basics, like ability to unpack archives (ZIP only), SMB support, built-in text editor (TXT files only), built-in image gallery, built-in SWF player, built-in search tool, and more
Root explorer included for rooted devices
Performance wise, File Manager HD does a great job — rarely, if ever, becoming unresponsive or crashing
The user interface is nothing fancy but it is easy to understand and use
Supports 19 different languages
Supports high definition displays
Cons: 
Ad-supported
Some icons are blurry at times
Only optimized for screens with resolution as high as 1280×800
Discussion
First off, File Manager HD isn't just for English users — it also supports 19 other languages, which is a very good feature to offer in an app for users who may not speak English.
That said, File Manager HD sports a very easy to understand and clean interface that just makes sense. Although this theme really hasn't changed much since the app debuted, it definitely still works and doesn't look outdated. On top of that, File Manager HD also supports high definition displays, which is a feature that I would expect out of any app today, on any smartphone or tablet, but sadly not every app is capable of this. Just a word of advice to those developers: HD is what the user wants…
Aside from the basics of file management, File Manager HD includes a root file explorer, which does the obvious — it allows you to view your root files, which are basically the heart of your system. If you don't know what root is, then you probably don't have a rooted device in which case you don't need to worry about this particular feature. If you are interested in rooting your device, then check out dotTech's how to root guide.
Performance wise, File Manager is rock solid. Throughout my use of this app, it has never crashed or became unresponsive once which is something that many apps just can't do. The app has definitely been polished many times, fixing any bugs that could crash the application. Using the app, there is never any lag and it is very smooth. It's not too often I run into apps like this on the Android platform that actually run this good, and I mean that in a good way. The only real issue I ran into while using this app is at times some icons can be blurry, which isn't a huge issue but it would still be nice to see this fixed someday.
Conclusion and download link
In my opinion, File Manager HD is the best free file manager currently available for Android tablets. It is able to drive performance yet it is simple to use and just works. Further, it supports 19 different languages, so international users shouldn't have too many languages issues with the app. I don't get to say this very often, but it is actually hard to find anything wrong with this app and the issues I did find with File Manager HD are just small minor issues that really don't affect too many users. I  recommend this app to anyone that needs or wants it. It is a great app and, chances are, if you give it a try then you're going to love it.
Price: Free
Version reviewed: 1.8.6
Requires: Android 3.0 or higher
Download size: 1.6 MB
Related Posts