Are you looking forward to mailing a large file but the upload speed is just freaking your mind out? Or do you have multiple files and you want to archive them together? Or maybe you have downloaded a ZIP or RAR file and you want to unextract it? Well, if you are using Windows, you have plenty of options of software that will help you accomplish just that. You can go for different software as there are plenty of them, but the good freeware software is not that easy to find. This article looks at the top free software that you can use for compressing, archiving, or ZIPing/unZIPing your files.
This review is part of our Best Free Windows Software section. Check out more articles on the best free Windows programs from here.
Table of Contents
Best Free File Archiver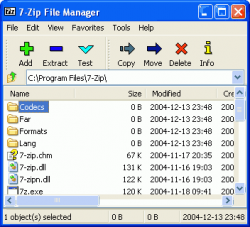 Program Name: 7-Zip
Developer: Igor Pavlov
Download Size: 1.09 MB
Version Reviewed: 9.22 beta
Requires: NT/98/Me/2000/XP/2003/Vista/Server 2008/7
Pros
Is able to extract (aka "unzip") files from over 22 archive formats, including ZIP and RAR
Allows users to encrypt archive contents
Can split archives into multiple pieces
Can be integrated with Outlook
Adds itself to the right-click context menu of Windows Explorer, providing users with quick access to common 7-Zip commands
Can create self-extracting archives
Very good compression ratio
Has helpful online forums
Cons
Interface is ugly
Can extract from 22 archive formats but is limited to a handful of formats for creating archives
Discussion
7-Zip is the best archiving/compression/ZIP program you will find. Not only can it extract contents over 22 archive formats — ARJ, CAB, CHM, CPIO, CramFS, DEB, DMG, FAT, HFS, ISO, LZH, LZMA, MBR, MSI, NSIS, NTFS, RAR, RPM, SquashFS, UDF, VHD, WIM, XAR, ZIP, 7z, XZ, BZIP2, GZIP, and TAR. — but it can also create archives of 7 formats: 7z, XZ, BZIP2, GZIP, TAR, ZIP and WIM. In fact, 7z is an archive format popularized by 7-Zip, an archive format that allows compression and encryption at a level that far surpasses the more popular ZIP and RAR formats.
7-Zip works mainly from the right-click context menu of Windows Explorer. After installation, a "7-Zip" submenu is added to the right-click context menu for Windows Explorer and from that submenu you can perform common functions like extract, create archive, explorer archive, etc. If you don't like using 7-Zip out of the right-click context menu, you can open up 7-Zip File Manager which is similar to WinRAR and can be considered 7-Zip's "main program window". Overall this 7-Zip
Aside from simply extracting and creating archive, 7-Zip has useful features such as the ability to split archives into multiple pieces, encrypt archives (AES-256 for 7z and ZIP formats), compress archive (7-Zip has a great compression ratio, especially if you use 7z format), and can even create self-extracting 7z archives (i.e. you can send the archive to someone who doesn't have 7z installed and they will be able to extract it).
Really the only major issue I found with 7z is its limit of choice when it comes out creating archives. Sure most people will be happy with being able to create ZIP or 7z archives, but I would really like to see 7-Zip have the ability to create RAR archives, too. However, that likely isn't going to happen since RAR is owned by WinRAR, a rival commercial program.
All in all, 7-Zip is great free software that is the answer to all your archiving problems. It's no doubt an excellent free, and in my opinion superior, alternative to the likes of WinZip and WinRAR.
Runner Up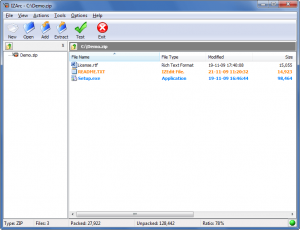 Program Name: IZArc
Developer: Ivan Zahariev
Download Size: 154.45 K
Version Reviewed: 4.1.7

Requires: Windows 2000/XP/2003/Vista/7
Discussion
IZArc is another file archiver with some a amount of features that stands up to your expectation. Similar to 7-Zip, IZArc can extract and create archives, encrypt archives, integrated with Windows Explorer, and create multiple volumes by splitting archives. As added benefits IZArc has the ability to convert one archive format to another, has a portable version, and has a version available on iOS. However, the real attraction to IZArc is that it supports many, many archive formats — even more than 7-Zip.
In total, IZArc can extract from roughly 50 archive formats and create 12 archive formats:
7-ZIP, A, ACE, ARC, ARJ, B64, BH, BIN, BZ2, BZA, C2D, CDI, CAB, CPIO, DEB, ENC, GCA, GZ, GZA, HA, IMG, ISO, JAR, LHA, LIB, LZH, MBF, MDF, MIM, NRG, PAK, PDI, PK3, RAR, RPM, TAR, TAZ, TBZ, TGZ, TZ, UUE, WAR, XPI, XXE, YZ1, Z, ZIP, ZOO
IZArc even supports disk images:
ISO, BIN, MDF, NRG, IMG, C2D, PDI, CDI
Indeed I don't remember any other software with such a great list of formats supported.
The only major issues with IZArc is that:
It comes bundled with AVG Toolbar.
IZArc fails in some basic — but non-critical — functionality, such as there is nothing that would indicate to you that archive creation has been completed.
Overall, IZarc is an excellent file archiver program. If you are unhappy with 7-Zip, IZArc is an excellent second option. In fact, some may consider it even better than 7-Zip — to try to rank the two programs as "#1" and "#2" is akin to splitting hairs.
Honorable Mention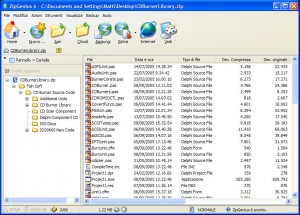 Program Name: ZipGenius
Developer: Matteo Riso
Download Size: 8.1 MB
Version Reviewed: 6.3.2.3110
Requires: Windows NT/98/Me/2000/XP/2003/Vista/Server 2008/7
Discussion
Take average compression software and add tons of extra features to it — this is what you get with ZipGenius.
Apart from carrying out the normal zipping and unzipping function, ZipGenius provides support to archive 21 other formats — most of which can be archived and unarchived although some, like RAR, can only be unarchived. (Full list of supported formats is available here.) The software is completely integrated with Windows Explorer right-click context menu and the interface of the application is also better than the previously mentioned 7-Zip and IZArc.
Other notable features of ZipGenius include encryption of archives, a built-in mail client, and the ability to upload archives to the web via FTPGenius.
FTPGenius is actually a component of ZipGenius. You see ZipGenisu comes in two editions — Standard Edition and  Suite Edition. Standard Edition is basic ZipGenius with core archiving features while the Suite Edition includes "extras" of FTPGenius, ZGAlbum, Cutter 4.5, and support for themes.
The compression speed of ZipGenius is also worth mentioning — it is fast. However, do note the software really doesn't live up to expectation in terms of compression ratio. The compression ratio isn't that impressive like its other competitors. Also, the software doesn't provide a good easy help file, so if you are stuck you need to go online to find your answers.
Leaving aside other factors, I feel the software is worth going for its speed and interface. Combine that with a lot of features and ZipGenius is definitely on my list of top three file archivers.
Other Alternatives
Related Posts