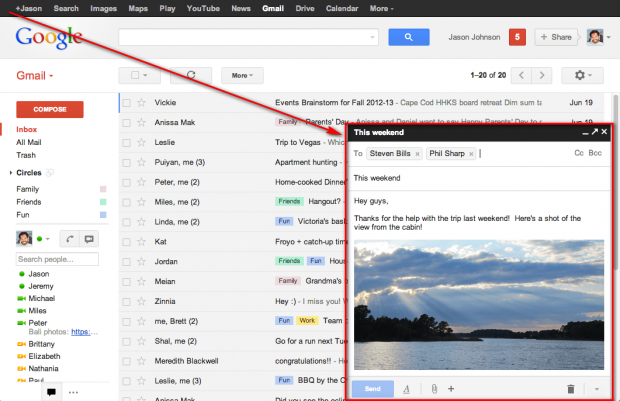 Because I am a multitasking fiend, I have a habit of opening links using the middle mouse button so they open in new tabs. Once thing I've always found to be annoying with Gmail (yes, as good as Gmail is it isn't perfect) is whenever you click on the red "COMPOSE" button, the compose-new-email page would always load in the current tab. This annoyed (annoys) the heck out of me because often times I need to reference other e-mails to send a new e-mail. I'm sure many people are in the same boat. Google apparently feels our pain and has modified Gmail to improve our experience. More specifically, compose-new-email windows now open in a "pop-up" dialog box as opposed to loading in your current tab.
What this new feature does is every time you hit the red "COMPOSE" button, a Gtalk-like pop-up dialog appears in the lower-right corner of your current window. However, this dialog box isn't for chatting with your contacts but rather for writing e-mails. This dialog box makes it easier to write new e-mails without having to load a new page meaning not only can you now reference other e-mails or Gmail content while composing a new e-mail, but you don't lose the e-mail when you load another page in Gmail; just like Gtalk chat boxes, the compose-new-email dialog box stays alive when you move between pages — it just minimizes itself when you load move to a different Gmail page and can be reaccessed by simply clicking the black tab that floats at the bottom of your window.
For the most part, this new compose dialog box offers you most the features you need to send e-mails. In other words, from this new compose dialog box, you can:
Send e-mails to one or more of your Gmail contacts plus the ability to cc and bcc;
Format text (font size, bold, underline, and bullets);
Add attachments;
Embed images and links;
Save drafts;
Discard drafts;
Use spell check;
Switch to plain text; and
Select which e-mail account you want to send the e-mail from, if you have your Gmail account linked to other accounts;
You also have the ability to manually resize the window, if you feel it is too small for you.
There are, however, features that are not yet available via this new compose window:
The ability to insert emoticons and Google Calendar event invites
The ability to print drafts
The ability to label outgoing messages
The ability to send read receipts (this is for Google Apps users only)
The ability to send canned responses
Aside from modifying the compose-new-email window, this new feature also changes how you reply or forward, too:
You now have to click on the recipients field to modify who you are replying you
You now have to click on the down arrow to modify if you want to reply, reply to all, forward, or modify subject
You can how respond inline to emails
This new compose feature is now live and can be used by anyone that wants to. You can activate it by logging into your Gmail account and clicking the red "COMPOSE" button. When you click the button you will then be asked if you want to use the new compose feature or not: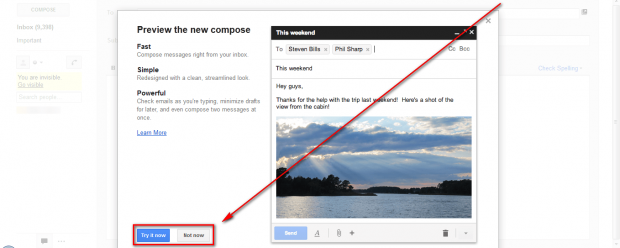 Click "Try it now" activates the new compose feature while "Not now" does not activate. If you select "Try it now" and later learn you don't like it, you can revert back to the old way. Similarly, if you select "Now now" and want to try the new feature later, you can activate it later.
What do you think about the new Gmail change? Do you like it? Hate it? Indifferent? Let us know in the comments below!
[via Google]
Related Posts