Update: It seems GOTD has taken down Streaming Video Recorder (probably because of the trojan). Lets see what happens now.
Update2: Please note the trojan in today's giveaway is not related to the new Software Informer client that comes with all giveaways now. The Software Informer client is clean (I know by personal experience and the fact that GOTD said so) but it is still annoying. The readings people got were false positives earlier. However the readings from today's giveaway is NOT a false positive… the trojan is very real today.

Update3: I hate to say "I told you so" but I told you so. In one of my posts I did mention that malicious people would try to take advantage of GOTD because of the false positive readings, which have been fixed now, that occurred recently.
Update4: If you accidentally installed Streaming Video Recorder and SeekService follow these steps to clean up your computer and you should be fine:

1) Use RevoUninstaller to uninstall Streaming Video Recorder and SeekService (the trojan is most likely from SeekService and not Streaming Video Recorder but uninstall both until we can be 110% sure). Take note that they are two different programs so uninstall both. Use "Advanced" search for both and delete all leftovers found by Revo.
2) Restart your computer.

3) Search your computer for using the keyword "seekservice". Look for "seekservice.exe" and "seekservice.dll". Delete them and anything else with the bloody name seekservice (be sure to explore the folder that contains these files and delete everything in that folder). Be sure to empty them out of your recycle bin. For added protection using East-Tec Eraser 2008 to delete the files to hell is not a bad idea.

4) Scan your computer with your anti-virus and anti-malware protection software. If you have none download the ones I suggest in my Prevention, detection, and cure: 9 programs that will provide the best all-around security for you and your computer – for free thread.

Update5: It looks like GOTD updated their Streaming Video Recorder giveaway to not include the trojan "SeekService". It should be fine to download now.
Update6: No! Still not fine to download! I just downloaded the updated version of Streaming Video Recorder "StreamingVideoRecorder_upd.zip" and Avira still detected a trojan while installing (even without "SeekService"). False positive? Maybe, I don't know. However, since the original file was bundled with an offer to install "SeekService", a confirmed trojan, one can see why my trust in this software has deteriorated. I am not about to trust this software on my computer. I advise people to still not download.
——————————
Unfortunately I was not informed of this giveaway beforehand so I was unable to prepare a review for it. I am not going to prepare a review now either because Avira detected a trojan while installing this file: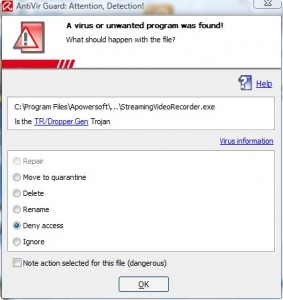 SiteAdvisor also lists the developer's website as dangerous because they detected a trojan in streaming-video-recorder_322667_trial.exe.
The trojan is probably from "SeekService" (which you can and should opt out from):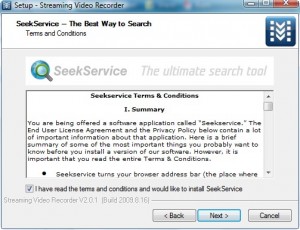 I really can't tell you of free alternatives since I had Avira block this program from installing (therefore not really sure what this program can do). However some may be able to use BB Flasback Express as a adhoc recorder since it is a video capture tool?
***I tried to post this comment on GOTD but I think it was deleted it is still waiting moderation despite the fact that four other comments have been posted.***
Related Posts