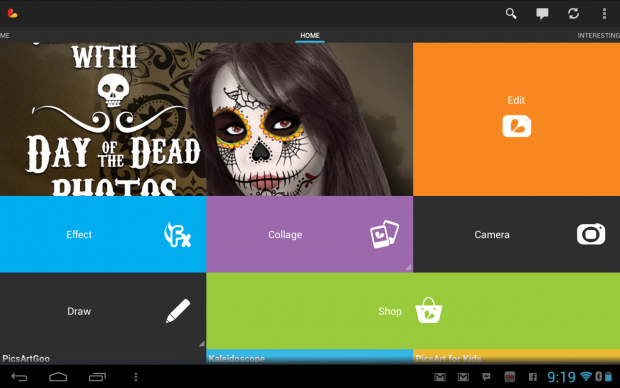 PicsArt is both a photo editor and a photo art community at the same time. PicsArt is for someone who wants a nice photo editor for their Android device, but at the same time, also wants a community to share these pictures with, and a simple way to share these pictures with social networks as well.
What is it and what does it do
Main Functionality
PicsArt is, like I said, a photo editor along with a photo art community. PicsArt is similar to Instagram in the whole adding effects and sharing functionality, but PicsArt does a whole lot more than Instagram, such as create photo collages=, which makes PicsArt a clear winner over Instagram, if you are comparing. You can even draw with PicsArt!
Pros
Simple, and easy to use interface
Features many, many different ways to edit your photos — effects, frames, borders, stickers, text effects, clipart, and more
There are dozens of effects you can use — "stenciler, cartoonizer, sketcher, Orton, Lomo, vintage, cross process, HDR, fattal, pencil, Holgaart, watercolor, contours, comic, neon, gouache, old paper, pastel, red eye remover, Popart 2, smart blur, face fix, color splash, paper", and more
You can create photo collages
You can either take a new photo or select a photo you already have saved
PicsArt features a community which you can interact with and share your photos with
PicsArt allows you to easily share your photos with many different social networks, including Facebook and Twitter
Is optimized nicely for a tablet
Cons
Discussion
PicsArt comes with a simple and easy to understand interface that is packed to the brim with features. PicsArt looks very modern, and almost resembles Windows 8 in some ways, mainly the tiles, and uses intuitive swiping, such as swipe to move to different tabs. PicsArt is definitely easy to use, which is a good thing since most of us don't want to deal with daunting menus and buttons.
PicsArt allows you to either take a new photo, or choose an existing one to edit. Once you select an image, the editing process is very simple. The app allows you to add many different effects to your pictures plus perform many different photo manipulation such as adding frames, stickers, and text with effects. You can make your picture look like it's fifty some years old or you can make it look like old paper, and many other options, too. You can even create photo collages. It's really fun to play around with so, if you do have the time, I'd recommend taking the time to just fool around with the app because really you must use it to understand how awesome it is.
Aside from manipulating your photos, with PicsArt you can also draw. You draw with your finger, which isn't as easy as it sounds when your used to drawing with a pencil. The only issue I had with drawing with this app is it couldn't keep up with my finger; in other words, it is laggy when drawing. Although it wasn't that bad, it isn't that great either.
PicsArt includes it's very own community full of other users' photos, which I think really completes this app because having a photo editor is one thing but having a photo editor with a community alongside is another thing. In this community you can post your own photos, look at recent photos, and even like and comment on photos. This is one feature that really makes this app worthwhile, especially if you like discovering new photos. Aside from its own community, PicsArt also allows you to share photos with many different social networks (such as, but not limited to, Facebook and Twitter), which is really nice to see. Some apps really limit which social networks you can share photos with, which I've always found to be annoying, and I'm sure I'm not alone on that one. Thankfully, PicsArt doesn't do that.
When it comes to tablet optimization, this app great on the larger screen of a tablet. From what I can tell, it doesn't look too much different, if different at all, from what it would look like on a smartphone. The app works, and works well, on a tablet,which is something a lot of photo editing apps fail at since most of them are never really optimized for a tablet.
Conclusion and download link
Overall, PicsArt is great it does everything I would expect an app like this to have… and a little more. I recommend this app to almost anyone that wants to manipulate photos on their smartphones or tablets. This isn't the Photoshop of Android but it is still excellent. This app takes all of the best features from many different apps and puts them together, making a very useful and fun app. If you haven't yet downloaded this yet, give it a shot and see what you think — chances are you won't be disappointed.
Price: Free
Version reviewed: 3.0.9
Requires: Varies with device; for this review, PicsArt was tested on Android 4.1
Download size: Varies with device
Related Posts