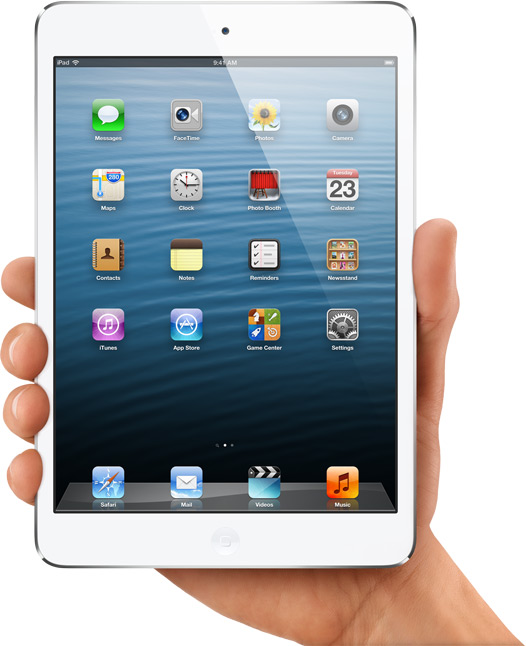 Yesterday Apple unveiled its much-rumored and hyped iPad Mini. With a 7.9-inch display and $329 pricetag, Apple is obviously taking aim at the 7-inch tablet niche popularized by Samsung and dominated by Amazon and Google (vis-a-vis Kindle Fire and Nexus 7). What does Ashraf think about the iPad Mini? Ashraf thinks it is an overpriced piece of crap.
Before I delve into my criticism of the iPad Mini, let me say I am not predicting that the iPad Mini will fail. How consumers, in general, react to Apple's new product, I really don't know. However, I do know how consumers should react — shun it like the junk it is.
That being said…
I'm not sure who Apple is trying to fool here. The specifications of the iPad Mini are, literally, so last year. 1,024 x 768 screen resolution (169 PPI)? 512 MB RAM? Dual-core A5 processor? Really? Why not just call it an iPad 2 Mini because those are the specs found in 2011's iPad 2. While for 2011 those were good specs, the tablet market has drastically changed with the likes of Nexus 7 and 7.0-inch Kindle Fire HD. In fact, the Nexus 7 easily beats the iPad Mini in this area with superior screen resolution, better screen, more RAM, and a faster processor.
Aside from outdated specs, the Mini starts at $329. $329! Is that a joke? Both the Nexus 7 and 7.0-inch Kindle Fire HD start at $199 for WiFi-only versions (8 GB for Nexus 7 and 16 GB for Kindle Fire, although it is rumored the $199 Nexus 7 will be bumped to 16 GB on October 29.) That means the iPad Mini is at least $130 more expensive than its main Android competitors; this difference goes up even higher if you factor in tax, the cost of higher internal storage versions, and the Play Store/Amazon Appstore credits the other two tablets come with. I mean I realize that Apple likes to charge a premium for its products, but an iPad Mini at $329 is squarely in the middle of no man's land — not attractive enough to jump on but also not too expensive.
Granted, there are some positive aspects to the iPad Mini versus the competition. For example, the 7.9-inch screen means the iPad Mini's display is 0.9-inches larger than the Nexus 7 and 7.0-inch Kindle Fire HD but is still small enough to be held in one hand; the iPad Mini has access to the hundreds of thousands of tablet-optimized apps on Apple App Store, a number that Play Store and Amazon Appstore do not come close to matching; and the iPad Mini claims to have up to 10 hours of battery life, which is excellent (beats out Nexus 7 by two hours but is bested by Kindle Fire HD by an hour). However, by and large, the iPad Mini is playing catch-up with the competition and is failing miserably at it.
There are two main reasons to purchase the iPad Mini — form factor that is smaller than larger tablets (making it easier to hold in hand or travel with), and price. If you are looking for a tablet with a 7-inch form factor, then the iPad Mini might be attractive to you… although you should realize before you jump the gun that the display on the iPad Mini is average — no where near as beautiful as the one on the iPad 3 (aka new iPad). If you are looking to buy a tablet that provides you the best bang for the buck, the iPad Mini is just about the last tablet you should look at. While the Mini isn't as pricey as iPad senior, $329 is way too much to pay for last year's tech. $249, on the other hand, would have been a real game changer.
Have thoughts on the iPad Mini you would like to share? We have a comments section for that!
Related Posts