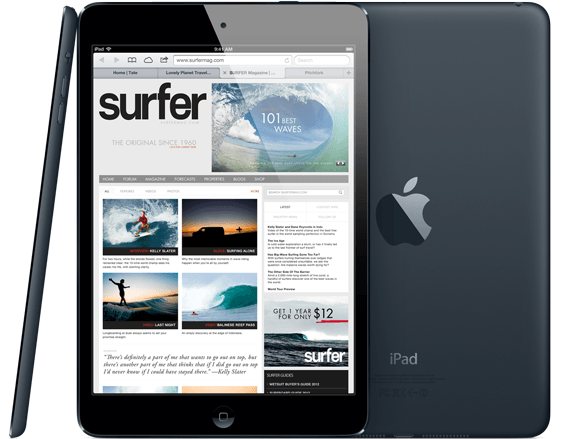 The iPad Mini has been one of the hottest rumors since summer: How large will it be? What processor will it use? How much storage will it have? How much will it cost? Is it even real? Today Apple has squashed all rumors by officially launching the iPad Mini.
Weighing in at 308g with 7.87 x 5.3 x 0.28 in dimensions, the iPad Mini
Sports a 7.9-inch 1,024 x 768 (169 PPI) LED-backlit IPS display
Is powered by dual-core A5 processor (the same processor found in the iPad 2)
Has 512 MB of RAM
Includes a "FaceTime HD" front camera with a 5 MP back camera capable of 1080p video
Uses Apple's new Lightning connector plus Bluetooth and 3.5mm audio port
Comes in 16 GB, 32 GB, and 64 GB versions
Has optional LTE
Can last "up to 10 hours" on a single charge
All that starting at $329 for the WiFi-only 16 GB version. If you want the 32 GB and 64 GB WiFi only versions, you will be paying $429 and $519 respectively. If you want LTE connectivity, be prepared to pay $459, $559, or $659 depending on if you want 16 GB, 32 GB, or 64 GB of internal storage. (As with all Apple products, the iPad Mini does not have a micro SD expansion slot.)
The iPad Mini, the WiFi-only version, will start shipping November 2 with pre-orders opening this Friday.
Aside from the iPad Mini, Apple also released the iPad 4. Well, it actually isn't called the iPad 4. Officially it is called "new iPad with Retina display" but technically it is the fourth generation iPad and iPad 4 is a lot easier to type than new iPad with Retina display. On the flip side, maybe iPad 4 is a bit misleading of a name. Calling this the iPad 4 would indicate this new iPad with Retina display is a new product; it isn't. Rather, the iPad 4 is simply a refreshed iPad 3 (aka the new iPad) that was released earlier in 2012. What exactly do I mean by that? I mean that iPad 4 is the exact same thing as the iPad 3 except the iPad 4 has an A6X processor (which, according to Apple, is twice as fast as iPad 3's A5X), a new HD (720p) FaceTime front camera (same camera as in the iPad Mini), dual-band 802.11 a/b/g/n WiFi (iPad 3 had single-band), and Apple's new Lightning connector. This new iPad with Retina display is priced the same as all previous iPads, meaning it starts at $499 for the WiFi-only 16 GB version and goes up as you opt for larger internal storage or LTE connectivity.
Like the iPad Mini, the iPad 4 will be hitting online and offline stores on November 2.
Will you be grabbing the iPad Mini or iPad 4? Do let us know in the comments below!
Related Posts