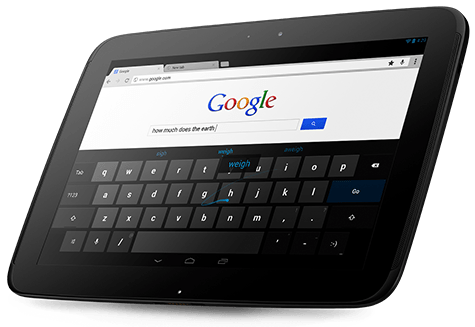 Hurricane Sandy may have ruined Google's press meet today but that didn't keep the tech giant from officially releasing the details on its much-leaked, much-anticipated Nexus 10. And boy is it a tablet.
The Nexus 10 is a follow-up to the very successful Nexus 7 tablet Google featured earlier this year. As the name may suggest, while the Nexus 7 has a 7-inch form factor, the Nexus 10 is a tablet with a 10-inch screen. The best part? The display has a 2560×1600 resolution, giving it an astonishing 300 ppi. For reference, the latest iPad is 9.7-inch, 2048 x 1536 resolution, and 264 ppi.
Other specs of the Nexus 10 include:
Dual-core 1.7 GHz Samsung Exynos processor (based on Cortex-A15, not Cortex-A9)
Quad-core Mali-T604 GPU
2GB RAM
1.9 MP front-camera (720p), 5 MP back-camera (1080p)
16GB or 32GB internal storage (no microSD)
Display protected by Gorilla Glass 2
Bluetooth
WiFi 802.11 b/g/n
Dual NFC
Two front-facing stereo speakers
All the regular sensors (microphone, accelerometer, compass, ambient light sensor, gyroscope, barometer, GPS)
Micro USB and Micro HDMI ports, 3.5mm headphone jack, and magnetic Pogo pin charger
9,000mAh battery (!)
On top of that, the Nexus 10 will ship with Android 4.2 and will be directly updated by Google meaning you will get updates to later versions of Android really quickly. Take note that Google says that the Nexus 10 will get up to 9 hours of video playback on one charge meaning it should longer 10 hours or more with regular use, such as a mix of surfing the web, checking e-mail, and video playback. However, independent tests will have to verify that.
In case you are put-off by the fact that the Nexus 10 only has a dual-core processor, don't be. You see the dual-core 1.7 GHz Samsung Exynos processor is based on Cortex A15; Cortex A15, due to under-the-hood enhancements, is said to be 40% faster than Cortex A9 which is what most other smartphone and tablet processors are based on. So even though the Nexus 10 is only dual-core, it is plenty fast and even bests some quad-cores. For example, the dual-core 1.7 GHz Samsung Exynos processor in the recently announced $250 Samsung Chromebook was benchmarked and found to be faster than dual-core Apple A6, the processor in the iPhone 5.
In terms of dimensions, the Nexus 10 is 263.9 x 177.6 x 8.9 mm and weights 603g. That makes it lighter and thinner than the new iPad, although it is obviously wider because of the larger screen.
The Nexus 10 will be available starting November 13 (in US, UK, Australia, France, Germany, Spain, and Canada) with the 16GB WiFi-only version costing $399 while the 32GB WiFi-only version costing $499. There is no 3G/4G version, yet.
It is, of course, a bit early to say this will kill the iPad. In fact, I don't think it is even possible to kill the iPad. However, based on how awesome the Nexus 7, I predicate the Nexus 10 is going to be the first tablet to really challenge the iPad. The fact that Nexus 10 starts $100 cheaper than the iPad likely won't win over iDevice diehards (just like iPad doesn't win over Android diehards), but it will surely attract people who are platform neutral or available to switching.
Will you be grabbing a Nexus 10? Let us know in the comments below. I know I will.
Related Posts