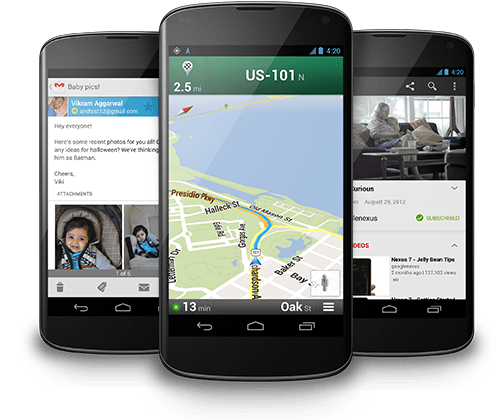 The Nexus 10 isn't the only thing Google revealed today. In addition the the awesome 10-inch tablet, Google announced their fourth installation of a Nexus Android smartphone. This one, named the Nexus 4, may be more significant and marketing disrupting than the previous three (Nexus One, Nexus S, and Galaxy Nexus). for one main reason: it is priced so insanely low. If you thought the $350 unlocked, no contract Galaxy Nexus was a bargain (and it was), be prepared to be astonished by the Nexus 4's price tag.
The following are the specs of the Nexus 4:
4.7-inch "true HD" IPS+ display with 1280×768 resolution (320 ppi), protected by Gorilla Glass 2
Quad-core 1.5 GHz Qualcomm Snapdragon S4 Pro
Adreno 320 GPU
2GB RAM
1.3 MP front-camera, 8 MP back-camera (1080p) with flash
8GB or 16GB internal storage (no microSD)
Pentaband DC-HSPA+ (aka will work on AT&T and T-Mobile 3G — will not work on Sprint and Verizon)
WiFi 802.11 b/g/n
Bluetooth
NFC
Built-in support for wireless charging
All the regular sensors (microphone, accelerometer, compass, ambient light sensor, gyroscope, barometer, GPS)
Micro USB and SlimPort HDMI ports, and 3.5mm headphone jack
2,100mAh battery (non-removable)
133.9 x 68.7 x 9.1 mm dimensions with unibody design
139g weight
Android 4.2 Jelly Bean with direct updates from Google
With its blazing fast processor/GPU and excellent display (for comparison, the iPhone 5's 4-inch display is 326 ppi) the Nexus 4 is, without a doubt, a top-of-the-line device. What makes this smartphone even better is its bottom-scraping price tag — the 8GB version costs $299 while the 16GB costs $349… and they come unlocked (aka you can use them on any GSM network worldwide) without you having to sign any contract! Really, why would anyone buy anything else?
Okay, there is one reason. The Nexus 4, unfortunately, doesn't have LTE. Why doesn't it have LTE? There is speculation that LTE would have driven the cost up for the device and including LTE requires Google to cooperate with carriers, something Google does not want to do for a Nexus device because cooperating with carriers slows down Android updates (e.g. updated to Galaxy Nexus on Sprint and Verizon were delayed by three months due to their interference); slow Android updates is counterproductive to one of the main attractions of Nexus devices — fast Android updates. Whatever the reason may be, not having LTE is definitely a deal killer for many people.
The Nexus 4 arrives on November 13 in the US, UK, Australia, France, Germany, Spain, and Canada. Will you be grabbing the Nexus 4? I likely will. Let us know in the comments below!
Related Posts