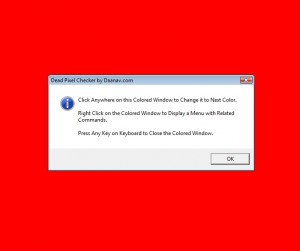 Ever wanted to check your monitor for dead pixels? Well, you can with Dead Pixel Checker. This is an extremely small Windows program that will help you spot all of the dead pixels on your screen, or lack thereof if you suspect a dead pixel and aren't sure.
WHAT IS IT AND WHAT DOES IT DO
Main Functionality
Dead Pixel Checker works much like what you would think. The program is made to help you check your LED and LCD monitors for dead pixels. It does this by displaying screens that are red, green, and blue, after which you can identify if you have a dead pixel or two on your display.
The program can be used to check any monitor that you have connected to a Windows machine, meaning it works if you have more than one monitor or if you are on a laptop.
Pros
Effectively finds dead pixels
Lightweight program, which won't hog computer resources
Can be used to check multiple different monitors
Works with Windows 8
Cons
Tons of other programs out there that can achieve the same result
Won't tell you if your dead pixels can be fixed
Discussion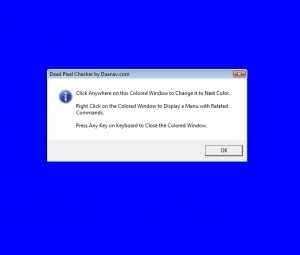 If you have ever wanted to check your computer for dead pixels, than you are going to want to give Dead Pixel Checker a try. Yeah, there are a lot of other programs out there that can achieve the same goal, but the overall process with this program was pretty enjoyable.
First of all, Dead Pixel Checker can be used on computers running Windows 2000, XP, 7, and even the new Windows 8. The program can be used to check both LCD and LED monitors, on both desktops and laptops. On top of this, the program is extremely small, only about 300KB. Thus, this is not a program that is going to take up a lot of space on your computer.
The real benefit of Dead Pixel Checker is that, in addition to identifying dead pixels, you can count how many pixels you have out on your screen. This can help you in the process of getting your screen replaced. There are a number of different manufacturers out there that will replace your screen on warranty, but only if it meets a minimum dead pixel count. Don't be caught off guard by not knowing how many pixels are dead on your screen — use Dead Pixel Checker and be armed with valuable knowledge before you go to see if you can get a cheap or free replacement.
The only real problem I have with this program is the fact that it won't try to help you fix your pixels. There are some programs out there (like Dead Pixel Fixer) that try to fix dead pixels. Usually this is done by displaying different colors in very short durations and intervals. Yes, I understand that this program is not aimed at fixing the pixels, but it seems that without this feature, it is only doing half the job.
CONCLUSION AND DOWNLOAD LINK
As a dead pixel checker, this program works just fine. Its extremely small size and ease of use makes it perfect for anyone with any skill level. However, the program does not attempt to help you fix dead pixels, and that is a bit of a let down. On the bright side, there are other programs out there that you can use to this end.; it would just have been nice had they wrapped both of these features together in one nice little program.
Price: Free
Version reviewed: 1.0.0.0
Supported OS: Windows 2000 / XP / Vista / 7 / 8
Download size: 294KB
VirusTotal malware scan results: 0/43 
Is it portable? No
Related Posts