NFC Task Launcher is an app that will make moving from place to place much more simple. This is perfect for people who are constantly using their phone is different locations. It is also great for forgetful people who forget that sometimes the settings of your phone must change when you change locations
What is it and what does it do
Main Functionality
This apps main functionality is to automate tasks that you normally have to do manually when you travel from place to place.
Pros
Toggle Bluetooth or WiFi when in a specific place
Start favorite music app when placed in dock or tap car tag
Adjust ringer and display when in a specific place
Automatically turn on alarm when in a specific place
Same actions performed for anybody who has the app
Cons
Doesn't work with custom SMS apps
Some feature spread across multiple apps
Requires purchasing of NFC tags
Your device must have built-in NFC capabilities to scan the NFC tags you purchase
Discussion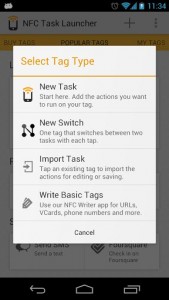 NFC Task Launcher is truly a remarkable application that will make several aspects of your life much simpler. The entire experience revolves around NFC tags. Unfortunately you must purchase NFC tags or stickers in order to have this app function properly. Once you've purchased your NFC tags or stickers, you simple stick them in common places like your car, office, or night stand.
Once you have your tags in place, you can begin setting up actions. For example, if you have a NFC tag on your nightstand, you can set your phone up so that when you scan that tag, your ringer will go to silent, your display will be reduced, and a pre-determined alarm will be set. This is all possible by taking full advantage of the popular NFC technology.
This can also be very useful if you set a NFC tag in your car. Scanning an NFC tag in your car could automatically turn your wifi off, turn your Bluetooth on, and launch your favorite music app. This means if you have your phone hooked to your car via Bluetooth, all you have to do is press play and your music will automatically start playing.
Virtually any task on your phone can be activated by scanning an NFC tag. This means phone calls, SMS messages, toggling functions, and launching any app you want. Those functions are just the tip of the iceberg. A full list of potential actions is listed in the Play Store
Unfortunately, this app will not work with custom SMS apps like Handcent due to software limitations. Additionally, some of the features reported by this developer require plugins, while this isn't a terrible inconvenience its just rather annoying that all of the features aren't automatically included.
Conclusion and download link
This application is truly ground-breaking as it is making revolutionary technology much more mainstream. All you have to is purchase a couple NFC tags and you have access to arguably the latest and greatest technology available on Android. NFC is going to become a huge way for Google to revolutionize mobile technology so the sooner you get used to it, the better.
Price: Free
Version reviewed: 4.0.1
Requires: Android 2.3.3 and up
Download size: 2mb
NFC Task Launcher on Play Store
Related Posts