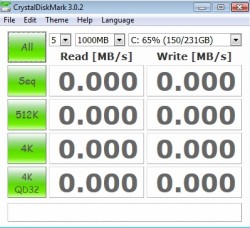 Ever wonder how fast your drive can read and write? Alright, so maybe it is not a question that everyone cares to know, but for those of you who do, CrystalDiskMark can help you out. This is a disk benchmark program. CrystalDiskMark also comes with custom skins and multi-language support.
WHAT IS IT AND WHAT DOES IT DO
Main Functionality
In short, CrystalDiskMark is a program that can measure sequential read/write speeds. It is also able to measure random 512KB, 4KB and 4KN (Queue Depth=32) read/write speeds. Although this kind of information is not going to help everyone, the ones who can see the value of this program are the ones who will benefit from it the most anyway.
Pros
Offers multi-language support
Offers different themes and skins
Successful as a disk benchmark program
Cons
Asks you to install WhiteSmoke Toolbar (simply uncheck to avoid installing)
Program can sometimes have conflicts with Norton's and Avira's security software
Discussion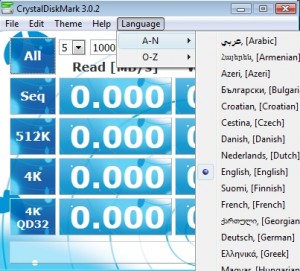 CrystalDiskMark is a piece of software that acts as a disk benchmark program. If you don't know what that is, I can tell you right away this program is not going to benefit you in the least. It is extremely easy to use, but the information it gives back to you is only going to help people who are actively seeking it.
That being said, if you want to know how fast your disk read and write speeds are or if you're checking for slowdowns in your system, CrystalDiskMark is perfect for you. It is free, simple to use and gets the job done.
CrystalDiskMark gives you three different kinds of data. First, it measures the sequential read/write speeds of your disk. It can also measure random 512KB, 4KB and 4KB (Queue Depth=32) read/write speeds. Last, but not least, it allows you to select test data (random, 0Fill, 1Fill).
To cap all of this off, CrystalDiskMark does have a few other user friendly features. For example, it comes with a few changeable skins. Nothing really special here, but it is always a nice feature to include. It also offers multi-language support. So no matter where you are from, this is a program that can work for you.
Just like any other program, CrystalDiskMark does have its down falls. The biggest one being the fact that it does not play nice with Norton or Avira. If you use either one of these virus protection systems you will need to turn them off before running CrystalDiskMark. I had no problem running this program with Avast running.
CONCLUSION AND DOWNLOAD LINK
CrystalDiskMark is not for everyone. If you didn't understand what the program does, then I would just avoid downloading this one, because it is not going to help you. That being said, for the people it will help, it does its job well. It is a shame that you have to turn off Norton or Avira to use it, but it is a small price to pay.
Price: Free
Version reviewed: 3.0.2c
Supported OS: Windows 2000 / XP / Vista / 7
Download size: 1.6MB
VirusTotal malware scan results: 1/44
Is it portable? This version is not, but they do offer a portable version
Related Posts