Hibernate is a very usable feature that was introduced in Windows XP. It helps you save your current tasks and documents and windows in their current state prior to shutting down your computer or tablet; therefore the next time you start Windows, all your tasks and documents and windows are there for you as if you never even shut down in the first place. However, in Windows 8 Microsoft hides this feature somewhere that you can't find out unless you read this article. Continue treading this article to learn how to enable Hibernate on your Windows 8 computer or tablet.
HOW TO TURN ON HIBERNATE IN WINDOWS 8
To enable the ability to Hibernate on Windows 8:
Open "Settings Search" (if using a keyboard, press Windows + I hotkeys; if on a tablet, bring up the Charms bar by swiping on the right-side of your screen and tapping "Search").
Type "Power Options" in the box.
Choose "Change what the power buttons do" in the results that popup on the left.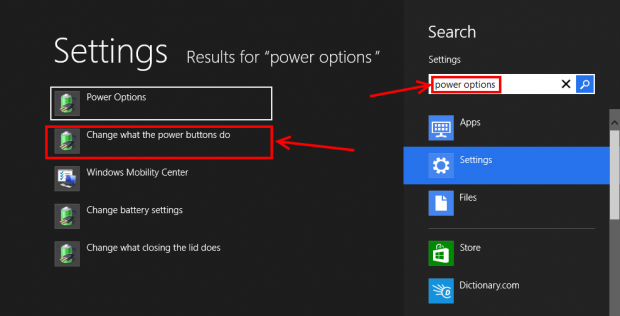 When you click/tap on "Change what the power buttons do", "System Settings" will open. From "System Settings" click or tap on "Change settings that are currently unavailable". (You may be asked to confirm your actions if UAC is enabled — click/tap yes or OK.)

Finally, find "Shutdown settings" on the window that loads and check the box for "Hibernate".

Done! Now the Hibernate option will be available when you go to close your PC or tablet, such as in the menu where you choose Power button in Settings Panel.
CONCLUSION
I don't know why Microsoft hides this feature so strictly. My guess is almost all Windows 8 users won't be able to figure out how to enable Hibernate. Now that you have read this article, you are one of the few that know — enjoy!
Related Posts