The advantage of having such an awesome and active user base is having dotTechies inform other dotTechies about freebies and/or programs that I don't know about. In this case, Amnesia was kind enough to bring to this freebie to light (thanks!).
CyberLink PowerDirector 7 Ultra is a powerful video editing software. Here is a short description of this software:

Apologies if the above description of the software is a bit quirky. I pulled the description off the promotion page which happens to be in German so I had to use Google to translate it to English.
If you want more information on CyberLink PowerDirector 7 Ultra you are welcome to read the review by PCMag or the review by TrustedReviews.
How to get CyberLink PowerDirector 7 Ultra? Well before I tell you keep in mind the download is 617 MB (!) and these are the system requirements:
Mcrosoft Windows Vista, XP or 2000 (Windows XP Service Pack 2 is for recording of HDV content required)
AVI import / Production: Pentium 2 450 MHz or AMD Athlon 500 MHz
VCD Quality (MPEG-1): Pentium 3 600 MHz or AMD Athlon 700 MHz
DVD Quality (MPEG-2): Pentium 4 2.2 GHz or AMD Athlon XP 2200+
High quality MPEG-4 and WMV, QuickTime, RealVideo Profiles: Pentium4 2.4 GHz or AMD Athlon XP 2400+
AVCHD and MPEG-2 HD: Pentium Core 2 Duo E6400 or Athlon 64 X2 5000+
At least 5 gigabytes of disk space
At least 512 megabytes of RAM
At least 10 gigabytes for the production of DVDs (20 GB recommended
At least 60 gigabytes for the production of Blu-ray discs (100 GB) recommended
To get this freebie, follow these simple steps:
This freebie offer is from Softwareload.de. So, assuming you have never downloaded from the website before, you will first need a Softwareload.de account (it is free). Visit the registration page and register. The registration page will be in German but no worries… I never leave you hanging =):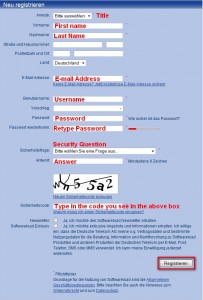 Note that I only translated the required form fields. The rest of them are optional so you don't have to fill them in. Also note your password must be 8 characters or longer and the answer to your security question must be 6 characters or longer.

I don't know if Softwareload.de spams or not so feel free to make use of Mailinator, 10MinuteMail, or Trashmail if you wish.
After you have hit "Registrieren" button you will get a confirmation page telling you to check your e-mail. So, go to your e-mail that you registered with and look for an e-mail from "support@softwareload.de" with the subject of "Bitte bestätigen Sie Ihre Anmeldung bei Softwareload". There will be a link in there:

Either click on the link or copy and paste the URL in your browser. At the page that loads up, let it finish loading until you reach a page that asks you for your username and password. Login.
After you have logged in visit the promo page (Update: note the promo page is not available from your profile or anything; after you login you must visit it from the link I just provided you) and click on . You should then reach a page with a form to fill: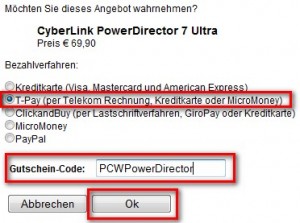 Make sure the form looks just like my screenshot above (without the red boxes of course). In other words, select "T-Pay", enter "PCWPowerDirector" in the text box and click OK.
You should then see this: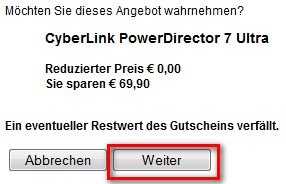 Click "Weiter".
After you click "Weiter" the next page will give you your registration code and a download link to download the program: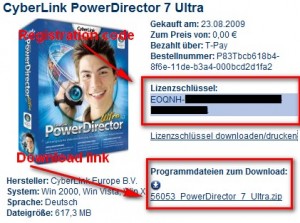 Once the download has finished, just run the installer and follow on screen instructions (you will be asked to input the registration code). The installer and the program will be in English (just select English when asked) so no worries.
If you have any problems, post below and I will try to help. Otherwise, enjoy!
[via Computelogy]
Related Posts