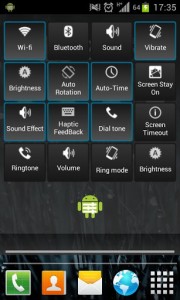 Control Panel for Android is an app that is designed to grant you easy control of all of your most used functions on your phone. This app is great for people who constantly have to tweak settings depending on their location. It also simply provides an incredibly convenient way to control your phone
What is it and what does it do
Main Functionality
This app's primary functionality is to simply make controlling your phone or tablet easier. This app succeeds where most apps fail as it provides an exhausting amount of toggles and settings controls. This adds the same settings control that is seen an Android device on Android 4.2 Jelly Bean or higher.
The video below is a short 3 minute demo showing Control Panel for Android in action. Take note that roughly the first minute of the video shows functionality that is unrelated to this app (it shows Apex Launcher gestures functionality).
Pros
Adjust all sound options
Adjust WiFi and GPS
Control IP and MAC addresses
Adjust display settings
And more
Cons
Duplicates some adjustments already in the settings menu
Becomes a little obsolete on Jelly Bean
Discussion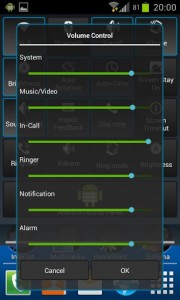 Control Panel for Android enters an already crowded category of apps hoping to find its own niche. There are plenty of apps out there that allow you to easily adjust various settings. However, this one could reign above the rest due to the one-click access to setting adjustments. Additionally, the look and feel of this app blends almost perfectly with Android's Holo theme.
This app, when first launched, will give access to all of your basic sound options. This includes ringer volume, alarm volumes, etc. Then, you can gain access to various network options. This ranges from cellular data and GPS, to WiFi and various types of addresses on your phone. You can then migrate to a window that will allow you to adjust several aspects of your display, including brightness and dimming duration.
While this app seems incredibly useful, you will notice some things that may not make this app necessary for everyone. For starters, there are quite a few settings in here that are easily adjusted, like ringer volume. There is no phone that needs this setting because all phones have a volume rocker on the side that does this. Additionally, Jelly Bean has recently instituted much better controls for the operating system. So most users will be using this to make their phone feel a little more like Android 4.0. Most Jelly bean users will have no use for this particular app.
Conclusion and download link
Overall, this app is fantastic for those using an older version of Android. It will give you quick and easy access to settings all in one convenient location. However, if you are on Jelly Bean, there is no reason to use this. These types of apps are unfortunately on their way out due to that progress Google is making when it comes to adjusting your phone.
Price: Free
Version reviewed: 1.02
Requires: Android 2.2 and up
Download size: 1mb
Control Panel for Android on Play Store
Related Posts