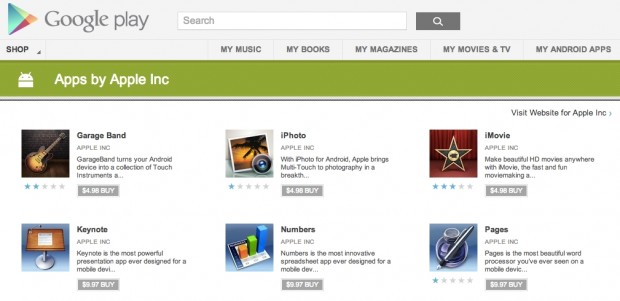 Would you want Apple apps like iPhoto, iMovie, Garage Band and iWork suite on your Android advice? I know I wouldn't mind would probably even pay for apps, assuming they are quality.
One malicious "developer" clearly thinks the same and decided to take advantage of the unsuspecting by releasing fake Apple apps on Google Play Store. Under the name of "Apple Inc", this developer sold a handful of apps that are only otherwise found on Apple App Store. Too bad s/he couldn't get away with it.
According to Naked Security, a commenter on Reddit spotted these fake apps on Google's digital storefront and the news quickly spread like wildfire throughout the digital divide, leading Google to pull the fake apps. It isn't entirely clear if these apps were malware or simply fake apps. Speculation about the intent of these fake apps ranges from the usual money scam to the much more frightening prospect of having your Android device infected with dangerous malware.
Although the apps have since been removed from Play Store, when someone can submit a handful of apps under the name of a multi-billion dollar corporation… then Google clearly needs to step up their game in terms of finding and preventing apps like these from making into their storefront. Especially if the end result is malware that could potentially harm users.
[via Naked Security]
Related Posts