Police Scanner is a cool app that will allow you to keep up with multiple scanners in your area. This is great for people who want to keep track of certain events going on around them, It is also great for those who are simply curious about what is taking place.
What is it and what does it do
Main Functionality
This app is designed to put you in in touch with otherwise unknown information. It is a great tool to find out what is being said over nearby scanners.
Pros
Access to police and fire scanners
Live audio of weather radios and amateur radio repeaters
View most popular scanners and add to favorites
Browse scanners by location or genre
Alerts for major incidents and when a station gets popular
Sleep Timer
Cons
Buggy audio
Limited to stations in US
Discussion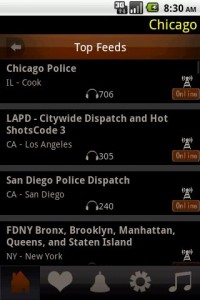 Police Scanner is an interesting app that will allow you to listen in on various scanners in your area or across the country. You can gain access to fire, police, weather, and even amateur scanners. This ensures that you can find any type of scanner you are looking for. Additionally, you can search for these scanners either by location, or by genre. This makes it easy to find a scanner that will be interesting to you at that time.
You will be able to easily see which scanner most people are listening to. This makes it easy to track down the scanner with the most interesting news. You can also set the app up to alert you of certain events. You can have it alert you of major incidents, or just alert you when a station becomes popular. You can also set the station to a sleep timer so you don't have to worry about forgetting to turn the radio off when you're no longer listening to it.
While this app can be incredibly interesting, there are a couple instabilities. For starters, sometimes the locations can be rather limited. Chances are, you will be able to find a location near you, but not necessarily the exact one you're looking for. Also, the app itself can be rather buggy at times, which can lead to a lack of audio on some occasions.
Conclusion and download link
Overall, I think this app can be incredibly useful for the curious type. In fact, the features that are packed in to this app will make it rise above the other apps of this category rather quickly. Unfortunately, there are a couple quirks that make the overall user experience significantly less enjoyable. Once you get past those, you will find the app to function just as expected.
Price: Free
Version reviewed: 1.1
Requires: Android 2.2 and up
Download size: 1mb
Related Posts