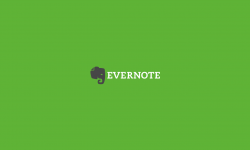 When people think of note-taking, there is always one service that people always think of — Evernote. Evernote is usually regarded as the best in its class, and it has reason to be. With apps spread over every platform, from OS X to Windows to even the now less popular Blackberry Playbook OS, Evernote has really become ubiquitous with taking notes. Now, with the release of Windows 8, the Evernote team has tried to tackle the challenge of creating an app for Modern UI. People who want to use the new Windows 8 UI will be the ones interested in this, as well as people looking for a simpler and more bare-bones Evernote experience.
What is it and what does it do
Main functionality
Evernote allows people to create notebooks and notes that sync cross-platform.
Pros
Uncluttered interface
Syncs cross-platform to Evernote on the web and Evernote on your other device
Cons
Inability to edit rich text files
Is a bit too simple — lack of options
Unintuitive to navigate
Discussion
To start off with, the app has a very minimal look to it, but this isn't necessarily a good thing. When you open the app and log in, you are greeted to a bunch of tiles. This is the new navigation. Every different note is a tile, and a click is all it takes to get into a note. The interface is easy to navigate, if a bit simple, when compared to the likes of their dedicated desktop app. The trouble with the easy to use interface is that there seems to be a lot of wasted space. If we compare the Windows Store version of Evernote and its desktop counterpart, we can see a big difference in information displayed. The Windows 8 version might be less cluttered but that is at the cost of a lot of options and controls. If you're the type of person who likes to have as much information displayed to you as possible, the Windows 8 version is probably not for you.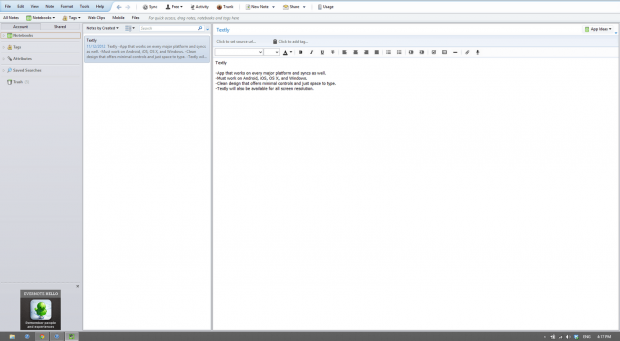 Evernote desktop version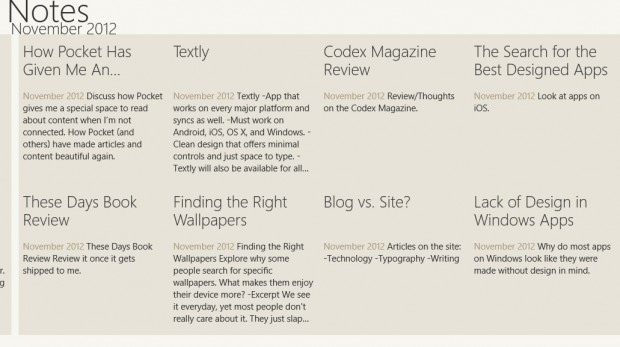 Evernote Windows 8, Windows Store version
If you don't like viewing all of your notes in one huge mess, you can view notebooks and even tags by using the command CTR+Z or a right-click of the mouse. It's a bit unintuitive, since there aren't any on-screen controls to use; on-screen controls would be nice since Windows 8 isn't only for touchscreen devices. Controls aside, this makes it a bit easier to view notes, especially if you have hundreds of them. Notebooks are a bit easier to view all at once, since they aren't huge tiles like single notes, but rather smaller rectangles.
There is also a lack of options. For example, printing isn't available, neither is sharing. It's almost as if the developers didn't think of the basic things most programs do. Hopefully, an update will come to fix a lot of these shortcomings.
Now, what about the real aspect of this app: writing? Unfortunately, the app also falls short here. And by short, I mean way short. I'm not sure if it's something on my end – although I doubt it, since I didn't mess with any settings – but there seems to be a problem with me being able to edit some of my notes. Viewing them brings no problem, but when trying to edit them, I get this message: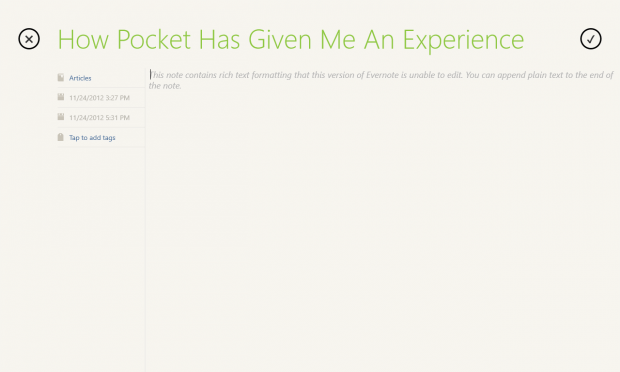 So it seems like this version of Evernote can't edit rich text files. You can add plain text (i.e. no formatting or images) after the note, as seen in the image above, but it's hardly ideal. I'm assuming that this is because of cross-platform editing, but if that's the case, it's a tough thing to deal with. The big selling point of Evernote is the fact that you can access and edit your notes anywhere. Not being able to edit some of my notes makes it very hard to recommend, especially since there are other apps on Windows 8 you can use to access your notes.
Conclusion and download link
Overall, the application is decent, but lacks options and the ability to edit rich text. This will probably be a turnoff to a lot of users, since the inability to edit your notes that use rich text is a big flaw. I think if (when) they add rich text editing, the app will be better. It does function well, but I cannot recommend this one in this form. It just doesn't have the robust feature set that the desktop client does. What I would recommend is either the desktop client or even the web client, which is actually pretty stellar and looks nicer than its desktop counterpart. (Note: Windows RT users cannot use the desktop client but Windows 8 Pro users can.)
Price: Free
Version Reviewed: Version unknown
Supported OS: Windows 8, Windows RT
Supported architectures: x86, x64, ARM
Related Posts