When I think of partition management three five big names come to mind: GParted (Linux based), EASEUS, Norton, Acronis, and Paragon. GParted and EASEUS Partition Manager Home Edition of course being free while Norton, Acronis, and Paragon focusing more on commercial tools. So when a Canadian company by the name of MT Solution enters the dog fight with a free partition management software of their own (aka Partition Wizard)… it does indeed trigger my spidy senses: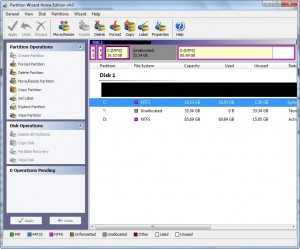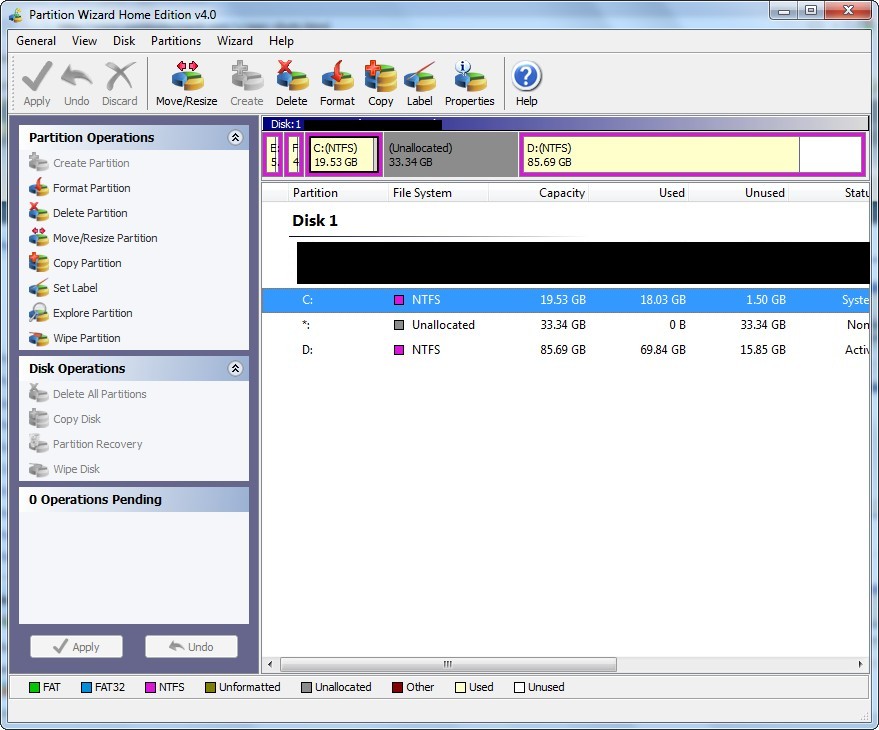 It isn't so much of the fact that Partition Wizard is a free partitioning tool; EASEUS Partition Manager Home Edition is a very competent free Windows partitioning tool. Rather what really got me excited about Partition Wizard is the fact that in addition to being free for 32-bit home users, it is also available for free to 64-bit users and businesses – something EASEUS skipped out on.
Now being free to most everyone (Partition Wizard is free to use at home or in a commercial setting by anyone as long as it is not used on a server) does not really cut the cheese if the program itself is below par. Let me assure you Partition Wizard not only meets the bar, but may even surpass it; it is well worth a look if you need a partitioning weapon of choice.
Partition Wizard is featured filled…
Resize/Move partitions
Create partitions
Delete partitions
Change Partition Label
Delete all partitions
Format partitions
Convert file system
Explore Partition
Check Partitions
Partition Recovery
Wipe disk
Wipe partition
Copy partition
Copy disks
Initialize to MBR disk
Initialize to GPT disk
…and has impressive performance to boot.
As some of you may know, I recently installed Windows 7. However since I was not sure how well Windows 7 would work for me, I decided to keep Vista on my computer. Now I am fairly happy with Windows 7, seeing as almost everything I need is supported and works fine, so I am about ready to get rid of Vista. Therefore I figured lets give Partition Wizard the ultimate test: can it please Ashraf by shrinking the Vista partition and extending the Windows 7 partition without having to reboot his computer? To my pleasant surprise, yes (well half yes, half no).
With Partition Wizard I shrank my Vista partition by 30 GB, moved the 70 GB filled Vista partition 30 GB over on the hard drive so I could have unallocated space by my Windows 7 partition without having to reboot my computer. Extending my Windows 7 partition, however, did ask for a reboot; but asking for a reboot to extend a partition which has many programs, including an anti-virus, on it running is reasonable. I am sure if I turned everything off it would work just fine considering it told me to turn off all programs but I did not listen. But if you ignore the need for a reboot to extend my Windows 7 partition, the overall performance was impressed. My Vista Partition was shrank and moved securely and in a very timely manner (taking into considering moving a 70 GB filled partition can take some time): the whole shrink-and-move-Vista-Partition was done in about 40 minutes. One thing I should note, though, is while doing this whole shrink-and-move-Vista-Partition procedure, Partition Wizard used a lot of CPU: initially it was varying from 70-90% CPU usage for about 1-2 minutes but settled down to 40-50% while it was copying my Vista partition data in order to move it (the copying took up the majority of the time). However keep in mind depending on what partitions you are messing with, it is best to not use your computer while doing partitioning stuff (it is not completely forbidden and dangerous either though… I was writing this review while I partitioned LOL) so high CPU usage should not be a deterring factor for anyone.
I further looked into this software and found out Partition Wizard supports NTFS, FAT12, and FAT32 file systems, disks larger than 2 TB are supported, RAID is supported, the "wipe disk" and "wipe partition" features securely wipe your disk/partition, you can use the copy partition/disk features to migrate to a larger/smaller hard drive, and more things I have not mentioned. The only thing I find Partition Wizard missing is the ability to create a bootable disk. Update: Partition Wizard now offers a free Partition Wizard Bootable CD. It is a separate download than this Windows-based non-bootable CD version of Partition Wizard.
I am not going to lie: I am very impressed by Partition Wizard. Now is it better than, say, commercial software such as Paragon Partition Manger? No it is not. But keep in mind Paragon Partition Manager costs $$$ and is a 100+ MB download while Partition Wizard is free and is a 5.5 MB download. So then the second question: is it better than EASEUS Partition Manager Home Edition? Well it is a toss up. Both are excellent free partitioning software and both offer very similar features with few differences. The main differences, the "dealbreakers" depending on your needs, is Partition Wizard supports 64-bit users and businesses while EASEUS Partition Master Home Edition does not and Partition Wizard allows you to create bootable CDs while EASEUS Partition Master Home Edition does not. So with that information in hand, you decide which one you like better. All I can tell you is they are both great free partition management tools. I, personally, am using Partition Wizard over EASEUS Partition Master Home Edition to show my support for Partition Wizard since they added in key features which EASEUS makes you purchase their Professional Edition for.
You can download Partition Wizard from the following links:
Version Reviewed: 4.0

Supported OS: 32-bit and 64-bit Windows 2000/XP/Vista/Win7

Click here to download Partition Wizard Home Edition

Click here to download Partition Wizard Business Edition
Thanks Erik!
Related Posts