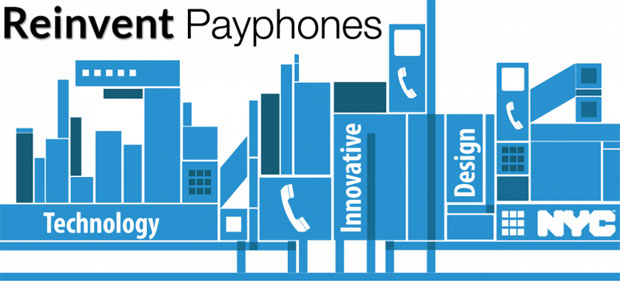 The city of New York is looking to reinvent the antiquated payphone, a device that has gone largely unchanged functionally since its invention and has been mostly sidelined due to the advent of mobile phones. To do this, the city is hosting Reinvent Payphones, an event that seeks to find the evolution of the payphone.
The idea is people will come up with ideas on how to improve payphones in the city and submit the ideas to a panel of judges. These judges will then decide who has the best idea, with fifteen proposals picked to present before the judges on March 3, 2013 and three winners picked from there. It isn't entirely clear what prize the winners will receive.
First off, let me say I like the fact that instead of putting out a modern-looking touchscreen payphone that does nothing new, the city sees the opportunity to beyond the obvious. What better way to do that than by essentially crowdsourcing it? We all know that great ideas can come out of this approach, and NYC seems to be betting on that to happen here. The locations for the payphones can be outfitted with fiber connections, allowing for increased functionality through the Internet, for example. And, of course, there must be some thing that makes people want to use payphones as opposed to their mobile phones.
My suggestion? A do-it-all kiosk where you can access the Internet and charge your devices, with shortcuts to contact the police or fire department in case of emergencies, all in a nice capacitive widescreen interface that has a virtual keyboard that doesn't suck. Oh, and when you make calls, the audio comes from speakers built into the booth. Obvious? Maybe. But sometimes obvious isn't a bad thing — the charge capability alone will attract patrons.
Do you have any ideas to reinvent the payphone? Post them in the comments!
[via Engadget]
Related Posts