Ever come across a website where you thought "wow those are great images" (usually on a digital art of photography website) and then proceeded to save them all to your computer one by one? Well save your self the pain of having to do that next time around by using OpenImage: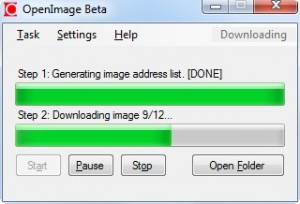 OpenImage is an open source and portable software which allows you to download all the images (JPG, PNG, GIF, and BMP) from a URL you specify: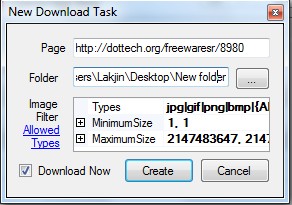 You are given the option to filter out which images to download by image type and size (resolution). Unfortunately during my testing I found out the "MinimumSize" and "MaximizeSize" filters do not work properly; however filtering by image type works just fine.
OpenImage is really as simple to use as  it sounds. However one thing to keep in mind when trying to download images is some websites use thumbnails for images and you have to click on the image to get the full size. OpenImage, unfortunately, will download the thumbnail and not the full image. Hopefully in the future the developer will add the ability to automatically detect thumbnails and download the full image.
Last thing I would like to point out is you have the option to automatically rename the images you download: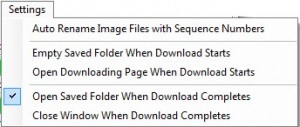 While I agree this software will vary in useful from person to person and situation to situation I think it is worth the download if you think you will need it especially considering it is a standalone and portable app (431 KB) so you do not have to install anything.
You can grab OpenImage from the following link:
***Note: You will be prompted to accept Microsoft's "Public License" before you can download this software.
[via MyDigitalLife]
Related Posts