Software Description
The following is a description of IObit Advanced SystemCare PRO 4, as per the developer:
Like hiring your own PC technician inside your computer

Advanced SystemCare PRO 4 provides an always-on, automated, all-in-one PC Healthcare Service with anti-spyware, privacy protection, performance tune-ups, and system cleaning capabilities. This powerful and award-winning precision tool fixes stubborn errors, cleans out clutter, optimizes Internet and download speeds, ensures personal security, and maintains maximum computer performance automatically.

Key Features

Improved engine for superior PC cleaning, repair, security, and optimization

Adopted with IObit's latest engine and improved program core structure, Advanced SystemCare 4 is now available delivering more comprehensive and deeper system cleaning, repairing and optimization experience. In version 4 the security features are also emphasized, protecting your PC from more security threats and privacy compromises.

Whole new interface design and fantastic skins

Instead of having too many buttons and links in one place that may make you a little bit confused with where to start in version 3, Advanced SystemCare 4 adopted with an intuitive and stylish design that provides 4 major entrances in the main interface that lead you to four major functions that deals with respectively the "daily maintenance", "complete fix and tune up", "ultimate PC speedup", and "smart tools that may suit for your every need for system management". What's more, the version 4 is providing as many as ten fantastic skins that make the use of the software more enjoyable.

One click to solve as many as 10 common PC problems

Advanced SystemCare 4 still inherits the easy-of-use from previous versions, with more powerful capabilities. This time with one click, it scans and repairs ten PC problems and protects your PC from hidden security threats, while V3 only supports eight. The newly added "Disk Scan" and "Vulnerability Fix" helps scan and fix disk errors and Windows vulnerabilities.

More than 20 dedicated smart tools for everyday PC maintenance

Replacing the original "Utilities" module in version 3, Advanced SystemCare 4 integrates IObit's latest Toolbox which has more than 20 dedicated smart tools for everyday PC maintenance or advanced needs, including tools for system cleaning, optimizing and repairing, tools for security enhancement, and tools for fully control over the system.

Speed up your PC with enhanced Turbo Boost

Note only "Turbo Boost" has taken on a new look, which makes the configuration process clearer and easier to understand, but also the power of "Turbo Boost" is more intensive. With more unnecessary background processes and services are detected and shut down, and more RAM is released, you PC will run ultimately fast.

Monitor your PC performance in real time with shortcut to quick fix!

Another cute addition to Advanced SystemCare 4 is the new performance monitoring bar. It keeps monitoring your PC and rates its performance as four different levels based on the core indicators. In a glance, user will have a general idea about his/her PC's status and how the resources are being used. More than that, the performance monitor will suggest what actions should be taken using Advanced SystemCare and provide a shortcut to take the action immediately to improve your PC performance.

Why Choose Advanced SystemCare PRO 4?

Advanced SystemCare PRO can find and fix 200% more registry and system problems than other system utilities.
Advanced SystemCare PRO can give your PC a super performance boost. Our users normally experience a 300% improvement in both computer and Internet speed.
Super easy to use. Install it and forget it. Advanced SystemCare PRO works continuously, automatically and quietly in the background on your PC. It allows you to have fun and be more productive.
With automatic updating, Advanced SystemCare PRO scans and removes spyware and adware using up-to-date definition files, prevents spyware, hackers and hijackers from installing malicious items on your PC.
dotTech Advice
IObit Advanced SystemCare PRO is yet another great system tune-up utility. Although I don't personally use it anymore (I realized I have no need for it), I used to use it and loved it. The question about Advanced SystemCare PRO isn't if I recommend it or not — I do recommend it, whole heartily. The question is should one get Advanced SystemCare PRO 4 or get Advanced SystemCare FREE 5.
You see v4 of Advanced SystemCare isn't the latest version — v5 is. That is not to say v4 is old and useless; it isn't. v4 was released about eight months back and is still very useful. What this means, however, is users need to decide if they want to grab Advanced SystemCare FREE 5 (which is always freely available) or get Advanced SystemCare PRO 4 which is available for free via this promotion. To answer that question we need to understand the changes made from v4 -> v5 and differences between PRO and FREE.
These are all the changes made from v4 -> v5 of Advanced SystemCare, as per the developer:
New architecture and re-written source codes for 32bit/64bit system
New UI technology for quicker start and less resource usage
New ActiveBoost function for real-time optimization
New Cloud technology to keep database up-to-date
Improved UI design for better user experience
Improved Care module with more powerful clean and optimization functions
Improved Turbo Boost module with Work and Game mode
Fixed general bugs
All that is listed above is found in Advanced SystemCare FREE 5 and but not in Advanced SystemCare PRO 4. The following is what Advanced SystemCare PRO 4 has that Advanced SystemCare FREE 5 does not, as per the developer:
Advanced performance tune up
Advanced Internet speed optimization
Complete malware removal
Automatic care when your system is idle
Deep registry and system clean
So, what does all that mean? Essentially it can be boiled down to the following: If you want automatic and deep(er) care by Advanced SystemCare, stick with Advanced SystemCare PRO 4. If you prefer running Advanced SystemCare to clean on your own accord and would much rather have the new ActiveBoost and improved Turbo Boost features, go with Advanced SystemCare FREE 5. To help make the decision easier:
This is what ActiveBoost does, as per the developer:
ActiveBoost automatically improves PC performance by intelligently managing system resource, constantly detecting inactive processes and programs, and optimizing CPU as well as RAM.
Turbo Boost is a feature that temporarily shuts down unnecessary background processes and services in order to ensure full computer resources (as much as possible) are put towards the specific task you are doing. (This is similar to what Game Booster does.) Both Advanced SystemCare PRO 4 and Advanced SystemCare FREE 5 have Turbo Boost. The difference is Advanced SystemCare FREE 5 has specific Work Mode and Game Mode while Advanced SystemCare PRO 4 does not.
Although the promotion page does not mention this, the freebie of Advanced SystemCare PRO 4 is for one year only, after which you have to use Advanced SystemCare FREE 5 (or whatever version is out in a year) or purchase another year of PRO.
You can always purchase a year of Advanced SystemCare PRO 5 for less than $10. This way you get the best of both worlds.
It is impossible for me to make the decision of Advanced SystemCare PRO 4 vs Advanced SystemCare FREE 5 for you; you have to decide on your own. (Please don't install both!) Personally speaking, I like to have the latest versions of software when possible; I'm not keen on automatic care and sweep or Internet optimizations; the new Game mode in Turbo Booster looks attractive; and the new ActiveBoost sounds like it could potentially be useful, depending on how it performs (I haven't tested it out yet). So if I were getting Advanced SystemCare, I would go with Advanced SystemCare FREE 5 over Advanced SystemCare PRO 4.
[Note: As I mentioned in the post on System Mechanic, I recommend people with new machines to not use tune-up utilities (until you feel your computer is "slowing down" after long time use) simply because the risk of malfunction – and no mater how good, every third-party tune-up utility has some chance of causing problems – is not worth the reward of little to no benefit. On the other hand, people with older machines – ones in use for more than a year or so – can typically benefit from allowing tune-up utilities to clean out the junk they have accumulated in their computers.]
Freebie Details
Advanced SystemCare PRO 4 is being given away in a promotion by the Download Crew. The promotion is live until December 31st; there is not information on if you can install/reinstall after this date. Also, the promotion page does not mention it but it looks like this promotion is for a one year license of Advanced SystemCare PRO 4.
To get Advanced SystemCare PRO 4, do the following:
Version being given out for free: v4.2.0
Free updates: No
Free technical support: Unknown
Supported OS: Windows 2000/XP/Vista/Win7
Download size: 29 MB
Visit the promotion page and click on the DOWNLOAD button to begin downloading Advanced SystemCare PRO 4:
After the download has finished, install Advanced SystemCare PRO 4. Take note near the end of installation you will be prompted to install IObit Toolbar. Be sure to click Skip if you don't want to install the toolbar (you are not required to — it is optional):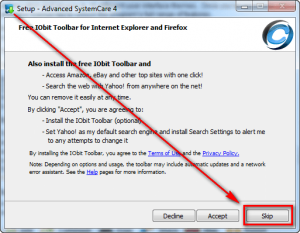 After installation has finished, run Advanced SystemCare PRO 4 and register it with the license code shown below:
License code: F31C7-DC165-BBBD3-1F7FA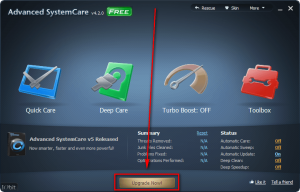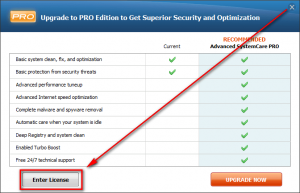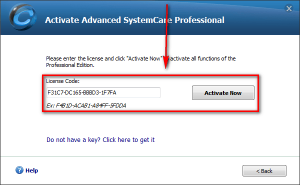 Enjoy!
Note: Since v5 is the latest version of Advanced SystemCare, you will be prompted to download an update. Free updates are not part of this freebie. So if you want to keep the PRO version of Advanced SystemCare, you will have to stick to v4 — don't download the update.
If you have trouble getting Advanced SystemCare PRO 4 for free, post below and other dotTechies or I will try to help.
Thanks robertmc8!
Related Posts