Software Description
The following is a description of Zentimo, as per the developer:
Fast & Reliable Device Safe Removal

Highly customizable, informative & powerful device menu

Unlike native safe removal tool's menu it shows you device drive sizes and empty space, device icons, lets you customize anything, and gives much more abilities at your fingertips: you can stop or browse drives in a click, quickly launch portable applications, speed test your drives, scan for hardware changes, stop all devices at once and many more.

Display processes preventing device from being stopped

Ever encountered the situation when Windows does not allow you to remove a device? Unlike Windows, Zentimo will show you the programs which prevent the device from being stopped and let you close these programs or just the files they opened on the device.

Stopping via "disabling" for SATA drives

Some kinds of external devices (e.g. SATA drives from Silicon Image), are true hot-plug devices. However, their drivers do not support the "safe removal" function. Such devices are not displayed in the native safe removal tool and can be stopped only via disabling in the Device Manager. It is a tiresome way, because it requires many actions to do, moreover you must enable the device manually after you connect it next time.

Not only does Zentimo allow you to stop such devices, it also detects automatically what devices must be "safely removed" and which devices must be "disabled." Also, the program enables the "disabled" device automatically on its next connection, thus it makes working with the device absolutely the same as with a usual device.

Forced device stopping

Even if there are opened programs on the device Zentimo can still forcedly stop the device by wisely unlocking file processes and by unloading the programs launched from the drive.

Ejecting memory cards rather than the card reader

If you had safely removed a card reader, you would need to physically reconnect it in order to make it work with cards again (or to use "Return device back" feature of the program). In the case of two or more memory cards connected to the card reader at the same time, they all become unavailable in the system after you stop the card reader. Zentimo lets you eject memory cards one-by-one. Moreover, if the memory card was locked by any processes, the program would display these "locking" processes as well as it does on failure to stop a whole device.

Keyboard shortcuts for stopping\returning

Like to do everything using the keyboard? Now you can stop and view devices with only ONE hotkey! No need to remember keyboard shortcuts for each device. Being in any application, press the key combination (Win+S by default) and you will see the stop menu. Use the Up\Down Arrow keys to select the device you need and either press Enter to stop it or Ctrl B to view the contents of a device disk. Also you can assign a dedicated hotkey to stop a certain device or even all devices at once.

Return stopped device back

After you had stopped the device, but still did not unplug it, sometimes it is quite useful to return it back into the system. For example if you remembered that you forgot to write a file to the external drive. In order to do it, you have to physically reconnect the device, however sometimes it's quite inconvenient to do, e.g. if the device is connected to the rear panel of the computer.

Support of USB, SATA, Firewire devices

Zentimo supports all kinds of hotplug devices. If it does not display the device you need, try enabling the "Display all storage devices" checkbox in the program options.

Power off drives on stopping in Vista & Win 7

When you safely remove the device in Windows XP it powers the device off – in case of a flash drive its led was switched off and in case of a portable hard drive it was spun down. But Microsoft changed this behavior in Vista and it still exists in Win 7: after you stop the device on these OSes the hard drive continue spinning and flash drive continue lighting. All modern hard drives park theirs heads automatically when you unplug them so in theory this behavior shouldn't lead to data looses or drive damages. But in practice the hard drive usually sound strangely when you unplug them on run and this makes a hard drive owner being a bit nervous when he hears that.

If you wish to power off your drives after their stopping go to the Program Options and enable the "Power off the device after the device stopping" option.

Then reboot the computer and enjoy the desired behavior of your drives.

Automate Your Work!

Program autorun on device insertion\stopping

Another Zentimo's feature that distinguishes it from similar software is ability to start any applications not only after connecting a device, but also before its removal. The autorun feature allows you to set up data backup before disconnecting a removable hard drive, run Total Commander with the contents of the pen-drive, automatically unmount an encrypted TrueCrypt drive before disconnecting the USB media, etc.

Command line to safe removal

Zentimo has a powerful and convenient command line: usr.exe. It allows you to automate work with devices. For example, you can automatically stop devices according to schedule or in case of any other event or reactivate them back to the system.

Drive Letter Management

Hiding drives of empty card reader slots

Do you have a card reader with several slots? If you said "yes", you would likely use only one memory card at a time, however your card reader creates up to four drives in your system. It may be annoying because you are required to spend more time finding the memory card drive among other "empty" card reader drives. Zentimo rids you of this problem – the program can hide "empty" card reader drives automatically!

Ability to mount storage devices as a NTFS folder

Preventing Windows from assigning specified drive letters to removable drives

Fixing a drive letter to a specific device

Manage your portable apps

Portable application quick launcher

Just a small menu where you can add programs\files\folders from your portable drive for quick launch

Portable device settings

You can set up your device name, image or app quick launch list once and these settings will be available on the other computers where Zentimo is installed

More security & information

Strong TrueCrypt integration

Your TrueCrypt containers that are stored on external drives can be handled like a part of the device: you can see them on the device menu, they can be automatically mounted\dismounted on device connection\disconnection and even if a program prevents TrueCrypt volume from being stopped Zentimo allows you to see and unlock such programs.

Lets you stop autorun viruses

One of the most requested features for Zentimo was an ability to fight with Autorun viruses. We do not want to compete with antivirus software so we decided to add a dumb but a hundred-percent guaranteed way to get rid of autorun viruses on your computer: option to fully disable native Windows autorun & autoplay features. Autorun viruses infect your computer through windows autorun & autoplay so by disabling them fully the autorun viruses just won't run.

Honest drive speed test

Most other drive speed testers measure only the read\write speed of large files, displaying a theoretical drive speed. This is not related to real-life speed as we often write plenty of small files to external drives.

Our investigations shows that some flash drives have worse performance than other ones on writing of small files however their top performance at writing large files are the same. Therefore we added to Zentimo a performance measurement tool that allows to display you real performance of your drive.

Zentimo measures the file read\write speeds of 3 different file sizes: small files (32 KB), medium files (3 MB) and large files (100 MB) and displays all those measurements as well as an average. The average speed calculated by Zentimo reflects your drives real performance more accurately than characteristics from the vendor's specification.
dotTech Advice
I've said in the past USB Safely Remove is a brilliant program for managing plug and play devices. Zentimo, the successor to USB Safely Remove, is a brilliant-er program. USB Safely Remove picks up where Windows native manager ends; and Zentimo picks up where USB Safely Remove left off. As attested by the features list shown above, Zentimo not only helps you manage your USB, SATA, and Firewire devices – ensuring you safely use them – but it also has other handy features such as: Autorunning programs on device connection/disconnection; serving as a launcher for portable software on your external media; testing the speed of your drives; and more. Zentimo is highly recommended.
Really the only issue I have with Zentimo is it is has a slight learning curve. However, that is to be expected. As programs get more features, they become more complex and thus require a bit more learning than before. It is just the nature of the beast; and in a way isn't even a fair criticism of Zentimo because once you get used to it, Zentimo isn't that hard to use at all.
That said, however, if you are only the occasional user of USB/SATA/Fireware devices, Zentimo is not for you. Sure Zentimo has some features outside of just managing plug and play devices but its main goal is to manage those devices; and if you rarely use USB/SATA/Fireware devices, such as a flash drive, learning a whole new program – especially one with so many features as Zentimo – is not worth the effort. Windows native manager may be crap but its good enough for the occasional use. If, however, you are a gadget junkie… then you should jump upon this freebie while you still can.
Freebie Details
Zentimo is being given away in a promotion by the developer themselves. This giveaway is actually a continuation of the giveaway on Giveaway of the Day which occurred recently; the developer extended the giveaway a few more days past the customary 24-hour GOTD window.
This giveaway is of Zentimo v1.4, which is the latest version at the moment. Free updates are not part of this promotion nor is free technical support. However, this freebie provides you with the right to "lifetime use" of Zentimo v1.4 and use on all of your personal computers; so that presumably means as long as you keep the installer and registration details safe, you should be able to install/reinstall Zentimo v1.4 at any time in the future.
This giveaway is live until December 16, 2011 December 21, 2011, so grab it while you can if you want it.
To get Zentimo (v1.4) for free, do the following:
Version being given out for free: v1.4
Free updates: No
Free technical support: No
Supported OS: Windows 2000/XP/Vista/Win7
Download size: 3.2 MB

Take note that you are required to enter your full name, which means first and last.
Check the inbox of the e-mail address you registered with. Look for an e-mail from Zentimo Team support@safelyremove.com with subject of Zentimo License Key (valids only for v. 1.4!). In the e-mail you will find your registration details:

Copy the registration code and keep the registration name in mind. You will need to use both very soon.
Download and install Zentimo (v1.4).
After installation you will be prompted with a start-up screen. You can change the settings as you please but I highly suggest unchecking the automatic updates option since this freebie does not make u eligible for free updates: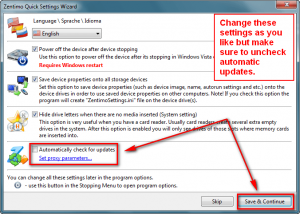 Right-click on the Zentimo system tray icon and register it with the registration details you received earlier: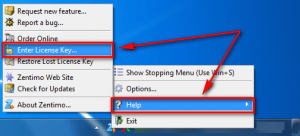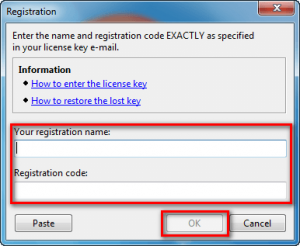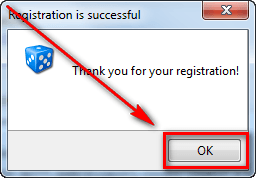 If you have trouble getting Zentimo (v1.4) for free, post below and other dotTechies or I will try to help.
Thanks jelson!
Related Posts