Are you tired of paying lots of money for expensive programs to handle your document editing needs? The programs reviewed here today are all free and offer functionality that easily rival commercial offerings such as Microsoft Word and for the most part are simpler to use. So… what is the best free word processing program available for Windows (many of these programs work on several other types of OS as well)? Let's find out… but bear in mind that all of these programs are great! It was a very difficult task deciding which one should be given the title of Best Word Processing Program.
This review is part of our Best Free Windows Software section. Check out more articles on the best free Windows programs from here.
Table of Contents
Best Free Word Alternative
Program Name: LibreOffice Writer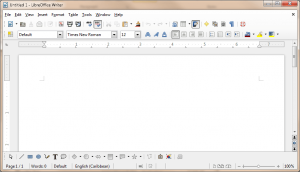 Developer: The Document Foundation
Download Size: 204MB (includes other bundled productivity software, including presentations and spreadsheets)
Version Reviewed: 3.6.4.3
Requires: Microsoft Windows 2000 (Service Pack 4 or higher), XP, Vista, Windows 7, or Windows 8
Note: For those of you looking for OpenOffice, LibreOffice is a version of OpenOffice. LibreOffice was built using OpenOffice source code but is now more actively supported. If it helps, think of LibreOffice as a better version of OpenOffice.
Pros
Open Source therefore it is supported by a large community which means that volunteers can help newcomers and the developers themselves can work with you to help find solutions to complex problems
Ability to edit and create PDFs
Handy extensions such as the presenter console extension which provides more control of slide show presentations such as viewing presenter notes and the PDF import option which allows users to import and modify PDF documents
Familiar interface for former Microsoft Word users making for an easy switch
Ability to read and edit all major formats (including .doc and .docx)
Can save as .doc, .docx, or various other formats including .odt
Ability to create charts such as pie charts and scatter plots
Cons
Currently no online collaboration feature available

Cannot save as .docx
LibreOffice is an easy to use word processor which has all of the tools necessary for getting the job of editing documents done effectively and these tools are readily available for users to access. Sometimes with free software you get the feeling that you are being deprived of features but this is certainly not the case with LibreOffice. It is easy to see that the claim made on the LibreOffice website that the program is simple enough to create a simple document but powerful enough to create high quality content such as books is no lie. LibreOffice makes use of wizards for creating letters, faxes, agendas, presentations and web pages in order to take the complexity out of these tasks.
Two of the notable features which LibreOffice offers are the ability to create and to edit PDF documents. The PDF format is extremely popular for read only documents such as e-books, articles and notes. Most users probably have several of these types of documents on their computers. Sometimes it is also useful for users to edit these documents and LibreOffice offers this functionality. LibreOffice offers all of the functionality one would expect from a paid program such as the ability to create advanced graphs and pie charts and an advanced equation editor which has the ability to display a large rage of elements from terms with fractions to terms with exponents, indices and integrals. Unlike Abiword, highlighting of text is supported which is useful for highlighting important information when reading documents. One feature which is unusual but could prove quite useful for creating a document full of rich and interactive content is the ability to add a movie or sound to your document! There is also the option to change the background of documents which would be useful for creating booklets.
My only issue with LibreOffice is the lack of online collaboration. This feature is becoming increasingly important in today's world and for group collaboration and is offered by online services such as Google Docs. There is word that this feature should soon be coming to LibreOffice. However the fact remains that it isn't currently integrated into the program.
Despite this deficiency, LibreOffice is an excellent word processor and could easily replace a paid program such as  since it has a high level of functionality
Runner Up
Program Name: Abiword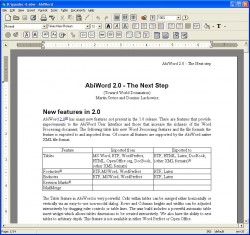 Developer: Open Source (formerly SourceGear Corporation)
Download Size: 7.94MB
Version Reviewed: 2.8.6
Requires: Windows 95 and later
Abiword presents all of the features needed to edit a basic document on a system of toolbars at the top of the screen. If you have ever used a word processor before the interface will be very familiar to you and if you are using this program for the first time, it should be a breeze to start using.
Like LibreOffice, Abiword is also open source and is supported by a large community. Abiword places the buttons for the most important features directly onto the toolbar. Abiword's online collaboration is a clear demonstration of the high quality of this word processor. You can either collaborate through the AbiCollab.net Collaboration Service( which is free of course! ) after signing up or you can collaborate using a direct connection( TCP )! Abiword has many many nifty features such as a dictionary and a translator. You can also search for information you are unsure about from directly within the document you're editing by selecting the required text, right clicking and selecting Wiki Encyclopedia search or Google search. Users can choose to select the options to make revisions while typing or not to which is a good thing as autocorrect features can be quite annoying at times as anyone who uses a smartphone should know by now. One of the more powerful features is the revert feature. This is similar to the commonly found undo option but it allows the user to erase all changes made since the last save.
Although this is a great program I do have some issues with it. Firstly, there is no way to create charts directly without any additional installation which is a real downer as this program has so many other readily accessible options.. Also, the equation editor is lacking and does not have many options for creating different types of equations. You are limited to simple equations and it doesn't seem to handle fractions well. Abiword is also unable to handle many of the formats which LibreOffice can. LibreOffice is also better suited for creating high quality, rich content such as books and booklets.
If you just want to get on with the business of editing your documents without any headaches, Abiword is the program for you. With tons of built in plugins for added functionality it will also offer you some advanced options for enhancing your content.
Honorable Mention 1
Program Name: Kingsoft Writer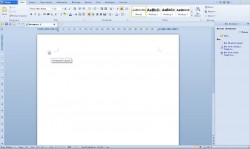 Developer: Zhuhai Kingsoft Office-software CO., Ltd.
Download Size: 32MB
Version Reviewed: 8.1.0.3030
Requires: Windows 2000 / Windows XP/Windows Vista (32bit, 64bit)/Windows 8
Kingsoft Writer is laid out very similarly to LibreOffice and offers many of the same features (including great integration with Microsoft Word formats) thus it also gives users the sense that they must have paid for this but believe it or not this is a free program! Kingsoft writer is a small installation but it packs a powerful punch and is a very effective word processor.
One of the features which is very innovative and simply amazing is the paragraph editing feature. Users can structure and restructure their paragraphs with ease using Kingsoft writer by simply selecting the required body of text and dragging the required line of text to the required position. Paragraphs can also be easily dragged and dropped to the required position in the body of the document. Like LibreOffice Kingsoft Writer also allows users to convert documents to the PDF format from directly within the program; however it will not let you edit them. Another great feature is tabbed document browsing which allows users to open several documents without having several windows open. Users are also able to encrypt their documents if desired.
Although this program is for the most part very effective, I do have some issues with it. Firstly like LibreOffice it offers no online collaboration option and it does not handle charts as well as LibreOffice.
Neglecting these downfalls however, Kingsoft Writer is an amazing little program and will handle most word editing jobs with ease.
Honorable Mention 2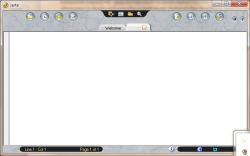 Program Name: Jarte
Developer: Carolina Road Software
Download Size: 2.91MB
Version Reviewed: 4.5
Requires: Windows XP/Vista/7/8
The main focus of the developers of Jarte was to create a word processor which carries out the basic required functions of a word processor as well as to add features such as tabbed documents and clickless menus which aren't found in any of the other offerings which were reviewed.
Jarte is based upon the tried and tested Microsoft Wordpad engine which makes its operation very stable. It is also quite a tiny installation. It also makes use of a tabbed interface which makes it very easy to access documents and it supports the RTF, DOC and DOCX file extensions. Users can choose to view the program in classic mode, compact mode or minimalist mode where each mode displays the menu system a little differently with less visible buttons for the compact mode and minimalist mode which allows for some screen real estate to be freed up.  It can also be run directly from a USB flash drive, CD or even from a Dropbox folder as specified on the Jarte web page. This acts to enhance its portability. Although Jarte's menu system is probably like nothing you've ever seen before it is relatively simple and it works. Users just need to hover over buttons to see available options which allows for quick operation. Also of note are the built in thesaurus and encyclopedia options which give the user access to needed synonym and information respectively. Jarte also has a built in screen capture function and a clip list function which allows users to display and reuse the 25 most recent clipboard clips. In addition Jarte also has an adjustable auto save feature where users can choose the frequency of which their documents are saved automatically.
Although Jarte is portable and fast with great functionality it lacks the ability of the other reviewed offerings to handle many file formats.There are several file formats out there and Jarte restricts users to working with the RTF, DOC and DOCX formats. It also does not support online collaboration.
Other Alternatives
Related Posts