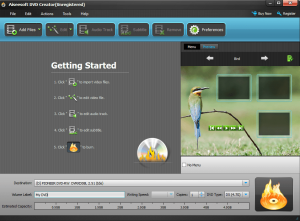 Creating the perfect DVD disc can be challenging to say the least. Sure, anyone can burn a movie onto a disc, but what about making great looking menus? What about adding in your own background music? Aiseesoft DVD Creator can help you with this and more! In short, it is an all-in-one DVD creator.
WHAT IS IT AND WHAT DOES IT DO
Main Functionality
Aiseesoft DVD Creator is a program that helps you burn, create, and customize your DVDs. The program is able to convert just about any popular video format into DVD format. It also helps you create menus for your DVDs and allows you to add audio tracks. Other features include the ability to add subtitles, edit subtitles and it has a very intuitive user-friendly interface.
Take note because of its video converting capabilities, this program allows you to 'author' DVDs — not just 'burn' DVDs.
Pros
Convert nearly any file format to DVD-format: 3GP, AVI, DV, VOB, FLV, M2TS, MTS, SWF, MKV, MPG, MPEG, MPA, DAT, MP4, TS, NSV, MOV, QT, RMVB, etc.
Preview your video source with the built-in video player
Edit your videos: Adjust brightness, contrast, hue, and volume
Add watermarks to your videos (optional)
Customize your own DVD menus. Software comes with its own menu template.
Add your own music to the DVD (add background music)
Add subtitles
DVDs created are compatible with almost any DVD player
Very user-friendly interface
Cons
Some other free DVD creators offer many, if not all, of the same services
Discussion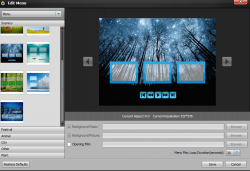 What can I say about Aiseesoft DVD Creator besides the fact that it truly is good? If you are looking for an easy way to create DVDs from home, this is it. However, to better understand that we should get into the features it has to offer.
The first thing that I noticed about Aiseesoft DVD Creator is its interface. It is extremely user-friendly. If you are new to the whole DVD creating scene, this program is for you! The second thing I noticed was the fact that I was able to convert just about any video file into DVD format. There are some programs that won't take certain file types, but Aiseesoft DVD Creator takes 3GP, AVI, DV, VOB, FLV, M2TS, MTS, SWF, MKV, MPG, MPEG, MPA, DAT, MP4, TS, NSV, MOV, QT, RMVB and more.
A lot of the other features it offers are helpful but typically come with other DVD creators as well. For example, they offer you custom templates that you can use to create your own DVD menus. These templates are not mind blowing, but they get the job done. It also offers you the ability to see a preview of the source file before you start burning the DVD. If you see a problem you can correct it before you waste one of your DVDs.
It also offers features like the ability to add and edit subtitles. Once again, this is a feature that many other programs offer as well, but it is nice to see that they did not leave it out. You can even add watermarks to your videos, but I really don't see a reason why most people would want to do such a thing.
The main problem with this program is that it is just average, and for $35 I would like a little more. However, for a basic DVD creator it gets the job done. It definitely is not the worst program that you can go with!
CONCLUSION AND DOWNLOAD LINK
All in all, Aiseesoft DVD Creator falls short of being great, but it is still good. The program offers all the basic features that you would expect in a DVD creator, and the fact that it supports so many files is a plus. However, if you're looking for a program that goes that extra yard, you may be disappointed. At least you can download their trial version to see if you like it before buying.
If you are interested in freeware offerings, DVD Flick has always been a dotTech favorite while DVD Styler is also an option, and I'm sure there are many more free DVD creators other there.
Price: $35
Version reviewed:
Supported OS: Windows 2000 / 2003 / XP / Vista / 7
Download size: 36MB
VirusTotal malware scan results: File too large to scan
Is it portable? No
Aiseesoft DVD Creator homepage
Related Posts