The most important characteristic of a clipboard manager is its ability to save time. Clipboard managers allow users to store a history of previously copied content such as text and images—whereas the built in Windows Clipboard only allows for storage of one item at a time—thus allowing for speedy access of such content. This comes in especially handy when carrying out repetitive data entry tasks such as entering repeat formula as well as storing images in a database for further processing. Other uses include storing common sections of code (for programmers) and storing online form information. Some of us routinely carry out such repetitive tasks given our professions, habits or hobbies and the ability to cut down on the monotony of switching back and forth between desired content is a valuable asset.
With that being said, there are several great clipboard managers out there which offer users the functionality described above; below are the best four clipboard managers available for Windows.
This review is part of our Best Free Windows Software section. Check out more articles on the best free Windows programs from here.
Table of Contents
Best Free Clipboard Manager
Program Name: ArsClip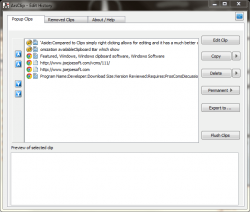 Developer: JoeJoeSoft
Download Size: 1.75MB
Version Reviewed: 4.7
Requires: Windows XP/Vista/7
Approximate Memory Usage While Idle: 3 MB

Pros
Supports rich-text and images
Works with files in Windows Explorer
High level of customization available
Optional 'Clipboard Bar' which shows current clip on clipboard and can be moved to any location on screen
Ability to easily set permanent clips
Non intrusive interface
Cons
Discussion
ArsClip is a very effective clipboard manager and will give users access to all of the features necessary to be as efficient as possible at their specific tasks which require the use of a clipoard manager.
Like Ditto, ArsClip can handle any type of clip copied to the clipboard as well as files from within Windows Explorer. The options menu of ArsClip allows users to customize every aspect of the program from the hotkeys that activate pasting to the clipboard, to the sound played when a clip is copied and the enabling/disabling of clipboard monitoring as well as allowing the triggering of the popup menu by right clicking.
Users can choose exactly how many clips they want to be stored in the history. There is a choice of how many clips are stored by being made immediately available on the popup menu and, how many are stored out of sight but still remain in the program cache. This is useful as not all of the clips need to be immediately available for pasting and can be adjusted based on the habits of users. Users can also make certain clips permanently available and store them in different groups. Unlike Ditto these groups are more easily handled and can actually be selected. ArsClip also includes an adequate text editor which allows for users to make any changes they deem necessary to text clips before copying to the required location.
ArsClip is simply a great program and there is only one issue I had with it which may not bother many readers out there. Its text editor is not as comprehensive as the one found in Ditto and did not offer many of the formatting options found there.
Yes Ditto as you will read allows for a single clipboard to be synced across several computers and is another great offering but in terms of the ability to simply manage clips– neglecting any extra bells and whistles– ArsClip proves to be better even if only slightly. This is especially the case due to the groups feature. It is a basic feature but ArsClip got it right and Ditto didn't quite do this. ArsClip allows users to comprehensively manage their clips and should prove effective for many different types of usage.
Runner Up
Program Name: Ditto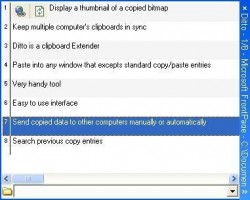 Developer: Scott Brogden, Kevin Edwards
Download Size: 3.12MB
Version Reviewed: 3.18.46.00
Requires: Windows 2000-Windows 7
Approximate Memory Usage While Idle: 2.5 MB

Discussion
Ditto is a comprehensive clipboard manager with all of the tools necessary for handling your clipboard manager needs.
Ditto offers users a comprehensive solution for managing the Windows clipboard. It offers users several options for choosing exactly how they want their copied clips to be managed.
Ditto handles any type of clip you throw at it and is compatible with files from within Windows Explorer. Ditto offers a variety of options for choosing keyboard shortcuts for pasting clips into the required body of text. There is a shortcut that can be assigned with a desired combination, which most users will probably use, that brings up a popup menu and allows users to manually select which clip they want to paste. Alternatively, Ditto allows for the assignment of shortcuts which allow for the last ten copied clips to be pasted quickly. Perhaps one of the most interesting and potentially useful features is the ability to sync a single clipboard across several computers. An example where I am sure this would come in handy is in the coding of programs. A team working on an application could easily share important code snippets using this function. Ditto allows users to assign clips to groups as well as to edit them. The text editor included is quite advanced and has several features that you would expect to find in a standalone word processor. Users can change font type, font size, color of text and carry out various levels of formatting on text clips such as aligning text to various positions on the screen, adding bullets, indentation as well as the well known bold, italic and underlining options.
Another great feature of Ditto is its ability to let the user choose they type of media Ditto can handle. For example, you can choose to disable or enable types of clips such as text or images.
My only real issue with Ditto, as pointed out by dotTechi njwood60, is that Ditto allows for the display of group entries in the main list but you are unable to select the group.
Upon review of all the features and functionality offered by Ditto it is an effective clipboard manager offering users from basic to advanced function and should prove quite useful for a large selection of users.
Honorable Mention 1
Program Name: ClipX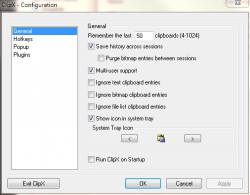 Developer: Francis Gastellu
Download Size: 108KB
Version Reviewed: 1.0.3.8
Requires: Windows
Approximate Memory Usage While Idle: 800 KB
Discussion
ClipX is a powerful program with features practically identical to CLCL and Ditto but its GUI is noticeably better than CLCL and it is immediately clear how to utilize all of its features.
ClipX handles the copying of text and images from web pages and text documents as well as files( including images ) from Windows Explorer much like ArsClip and Ditto. Users have multiple options for activating Clipx. For example, users can utilize it by simply pressing the paste hotkey at the required location and a dialog box appears displaying the clipboard history thus allowing users to select whether they want to copy their text, images or files to a desired location. Users can also view and select clips from the clipboard history by single left-clicking on the application's icon in the system tray. Users can edit their text clips by right-clicking on the ClipX icon and selecting manage. This allows for desired modifications to be made to text before copying. ClipX's configuration menu allows users to specify the maximum amount of clips which can be saved, to set hotkeys, to customize the popup dialog box and to manage plugins. ClipX supports several plugins which can be downloaded from ClipX's homepage and will enhance functionality as desired.
There are only 2 issues which I have with ClipX and 1 more major one. Firstly the lack of a timestamp on clips means that users cannot tell exactly when they were created which may or may not affect their experience but this feature could be useful for record keeping purposes. In addition ClipX is not regularly updated which means that there may be little hope for any existing bugs to be fixed; the last time a stable update was released was on November 30th, 2005  while the latest beta version was released on July 6th, 2008.
Despite these issues ClipX still has functionality comparable to that of both Ditto and ArsClip.
Honorable Mention 2
Program Name: CLCL
Developer: Nakashima Tomoaki
Download Size: 180KB
Version Reviewed: 1.1.2
Requires: Windows All
Approximate Memory Usage While Idle: 3 MB

Discussion
CLCL offers users a high level of functionality and advanced features with an extended clipboard without many embellishments but it does so quite effectively.
There are 2 application files which come with the CLCL archive file. One file contains options for setting up the program and the other is the actual program. The set up file contains options such as the number of items to save to the history and the ability to set the default copy and paste keys. The main window displays the history of items copied, templates as well as the current item saved to the default Windows clipboard. CLCL handles copied text and images easily and also has the powerful feature of being able to manage files within Windows Explorer. CLCL also allows for the installations of plugins which would bring added functionality to an already capable program.
Although CLCL does its job well it does lack some of the finesse in its GUI when compared to other programs. For example when using Clipboard Help and Spell, the well laid out GUI is immediately noticed and everything simply  flows. Also, although CLCL does allow for added functionality through plugins, the lack of documentation makes it difficult to implement this.
In summation, despite its faults, CLCL is a sturdy little clipboard manager that is guaranteed to get the job done as there is no type of copied content which it cannot handle.
Honorable Mention 3
Program Name: Clipboard Help+Spell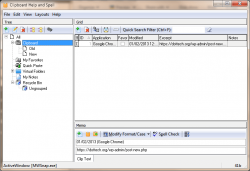 Developer: DonationCoder
Download Size: 3.62MB
Version Reviewed: 2.17.01
Requires: Win95, Win98, WinME, WinNT 3.x, WinXP, Windows 2000, Windows 2003, WinVista, WinVista x64, Win7 x32, Win7 x64
Approximate Memory Usage While Idle: 15.4 MB

Discussion
Clipboard Help and Spell possesses a wide variety of features which aim to cover all aspects of clipboard management and will prove an asset to anyone in need of such a program in order to improve their efficiency.
The interface of Clipboard Help and Spell is well laid out which aids in the user being able to access the clips they need as quickly as possible.  Part of this ease of access involves the different actions carried out when either right or left-clicking the system tray icon. A single left click brings up a quick paste menu which allows you to access some of the more recently copied clips, an option to carry out additional  actions on the latest copied clip and the options button among others while a double left click will bring up the main application window. A double right click toggles the application on or off while a single right-click brings up options such as help, an option to visit the program's forum to discuss the program and a check for updates option. A nifty little feature of Clipboard Help and Spell is its ability to spell check text clips which could save users from stray typos.  There is also a quick search filter integrated into the program which allows users to find their copied clips quickly. Users are also given the option of printing selected clips if they wish to.
Clipboard Help and Spell is undoubtedly a well laid out program with great functionality but on comparing it to ClipX, Ditto, ArsClip and CLCL it cannot handle files from within Windows Explorer and cannot handle plugins and is therefore slightly lacking.
For the average user of a clipboard manager Clipboard Help and Spell will get the job done easily as many persons may not seek out the Windows explorer functionality present in the other offerings and in the final analysis this excellently laid out program should undoubtedly save users lots of time.
Other Alternatives
This review is part of our Best Free Windows Software section. Check out more articles on the best free Windows programs from here.
Related Posts