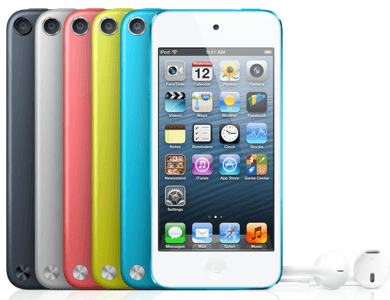 Looks like the iPod Touch won't be the only iOS device to come in different colors, with the iPhone rumored to join it when it gets upgraded this year. Topeka Capital Markets analyst Brian White has issued a report saying that Apple will not only include the option of color in the next iPhone, but possibly even screen size as well.
Our checks indicate that the next iPhone will have more choices for customers. This entails an expansion in both the color patterns and screen sizes with the next iPhone (i.e., likely called the iPhone 5S) that we currently believe will be launched in May/June with certain supply production starting in March/April.
White believes that Apple's introduction of colors to its iPod touch line was a "testing ground" for them, with plans to add that option to the iPhone next then eventually, the iPad. He also believes that a new model that is offered in multiple screen sizes will be a way for Apple to target multiple segments of the market.
Although Apple offers a 4-inch screen on the iPhone 5 and a 3.5-inch screen on the iPhone 4S and iPhone 4, the Company has never offered multiple screen sizes for a single model. We believe this is about to change with the next iPhone offering different screen sizes that we believe will allow Apple to better bifurcate the market and expand its reach. This eventually opens up the possibility for a lower-priced iPhone (i.e., iPhone mini) with a smaller screen size that could allow Apple to further penetrate markets such as China and open up opportunities in India. At the same time, Apple could unveil a larger screen size compared to the recently updated 4-inch screen on the iPhone 5.
While we won't know for sure until we see actual leaks of devices with different colors and sizes, the fact that Apple will be taking this route for the iPhone (and eventually the iPad) seems hard to believe. Screen size was just recently revamped in the iPhone 5, with developers having to make changes to their apps to accomodate the added real estate. To change that once again just wouldn't make sense and would be a very unlikely from Apple.
As for colors, it seems like an unnecessary change that should remain an option for the iPod touch, not the iPhone or iPad. When people do want to personalize their device, there are countless cases on the market that could do just that. And personally, an iPhone that isn't white or black just wouldn't have that premium look that it currently has.
But that's just me. Do you think multiple colors and screen sizes would be a good move for Apple's next iPhone? Let us know in the comments!
[via MacRumors]
Related Posts