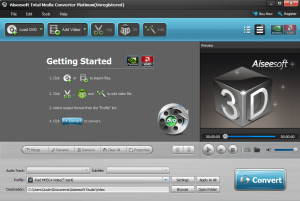 Are you looking for a beefy video converter with a lot of features? Well, Aiseesoft Total Media Converter may be just what you are looking for. Not only can this program convert to a lot of different movie files, but it can also turn your 2D movies into 3D.
WHAT IS IT AND WHAT DOES IT DO
Main Functionality
Aiseesoft Total Media Converter is a Windows program that will help you convert videos and audio files. Not only that, you can rip DVDs (will bypass DRM protection). The following chart shows exactly what input/output formats are supported by this program (click on chart to enlarge):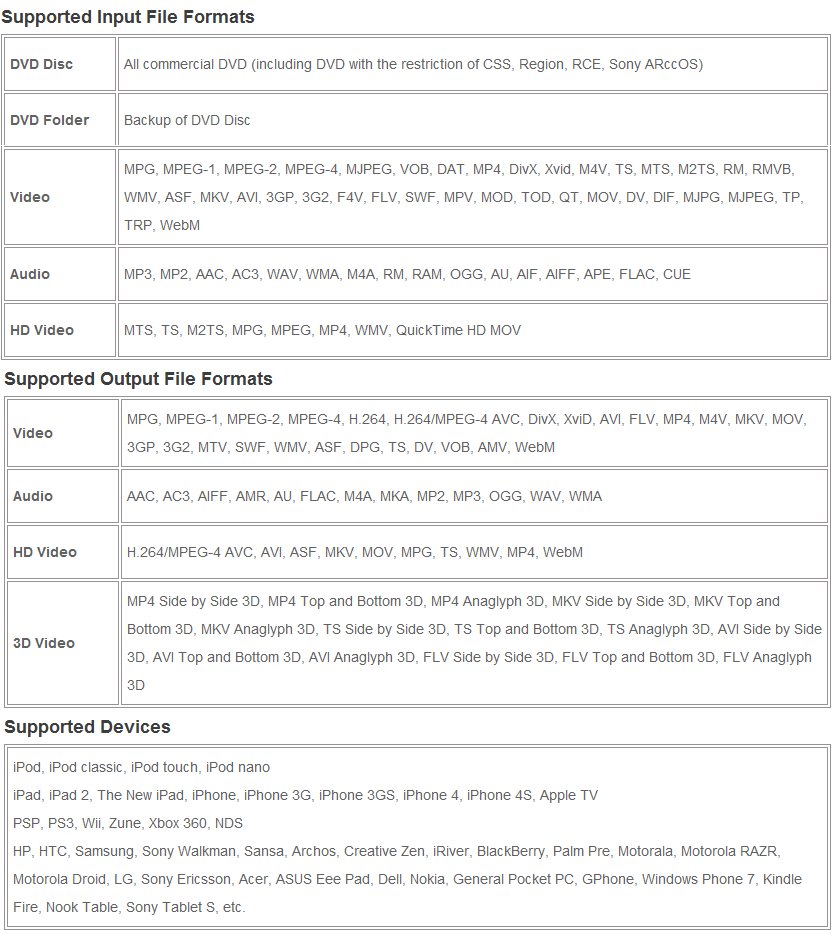 Take note that Aiseesoft Total Media Converter has two versions, Platinum and Standard. This review is written specifically on Platinum but we will identify the differences between the two versions.
Pros
Convert videos between popular video formats including but not limited to MPEG, AVI, MOV, FLV, SWF, and MP4
Convert audios between popular audio formats including but not limited to MP3, AAC, WAV, and FLAC
Rip DVDs (can rip DVD video + audio or just audio only) and convert into other video formats

Bypasses DRM protection — "all commercial DVD (including DVD with the restriction of CSS, Region, RCE, Sony ARccOS)"

Allows users the choice between picking a preset profile for specific electronic devices or video types or completely customizing the output settings
Includes basic video editing features, such as the ability to add watermarks, trim the length of any clip, crop the video play region, or adjust video properties (color, brightness, etc.)
Can turn 2D videos into 3D videos
Uses FFMPEG as the behind-the-scenes conversion engine, so conversion quality is excellent
Supports NVIDIA and AMD GPU acceleration
Has an option to automatically shut down computer after a conversion is complete
Supports batch processing
Can merge input files together into one output
Can extract just audio from videos
Cons
No "keep original resolution" option for output videos (however, you can manually customize the output resolution to match input resolution)
The general output video/audio profiles (i.e. the output profiles that are not for specific devices) are hidden in the "All Profiles" category, making them very hard to find
Movies converted into 3D don't offer as much depth as movies that were designed to be in 3D from the start (not necessarily a limitation of the program but rather a limitation of converting 2D to 3D in general)
No information on if the DVD ripping feature will bypass Disney's new X-project DRM protection
Can rip DVDs and store them in .VOB format but won't rip DVDs and store them into DVD folders, meaning lossless reburning is not a guarantee
Has issues converting some SWFs
Discussion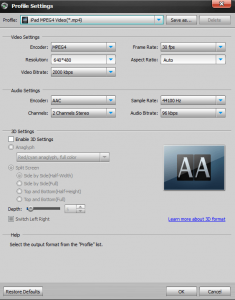 There are a ton of different movie converters out there. At first look, Aiseesoft Total Media Converter may look like all the others. However, after spending some time with it, I can say that the program impressed me. Now we just have to find out if it is worth the price tag.
First, let me start of by saying that there are two versions of Total Media Converter. There is the Standard edition and the Platinum edition. Today, we are going to be covering the Platinum version, but if you want to try Standard (because it is cheaper), you should know the following can only be found in the Platinum version:
Convert Videos to 3D
Clip Source File
Adjust 3D Settings
Switch Target File to Edit Windows
As you can see, the most notable difference between Standard and Platinum is the ability to make 3D videos.
So what can Total Media Converter do? Well, basically it is your all-in-one media converter. To name the most important functionality, it can convert video -> video, audio -> audio, video -> audio, rip DVDs and convert them to other video formats, modify video properties such as brightness, crop and trim videos, join video files together, add watermarks, adjust numerous parameters, and even add subtitles onto your videos. All of the changes you make to a video can be seen in real time thanks to the instant preview window they offer on the right side of the program. Then when you are ready to convert, you simply convert.
As you already know, many input and output formats are supported plus there is support for specific electronic devices.
There are two things I like about Total Media Converter. First, it is extremely fast and easy to use. This gives it a leg up on many of the free converters I have used. Second, I can turn 2D movies into 3D ones with this. This is a pretty neat feature. The movies that you create this way won't pop out as much as movies that were designed from the ground up for 3D, but you can adjust some of your 3D settings to make them pop more if you want. In the end, the effects are very noticeable, and a neat feature they added.
CONCLUSION AND DOWNLOAD LINK
In and of itself, Aiseesoft Total Media Converter is a good program. However, is it worth the price tag? It depends. Assuming you don't care about the 2D -> 3D conversion feature, you can grab Standard for $39. This $39 will fetch you a DVD ripper, video converter, and audio converter. Seeing as WinX DVD Ripper Platinum is just a DVD ripper for $39, $39 for a DVD ripper + video converter + audio converter is not bad (although it should be mentioned WinX DVD Ripper Platinum is a better DVD ripper than Aiseesoft Total Media Converter).
That said, you must realize video and audio converting is no longer an art — it is a science. Maybe in 2010 Aiseesoft Total Media Converter's video/audio conversion capabilities would have been impressive. Today there are tons of freeware that do excellent video/audio conversions — there is absolutely no need to purchase a shareware program for the ability to convert your video/audio files. Programs like Freemake Video Converter, Video to Video Converter Portable, Xmedia Recode Portable, FormatFactory, and more can all do excellent video/audio conversions and support tons of input/output formats.
So while it is nice that Aiseesoft Total Media Converter does DVD ripping, video conversions, and audio conversions in one roof, it just isn't worth $40. Grab one of the freewares I mentioned above for your video or audio converting needs. There are also freewares available for ripping DVDs — DVDFab HD Decrypter and DVDSmith come to mind — but if you don't want freeware for ripping DVDs, I recommend WinX DVD Ripper Platinum over Aiseesoft Total Media Converter for DVD ripping needs.
The only feature that is somewhat unique in Aiseesoft Total Media Converter, a feature that I have yet to find in freewares, is the ability to do 2D -> 3D conversions. If you want that, then you need to shell out $45 for Aiseesoft Total Media Converter Platinum.
Price: Standard Edition: $39.00 / Platinum Edition $45.00
Version reviewed:
Supported OS: Windows NT4/2000/2003/XP and Windows Vista and Windows 7
Download size: 25.1MB
VirusTotal malware scan results: 0/46
Is it portable? No
Aiseesoft Total Media Converter homepage
Related Posts