Windows 8 is the first version of Windows that has an effective notification system. When you finish installing an app or a new message has just arrived, you are shown notifications on screen — sort of like Android and iOS. For some people, the default amount of time notifications show for may be too long or too short to read the information. Additionally, when you have too many notifications, the long appearance of a notification may prevent others from showing. Therefore, in this article, I will show you how to change how long the notifications are shown for.
If you feel annoyed by notification system, you can completely turn it off. The other choice is just disable their sounds. You may want to read the previous article to discover what you can do with notification system.
HOW TO CHANGE HOW LONG THE NOTIFICATIONS ARE SHOWED
To do this tip, you need to follow these steps:
Open PC Settings by move your mouse to the left hotpot (on tablet, swipe from the right screen edge) and choose Settings.
In the Settings panel, you need to choose "Change PC settings" at the bottom.
What you have to do next is select "Ease of  Access" on the left side in PC Settings screen.
On the right side, you will see the option "Show notifications for," and you can choose how long you want notifications to display on screen. The length varies from five seconds to five minutes. I recommend that the notifications time should under 15 seconds.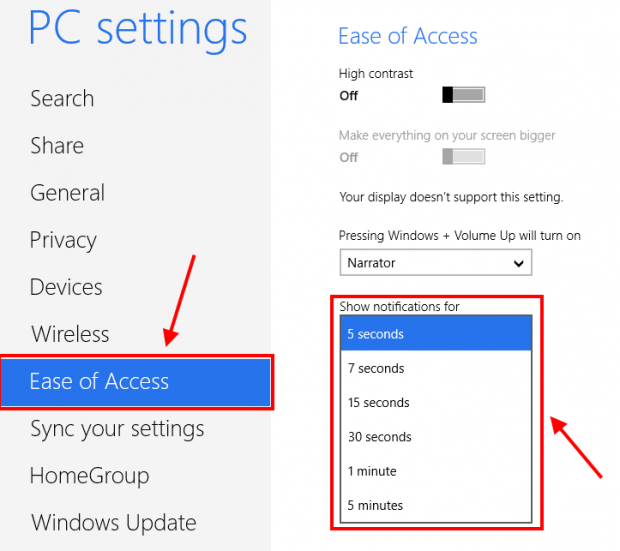 Once you make your selection, you are done!
CONCLUSION
Enjoy!
Related Posts