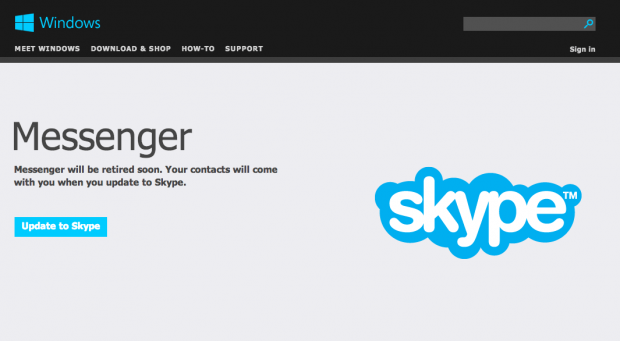 When Microsoft acquired Skype in 2011 for a cool $8.5 billion, the company slowly brought the service and its own Windows Live Messenger closer together. Microsoft made it possible for Skype users and Messenger users to talk to each other and exchange messages through Skype. But at the same time, the company also announced that it would be switching off the Messenger service in early 2013.
In an email to all Messenger users, Microsoft has announced that it will be shutting down Windows Live Messenger on March 15, and that users must turn to Skype. To assist people in the migration process, an upgrade button was added to the desktop version of Messenger that uninstalls Messenger and puts Skype in its place.
The service is believed to be used by around 300 million people every month and it's been around since 1999, so it's a little sad to see it go. But if there was any service that would be more than worthy to take its place, it's Skype.
If you're a Messenger user and haven't switched to Skype just yet, take some time and familiarize yourself with the service before the switch-off and hit up the link below!
[via BBC News]
Related Posts