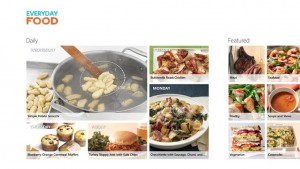 Cooking is every geek's nightmare. And Everyday Food helps us in this quest. With straightforward recipes and accessible ingredients everybody can become a Master Chef. And these recipes are simple to prepare and satisfy everyone. Like the developers say, with Everyday Food, you'll always get great food — fast.
What is it and what does it do
Main Functionality
Everyday Food provides quick access to recipes and guides to make tasty food.
Pros
Great Interface and organization
Easy and quick recipes
Access to the video guides
New daily recipe videos from Everyday Food editor in chief Sarah Carey
Watch & Learn technique videos
Save your favorite recipes so they'll always be right at your fingertips
Cons
No option to share recipes via Charms
No option to print
Discussion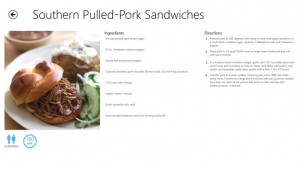 Everyday Food is a savior for all us dotTechies. This app gives great recipes. Food that's easy to make but looks great. The app has a pretty beautiful interface. It has very neat organization and has some very gorgeous food photos. You can easily search the database and pin your favorite recipes to Start.
The app's USP is definitely is the recipes. They are so easy and quick, perfect people who have zero experience in cooking foods. Also you have videos for all the recipes. And you also have many How-To videos, like How to measure flour, or how to poach eggs. You also have daily updates by the editor Sarah Carey.
This app doesn't have many cons, but one thing that has bothered me is no option to Share. You can't share the recipes. This I think is bad for the app. As a cookery app I am sure it will have many users who will be wanting to share the recipes. Also you have no access to the links so that you can share and see on other devices. Also an option to print would be lovely. Printing and keeping the recipe for offline access is necessary and I hope the developers soon add this option.
Conclusion and download link
In the end, this app is great and is definitely a must download for all wannabe Master Chefs and Nigela Lawson fans. This app has really great content and this eclipses all the cons. Though from a technical point of view, the missing options would definitely make the app more easy to use. Hope the developers listen to us and add these features. But no need to wait till then, you can straight away hit download button.
Price: Free
Supported OS: Windows 8, Windows RT
Supported architectures: x86, x64, ARM
Related Posts