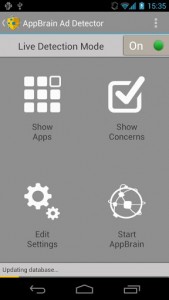 AppBrain Ad Detector is an app that will detect when an app is spamming your phone through a variety of different channels. This app is great for those, like me, who test out a lot of apps and are constantly installing and uninstalling them. This app will benefit those who hate having to deal with ads and other spam and don't know which app they are coming from.
What is it and what does it do
Main Functionality
This app is simply designed to alert you as to which apps could potentially be spamming your phone with unwanted ads or other forms of unwanted visual annoyances. It is designed to address privacy concerns that can easily arise when you are dealing with a lot of apps at once.
Pros
Find out which apps can access private information
Detects apps that spam using push notifications
Detects apps that put spam icons on your homescreen
Tells you which ad networks are embedded into apps
Detect which apps have SDKs
Detect which apps have developer tools
Cons
Cannot block ads
Heavy on battery life
Discussion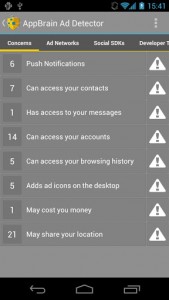 Every Android user has without a doubt suffered unfortunate experiences after installing an app. Perhaps the most common is the fact that you can get bombarded with ads in all different forms. The most popular form being push notifications that show ads in your notification bar. In other circumstances, this can mean spam icons automatically being placed on your homescreen. In even more extreme cases, some apps can reek havoc on information such as contacts, emails, and text messages.
Appbrain Ad Detector aims to alert you when all of the mentioned sketchiness is taking place without your knowledge. Not only will it tell which apps are doing the spamming listed above, but it will go into much more detail about the inner workings of the apps. For example, it will tell you which specific ad service the app is using so you can easily weed out which services you view as threats. Additionally, it will tell you which apps are using social SDKs and even more importantly, which apps are using developer tools such as Google Analytics. This is important because these are the two functions that app developers use to gather information unobtrusively and consequently, the functions that will give away the majority of your private data.
While this app provides a very simple and effective service by simply alerting you to what each of your apps are capable of, there are a couple things I would like to see. For starters, this app doesn't actually block any of the threats that it finds. It simply alerts you to what exactly the specific app is doing. Additionally, this app can be extremely heavy on your battery if you are constantly using it. While this isn't an app that needs to be constantly utilized, it is still inconvenient for power users who want to monitor their apps consistently.
Conclusion and download link
This app is a really fantastic way to monitor everything that is going on behind the scenes of your phone. With all of the various apps out there on the market, it can be difficult to determine which ones are legitimate and which ones are out to collect your information. When all is said and done, this app can be a real lifesaver and really help you weed out the illegitimate apps.
Price: Free
Version reviewed: 1.8
Requires: Android 2.1 and up
Download size: 1mb
AppBrain Ad Detector on Play Store
Related Posts