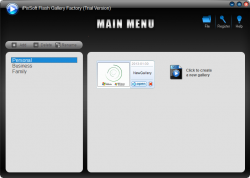 With the availability of so many website to upload photos and videos to share with others (Facebook, Imgur, etc.) photo and video galleries and/or slideshows are becoming less and less used day by day. However, there are still some needs for photo and video galleries/slideshows and iPixSoft Flash Gallery Factory is a program that helps you create them. Let's see if it is worth your time.
WHAT IS IT AND WHAT DOES IT DO
Main Functionality
iPixSoft Flash Gallery Factory helps you create galleries or slideshows of your photos/videos. You pick from out of 9 templates to use, add your photos/videos to that template, customize the transitions or other settings as desired, and output the galleries as SWF, standalone EXE, screensaver, video, HTML5 video, or upload online. Once outputted, you can share galleries with others.
The important thing to note here is even though the name of the program includes 'Flash', you can create more than Flash galleries with this program.
Pros
Straightforward and easy to use
Has well-designed, aesthetically templates for you to use
Each template can be customized on a per-gallery basis, such as adding more text, using an image for the background, adding clipart (150+ clipart available for you pick from), changing template size, and rearranging template buttons
Allows you to input images and/or videos in galleries; all major image and video formats supported including to JPG, PNG, GIF, BMP, SWF, AVI, FLV, MPEG, MP4, and WMV
Allows for transitions between images/videos in galleries; 74 transitions available in total, by my count, and the duration of transitions can be customized
Each image/video you input into a gallery can be edited; video can be trimmed, cropped, and/or muted while images can be cropped, rotated, flipped, brightness modified, and/or contrast modified
Each gallery can have up to 500 images and/or images, and the duration of each can be customized
Background sound can be added to galleries
Galleries can be outputted as SWF, standalone EXE (which can optionally be burned to disc), screensaver, video (AVI, MKV, WMV, FLV, MP4, MOV, or MPG, with optional HD resolution), and HTML 5 video; galleries can also be uploaded online to developer's website (which can then be shared with others via link or embedded on websites or social network profiles that support embedding),
Cons
Has only 9 templates for you to pick from
Uses an absurd buy-by-template system. Instead of buying the program itself, you must buy each individual template you want to use.
Uploaded galleries are automatically deleted after 1 year; you must re-upload to keep them alive
A bit slow in outputting galleries
Not 100% bug free
According to Zemana AntiLogger, iPixSoft Flash Gallery Factory tried to access my webcam multiple times (no reason for it to do that)
Discussion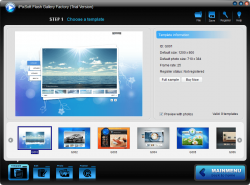 What can I say about iPixSoft Flash Gallery Factory. Well, for one thing, it is extremely easy to use. Second, it has 9 templates you use to create your slideshows. Third, slideshows (or galleries, whatever you want to call them) can be of photos, videos, or a combination of both. Last, when you are happy with your slideshow/gallery, you can output it in a various different ways (mentioned above in 'Pros').
Between the 'Main Functionality', 'Pros', and 'Cons'  sections of this review shown above, you should have a good idea of what iPixSoft Flash Gallery Factory is and what it does; I'm not going to repeat myself (too much). Rather, I want to tell you why you should probably stay away from this program:
iPixSoft Flash Gallery Factory comes with only nine templates. In other words, you can pick from only 9 templates to use and you cannot create your own custom template. While these nine templates are extremely well-designed, more choice would better. You can view what templates are available with the program from the homepage link we provide at the end of this review.
iPixSoft Flash Gallery Factory uses an absurd buy-by-template system. You see, you don't actually buy iPixSoft Flash Gallery Factory itself. Rather, you buy the templates that come with this program. Each template costs $19.95 for home use and $29.95 for business use if you buy them one by one. If you decide to buy all nine templates together, you get a discount at $99.95 for home and $179.95 for business.
iPixSoft Flash Gallery Factory is not 100% bug free. When outputting galleries, the program gave me a 'Division by zero' error multiple times and refused to output the gallery. However, it did work eventually when I restarted the program and tries some other photos.
According to Zemana AntiLogger, iPixSoft Flash Gallery Factory tried to access my webcam. This happened multiple times. I, of course, blocked it each time. There is no reason why iPixSoft Flash Gallery Factory should be accessing my webcam. For what is worth, Virustotal shows the program as clean (0/46) so this may be a false positive. Probably not worth the risk, though.
CONCLUSION AND DOWNLOAD LINK
Combine the absurd price, bugs, lack of template selection, and potential security risk of webcam access, and iPixSoft Flash Gallery Factory gets a big 'not recommended' from dotTech. This program, in my opinion, just is not worth it.
If you are looking for freeware solutions that can create galleries or slideshows, off the top of my head I know of Anvsoft Photo Flash Maker Free which is a fairly good program. Windows Movie Maker can also be used to create photo or video slideshows, but they can only be output as videos not actual slideshows. I'm sure there are tons of other freewares that do the same thing.
Price: $19.95/$29.95 per template or $99.95/$179.95 for all of them
Version reviewed: 1.6.0.0
Supported OS: Windows XP (SP2 or later), Windows 2000, Windows 2003, Windows Vista, Windows 7
Download size: 13MB
VirusTotal malware scan results: 0/46
Is it portable? No
iPixSoft Flash Gallery Factory homepage
Related Posts