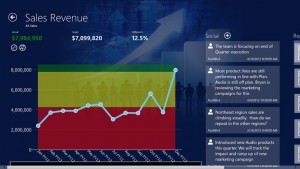 PushBI is a business intelligence tool. Now at this fast paced world, where we have cut throat competition, it is important that we are on the top of our game. Hard work plus the right intelligence would help us achieve this. PushBI an innovative app from the stables of Extended Results, Inc. which just promises this. And from the looks of this it does seem like a worthy addition to your app collection.
What is it and what does it do
Main Functionality
PushBI is a business intelligence tool that measures and sizes up your business and gives you key performance indicators.
Pros
A lot of varied KPI's (Key Performance Indicators) available for viewing
Interface is easy to use
Built-in social features helps easy collaborating with fellow owners and users
Access you business reports using Report Catalog
Data complied from reputed sources like from Microsoft, Oracle, SAP, IBM, etc.
Cons
Searching the app needs more improvement
More integration on the Social Side needed
Easy downloading of reports for offline usage
No live tile support and sharing via Charms bar
Discussion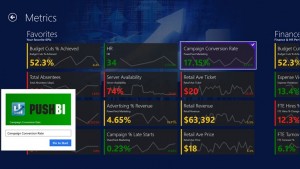 PushBI seems like the need of the hour for many of us. With doing business getting more difficult than ever before, PushBI will definitely help you stay on the top of your game. This app comes from the guys at Extended Results, Inc. who have taken the first step among players in Windows 8 app store.
To begin with, the whole app works around KPI (Key Performance Indicators). With KPI you can stay in any part of the world and follow trends of the world, so that you can take decisions on the fly. Also you can keep up with the stats of the field you have invested in, so that you can take wise decisions with regard to your investments.
The data to begin with comes from a lot of reputed sources, from big players in the data metric field like IBM, Oracle, SAP, etc. So you don't have to worry about the authenticity of the data being served to you. The interface is great to use, and the Metro UI helps organizing different sections of the app for easy access. There are also built in social features with really well thought commenting from fellow users of the app. You can also connect with them and work on your networking. You also can login to your personal account for better insightful analysis of your business.
Well, the app does have its share of cons too. To begin with it the searching of the app must be made better. One of the only ways you can access KPI is searching, and not always would you remember the keywords. Also I felt for more features on the Social Side. They can definitely take a cue from the Social Networks when they are working on this. Also, if there was an option to download Reports for easy offline access and sharing would also be very handy. And it surprises me that the app doesn't support live tiles.
Conclusion and download link
This app is great, and I haven't seen anything in similar lines. The app does have a great potential and is a must for people in this field. You can definitely get a lot of help and the best part of the app is it is free. There are cons but none of them come in the middle of your usage. It won't hamper you experience with the app. So go on try the app and gain more great insightful analytics.
Price: Free
Supported OS: Windows 8, Windows RT
Supported architectures: x86, x64, ARM
Related Posts