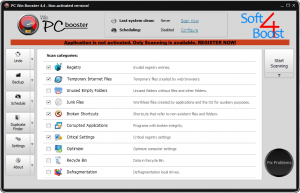 As you use your computer over time, eventually it fills up with what can be considered "junk" — leftover registry entries from programs you installed, temporary files from web browsing, etc. Not only can some of this junk be considered privacy risks (e.g. your internet browsing history), but some of this junk can build up enough so that it eats a significant portion of your hard drive. You know, like having 42GB of temporary files. This is where registry and junk cleaning programs come in. Soft4Boost PC Win Booster is one such program. Let's see if it is worth your time.
WHAT IS IT AND WHAT DOES IT DO
Main Functionality
PC Win Booster is a cleaner program for your computer. It cleans the registry, junk files, internet-related files (history, cache, cookies), empty folders, broken shortcuts, 'corrupted applications', and your recycle bin. In addition, PC Win Booster provides suggestions on 'critical' registry settings, computer 'optimization' settings, has a defragger, and a duplicate file finder.
On top of all that, there is a built-in scheduler which allows you to schedule automatic cleaning and a backup module that allows you to backup your registry and/or create a system restore point.
Pros
Cleans your registry, junk files, internet-related files (history, cache, cookies), empty folders, broken shortcuts, 'corrupted applications', and recycle bin
Provide suggestions on how to fix 'critical registry settings' and how to 'optimize computer settings
Has a built-in defragger and a duplicate file finder.
Has the ability to backup your registry and/or create a system restore point
Has a schedule that allows you to set automatic cleaning to happen at X time every day, every three days, every week, or every two weeks
Allows users to see what is going to be cleaned prior to the program actually doing the cleaning, giving users the ability to manually select not to clean specific things. In other words, a scan is conducted and you are shown the scan results prior to actual cleaning.
Comes with eleven different 'skins' you can pick from
Cons
Is extremely aggressive in cleaning, finding many (many) more registry errors and junk/temporary files than our beloved CCleaner
Scans very slowly and takes a while to stop a scan (if you decide to stop an in-progress scan)
Through 'Settings' you can control what each cleaner module cleans (e.g. what type of registry entries to clean, what type of junk files to clean, to clean internet history, cache, and/or cookies, etc.). However, the control is at a high level. For example, you cannot tell the program to only clean cookies from Chrome and not all browsers; it will either clean cookies from all browsers or none at all.
Does not specify what browsers it works with. As per my tests, at least Internet Explorer, Firefox, Chrome, and Opera are supported.
For some odd reason, you can modify the window size (including maximize it) but you cannot move the window around. This is very annoying.
When minimized, it goes to the system tray as opposed to appearing in the taskbar. This is extremely annoying because once it goes to the system tray, users are highly likely to forget the program is still running. There is no option to change this behavior.
$50 bucks a year (or $80 for life-time) for a cleaner? Really?
Discussion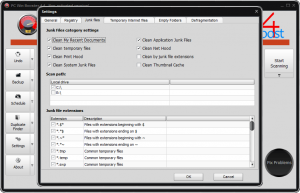 What to say about PC Win Booster. Well, before I do that, let me rant a bit about registry cleaners.
I am not a fan of registry cleaning. I used to be, falling for the marketing ploy of software developers claiming to boost performance by 9234671% by cleaning the registry. However, since my dark ages, I have learned better. By and large, for most people cleaning the registry does diddly squat. You see the registry is a very small part of your computer (comparatively speaking). Even if you have a registry with thousands of orphan entries, the performance impact on your computer won't be very significant because, in total, your registry is only a few hundred MB. I'm not going to claim cleaning the registry will have zero impact; obviously there will be some amount of performance increase if your registry is decreased from, for example, 100 MB to 95 MB due to cleaning it. What I am saying is the performance impact is not very significant and not worth the risk you put yourself at by cleaning the registry.
You see every time you, or a program, touches the registry, there is a risk of something going wrong. If (when) that something goes wrong, it could be a localized instance that doesn't have a big impact on your computer. Or it could completely screw up your computer. It all depends on how badly your registry got screwed. If it is bad enough, you may be forced to restore your computer from backups and/or a full reinstall. (And for those of you thinking: but registry backups help! Guess what? You cannot restore a bloody registry backup if you cannot boot into Windows!) Minimal performance boost is not worth the risk you put your registry in.
That said, using a cleaner program to clean junk files and temporary internet files is a better bet. In fact, I encourage users to have at least one program that cleans temporary internet files (e.g. history, cache, and cookies). A junk file cleaner isn't needed as much but is good to have, although you should keep in mind even a junk file cleaner can screw up your computer if it is badly coded (e.g. delete a system file thinking it is junk). However, that risk of a junk cleaner is much lower than a registry cleaner.
So, them, how does PC Win Booster fare? Not too well in my book.
We all know CCleaner is the standard when it comes to junk/temporary files/privacy and registry cleaning. So whenever I come across a new program in this genre, I always benchmark it with CCleaner. I use CCleaner because I know it is a safe program that has passed the test of time (for the most part). CCleaner may not be the most aggressive cleaner out there, but it provides a good balance between cleaning your computer and putting your computer at risk by overly aggressive cleaning.
I compared PC Win Booster's registry cleaning, temporary internet files (cache, cookies, history, and junk files cleaning ability to that of CCleaner's. While there are slight differences as to what each program specifically looks for (i.e. they both clean many of the same things, but one may clean some more junk file types or registry entry types than the other), I ran both programs at default settings because that is what the average Joe is likely to do. The result? PC Win Booster is extremely aggressive.
While CCleaner found 394 registry errors, PC Win Booster found 7554; while CCleaner found 1.342 GB of junk and temporary internet files, PC Win Booster found 3.353 GB. Now, being more aggressive than CCleaner does not necessarily make you a bad program. If you can safely clean more registry errors and junk/temp files than CCleaner, then more power to you; it is all a question of: is what you found safe to clean? Because of the huge gap between CCleaner and PC Win Booster, I did not want to put my computer at risk and clean with PC Win Booster (plus the trial version which I tested doesn't let you clean anyway, it only scans). However, I did go through and try to see if what PC Win Booster wants to clean is legitimate or not.
I'm not a registry export nor am I a computer programmer, so my level of analysis in terms of being able to understand what is safe to clean and what is not is questionable. However, I noticed PC Win Booster wanting to clean a lot of registry entries related to programs I have currently. In fact, it was particularly aggressive about wanting to clean registry entries related to Citrix, a program I use for remote access. That was enough for me to say "thanks but no thanks — I'll stick with CCleaner". I'm not saying PC Win Booster is unsafe. I'm saying it isn't worth the risk.
CONCLUSION AND DOWNLOAD LINK
In a way, it is a bit unfair to dismiss a program because it is more aggressive than another program. However, I don't know about anyone else but for me to run a program that cleans my computer, I need a feeling of security. I just don't have that feeling of security with PC Win Booster. What I feel with PC Win Booster is that it is a program which is trying to get into an supersaturated niche, and it is trying to make its mark by being very aggressive while, at the same time, not providing that same level of control as the competition.
You are more than welcome to give PC Win Booster a try and hope for the best. As for myself and others willing to listen to my advice, I suggest sticking to CCleaner. CCleaner is an excellent free program that is the industry standard when it comes to cleaning your computer. If you want to venture outside the bounds of CCleaner, there are many other cleaners — and/or all-in-one utilities that do cleaning — that have more of a proven history than PC Win Booster; programs such as Toolwiz Care, Glary Utilities, WinUtilities Free, Advanced SystemCare, and Puran Utilities, all of which are freeware or have freeware versions.
Most, if not all, of those later programs also include disk defragmentation capabilities. If you want a standalone defragger, you can check out UltraDefrag, MyDefrag, Defraggler (from the developers of CCleaner), or, my personal favorite, Auslogics Defrag. All of these defraggers are free.
Price: $50 per year or $80 life-time license

At the time of this writing, Soft4Boost has a 50% off sale going
Version reviewed: v4.4.5.239

Supported OS: Windows XP/Vista/Win7/Win8

Download size: 26.6 MB

VirusTotal malware scan results: 0/46

Is it portable? No

Soft4Boost PC Win Booster homepage
Related Posts