Giveaway of the day for September 12, 2009 is:
Version reviewed:
v3.2.5
System Requirements:
Windows 98/ME/2000/NT/XP/Vista
Software description as per GOTD:
ExtraFTP is an FTP (File Transfer Protocol) client which allows you to transfer files between your local computer and a server on the Internet. With its many basic and advanced Features ExtraFTP also offers secure, reliable and efficient transfers that make it a powerful tool.It is a fast and reliable cross-platform FTP, FTPS and SFTP client with lots of useful features and an intuitive graphical user interface.

Key Features of ExtraFTP:

Supports FTP, FTP over SSL/TLS (FTPS) and SSH File Transfer Protocol (SFTP).
Thumbnail image viewing of directories.
Powerful Site Manager and transfer queue.
Configurable transfer speed limits.
Transfer scheduling (schedule unattended transfers).
Filename filters.
Supports resume and transfer of large files >4GB.
Download acceleration (Multi-part downloads).
Fast multiple threaded connection options.
Network configuration wizard.
Easy to use.
Quick Verdict

Full Review
ExtraFTP is a software that allows users to access and transfer files between their computer to servers via File Transfer Protocol (FTP). If you have never heard of FTP, don't  worry about what it is because you probably don't need to use it (FTP is usually used by webmasters for their websites/servers but can have other unique applications also).
That being said, ExtraFTP is a copy and rebrand of FileZilla (an open source, free FTP client):
ExtraFTP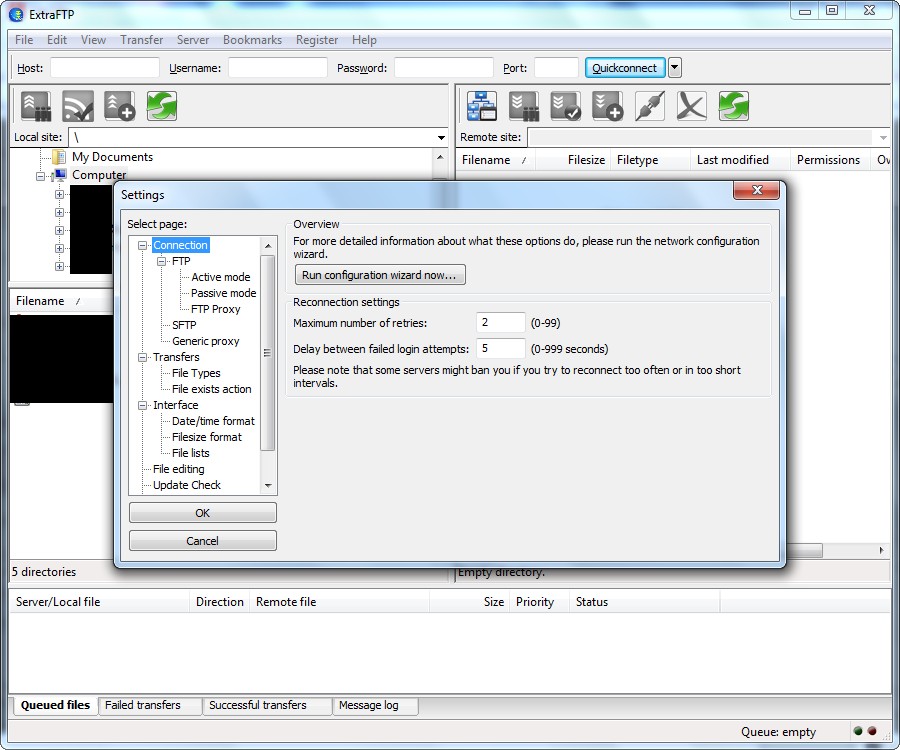 FileZilla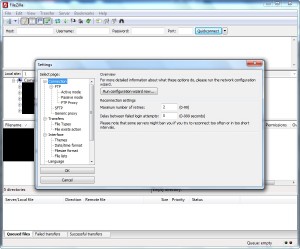 All the Extra Software did was make very minor cosmetic modifications like change and reorganize the buttons on the main program window. In form and function, ExtraFTP is exactly FileZilla. What Extra Software is doing with ExtraFTP is illegal.
Since FileZilla is released under the GNU General Public License it is 100% legal to modify FileZilla, rebrand it, and even sell it (although it is extremely shameful and unethical in my eyes to make minor cosmetic modifications, call it your own program, and try to profit off the hard work of the FileZilla development team). What makes the actions of Extra Software illegal is this: as per GPL terms, if you modify, rebrand, and sell any GPL licensed software, you must follow the terms and conditions set by the GPL license. These terms include, but are not limited to:
A copy of the source code or written instructions about how to get a copy must be included with the software. If the software is able to be downloaded from the internet, the source code must also be available for downloading.
The license of the software can not be changed or removed. It must always use the GPL.
No where on ExtraFTP or ExtraFTP's page on Extra Software's website do I see it mention ExtraFTP is licensed under the GNU General Public License nor do I see any link to download the source code. Bad, bad, bad! :x
Taking all that into consideration, I am going to put my foot down and refuse to review ExtraFTP. This is very distasteful of Extra Software.
Update: Extra Software has now added a small line on ExtraFTP's page on their website saying "ExtraFTP is based on FileZilla, and it is GPL software." This is what it was before they changed it: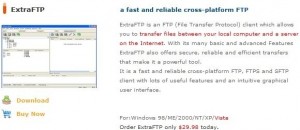 This is what it is now: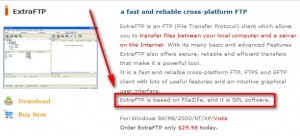 I promise you this was not there when I first called them out on this. I knew they would read all the comments on ExtraFTP and change their homepage so I took the above first screenshot when I first caught this to provide proof. That being said, I still don't see a download of the source code. Still illegal!
This review was conducted on a laptop running Windows 7 Professional 32-bit. The specs of the laptop are as follows: 3GB of RAM, a Radeon HD 2600 512MB graphics card, and an Intel T8300 2.4GHz Core 2 Duo processor.
Final Verdict
What ExtraFTP is doing is illegal and extremely shameful. Thumbs down. If you need a good FTP client, go for the real deal instead of a rip-off; grab FileZilla.
Related Posts