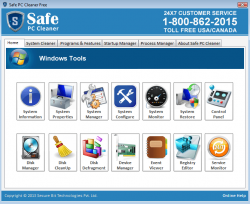 I have used a ton of different PC cleaners and optimizers, and they usually turn out to just be more of the same. Then I came cross Safe PC Cleaner Free. I was interested for a few reasons, but the biggest thing that caught my attention was the word "free". So was it worth the download? Find out in my review below!
WHAT IS IT AND WHAT DOES IT DO
Main Functionality
Safe Cleaner Free is a small computer tool that you can use to clean and optimize your computer's performance. It comes standard with such tools as a Registry Editor, diskCleaner, System Monitor, Disk Manager and even a device manager.
Pros
Comes bundled with a lot of tools
Cons
Program is extremely slow. Even loading a list of installed programs on my computer took too long
Most bundled "tools" are included in other free system cleaners and optimizers
Experienced problems getting the program to uninstall
Pro version available, so the free version doesn't even include all of the features
Discussion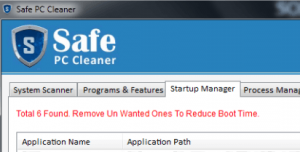 I have used a lot of PC cleaners and optimizers in my time. However, never have I been as underwhelmed as I was with Safe PC Cleaner Free. Once again, this program goes to show you that you don't have to accept something just because it's free. "So why post the review if it was so bad?" you ask. At this point, I am posting the review to hopefully save you from falling into the program's trap, as there are few reviews of this program out there.
So what did I like. Well, that is a short list. It does come bundled with a lot of tools. Not all of them are good, and most of them turn out just to be quick links to tools already on your system. Take the device manager for example. This "tool" is really just a link to your system's device manager. I guess another good thing about this program is the fact that it is free. However, after you use it you will see why.
At this point, I started testing out its tools. I did a scan of my computer. The scan itself took a while and seemed to bog down the rest of my computer. The results it came back with were mostly browser cookies and temporary internet files. You know…things that just about any cleaner can remove. The other tools it includes are what you would expect from any cleaner/optimizer. You have your disk checker, defragmenter, system monitor, registry editor and event viewer.
I have to admit, I did not use all of the tools. After it took so long for the program to populate my installed programs list, I started to get worried. I couldn't imagine asking this program to mess around with my registry or even defragment my computer.
So I was going to leave it there; wasn't even going to review it. However, this is when the program started to get on my bad side. First I went to turn it off so I could uninstall it. I quickly noticed I was unable to turn it off. Even right clicking the program in my task bar simply brought the program to the foreground. I ended up having to turn it off by using my task manger. After closing it, I went to uninstall the program, and you guessed it, I got an error. The program simply refused to uninstall. Then, once it finally worked, it said my computer would have to be rebooted to complete the process. After reboot…guess what…it was still there. In fact, it launched at startup despite the fact that it was not on my "startup list".
I was able to eventually actually remove the program by using Vit Uninstall Manager. I am sure there are other programs that would have gotten rid of it, but Vit worked for me. I then spent some time combing through my registry to find if any trace of the program was left. After a reboot, I can confirm that the program was finally removed from my computer. Who knows, maybe these were problems just seen in the free version. Oh well, because I'm not spending $50 on the professional version to find out.
I don't believe I am the first person to hate this program. Although I could not find many "professional reviews", I did come across a few user reviews. Most people gave it between 1 and 2 starts (out of 5). One person even admitted to having the same problem removing the program that I did, except he ended up with a blue screen.
CONCLUSION AND DOWNLOAD LINK
In short, steer clear of Safe PC Cleaner Free. I cannot promise that you will experience as many problems as I did, but why take the chance? There are better cleaners out there, like Vit, which comes with a cleaner and registry editor, and our much-loved CCleaner. Another good option is Advanced SystemCare.
Price: Free
Version reviewed: 3.0
Supported OS: Windows XP/Vista/7/8
Download size: 25.13MB
VirusTotal malware scan results: 0/44
Is it portable? No
Related Posts