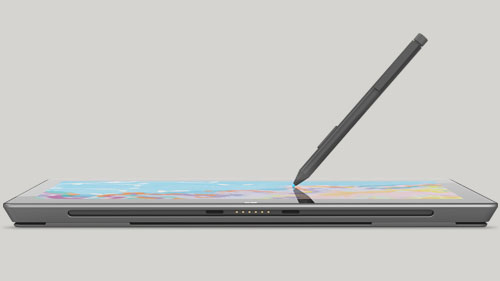 Microsoft's Surface Pro has received its review treatment on the Internet, and there's an underlying theme hidden in a lot of the reviews. If you were consider getting Microsoft's latest tablet/laptop, you might wanna check these out first.
The Verge liked the device's performance and solid 1080p display, but the device itself and all the stuff it's trying to do, paired with its design, become a deal-breaker:
Even a well-executed Surface still doesn't work for me, and I'd bet it doesn't work for most other people either. It's really tough to use on anything but a desk, and the wide, 16:9 aspect ratio pretty severely limits its usefulness as a tablet anyway. It's too big, too fat, and too reliant on its power cable to be a competitive tablet, and it's too immutable to do everything a laptop needs to do. In its quest to be both, the Surface is really neither. It's supposed to be freeing, but it just feels limiting.
Gizmodo on the other hand thinks that if you're a professional, you might want to consider it. This is most likely due to the stylus implementation which was designed by Wacom. Overall, however, Gizmodo thinks that the Surface Pro just isn't the right fit for a lot of people out there:
If it fits your professional needs, you'll at least want to consider it. Same goes if you have enough scratch to take a flyer on a secondary computer (that also happens to represent the future of computing). For anyone else, the Surface Pro probably isn't worth it.

The Surface Pro is ultimately the best answer to questions a lot of people haven't bothered asking yet. That's different from being extraneous—it's more like being the girl who shows up 30 minutes early to every party—but it still means the Pro isn't for everyone. For a lot of you, a thick, superpowered tablet isn't necessary, and a laptop-like (and laptop-priced) machine that makes it harder to bang out emails, IMs, and tweets while on the couch or in bed is nothing you're interested in.
Finally, Engadget thinks that being able to run all the Windows apps is a huge advantage for the Surface Pro, but the device's flaws force them to say the whole idea behind the device just isn't ready. At least not yet.
That it offers compatibility with the massive back-catalog of Windows apps gives this a strong leg up over the earlier Surface RT, but the thickness, heft and battery life are big marks against. We're confident Microsoft will keep refining Windows 8 to make the OS as a whole more seamlessly tablet-friendly, and we look forward to testing the dozens of touch-friendly hybrid and convertible devices due this year, but sadly Microsoft's second tablet doesn't have us reaching for our credit cards. Not quite yet.
So taking into account all of the device's problems like the weight, and the fact that it can't even be properly used on your lap without falling off, the Surface Pro still shines in some other aspects. Featuring a full version of Windows 8, the Surface Pro has access to an arguably unbeatable app ecosystem — the Windows ecosystem. The 1080p display is also praised by many outlets for being clear, crisp, dense with pixels and just fantastic overall. The Wacom-made pressure sensitive stylus will also make it a very tempting proposition for many creative professionals.
All in all, the device has a lot of flaws, but it also has some pretty good things going for it as well. Which makes the prospect of a next-generation Surface very, very exciting.
[via The Verge, Gizmodo, Engadget]
Related Posts