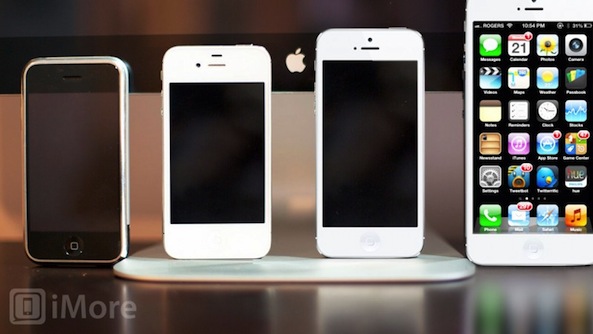 A report from China is claiming that an iPhone 5S and iPhone 6 have been spotted at one of Apple's supplier factories. While the iPhone 5S was reportedly familiar-looking as expected, the iPhone 6 had a nearly 5-inch display. Investor site BrightWire has translated the report from Chinese site Laoyaoba.com:
"A source told Chinese mobile phone information site Laoyaoba.com that he has seen the iPhone 5S and iPhone 6 at Apple's suppliers. Both models may be released in 2013, according to the website's microblog on Thursday evening. The source noted that the iPhone 5S resembles the iPhone 5, and the five-inch iPhone 6 is lighter and thinner."
iDB notes that this would normally be considered just another crazy rumor, but it's actually the fourth report this year that Apple was building an even larger iPhone. Whether we'll see a larger iPhone this year alongside the expected iPhone 5S remains to be seen, but it'll be interesting to how Apple plans to prevent even more fragmentation in their devices by introducing another screen size just after introducing the 4-inch display with the iPhone 5.
Is Apple going the Samsung route with the bigger is better motto? We might not know for awhile, as this device could easily be planned for next year, or maybe even not released at all.
[via iDB, BrightWire, MacRumors, image via iMore]
Related Posts