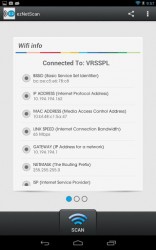 ezNetScan is an application that will scan wireless networks and report back a variety of potentially useful pieces of information. This application is great for network administrators who need to constantly keep tabs on their networks and have reliable information to work with. This application is also great for those who are simply curious about what is going on with their personal networks and need a way to find out the information while on their mobile device.
What is it and what does it do
Main Functionality
This application is simply designed to scan your networks and give you reliable and useful information to aid you in your workflow and maintenance. It so without providing a fancy interface or too many unnecessary features so you can use the application strictly for business, without any distractions.
Pros
Displays list of connected devices
Assign specific icons to devices
Add notes and tag names to devices
Networking management tools
Email list of scanned devices
Cons
Does not list device model
Unattractive interface
Discussion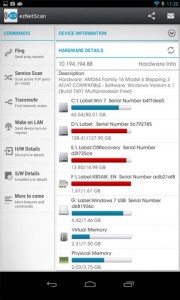 ezNetScan is an application that makes finding out vital information about your network much easier to accomplish on your Android device. It will scan your network and specifically tell you which devices are currently connected to it. This can be useful for a number of reasons, especially if you are a network administrator. Once you have the list, you can begin to customize the devices so they are easier to recognize. You can add a custom icon, add a tag name, or simple notes to any device that is connected. This will make the device easier to identify in the future, especially helpful if the device has raised any concerns. This list of devices can then be emailed to yourself or any other worthy person for documentation purposes.
The application also provides you with a generous amount of tools that can be used during network monitoring and management. For starters, you will be able to ping and service scan any of the devices, which is incredibly useful when gathering data. You also get Traceroute, Wake on LAN, and DNS lookup right on your device so you can easily take care of essential administration tasks. You will also be able to see the NetBios name and information on the TCP service. On top of all that, you will be able to see standard information such as IP Address, MAC address, and manufacturer name.
While this is a fantastic service for people who need concrete information about their network on the go, there are a couple downfalls. The only aspect of the application's functionality that falls short is that you cannot see the device model or the device name, only the manufacturer's name. While it isn't a huge deal as you can set a custom name tag, it just slightly takes away from the overall convenience of the application. Additionally, the interface is unattractive throughout. While this is good in some ways as it doesn't provide any distractions, it just makes the overall experience slightly less enjoyable.
Conclusion and download link
Generally speaking, this application functions almost flawlessly. As a result this could be a fantastic tool and a real life saver for busy network administrators. However, due to the "all business" interface, people who do not manage networks but rather just want basic information about his or her connection will probably look elsewhere. Nevertheless, the capabilities that this application puts on a smartphone is amazing seeing as most network administrators have to use a desktop in order to enjoy these features.
Price: Free
Version reviewed: 2.1.3
Requires: Android 2.2 and up
Download size: 2mb
Related Posts