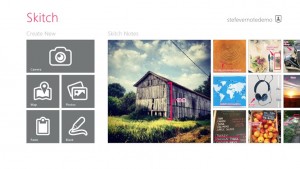 The best part about Windows 8 definitely has to be the touch interface. And though Metro UI helps many apps use this, we see very less apps actually made for this aspect. Skitch as the developers say, a free app designed to take advantage of Microsoft touch interface. Skitch Touch is a communication tool used to share your message visually with your friends and colleagues. You can edit images with arrows, shapes, text, and more.
What is it and what does it do
Main Functionality
Skitch Touch is a free tool for communicating visually (via images) with friends, co-workers, and the world.
Pros
Allows you to edit images with various in built options
Snap photos using webcam and working on it
Save to your Evernote account to remember everything
No-frills interface
Share your work with any application that accepts images
Good integration with Charms bar
Cons
No option to increase or decrease the size of canvas
More colors
Needs more options for Maps
Discussion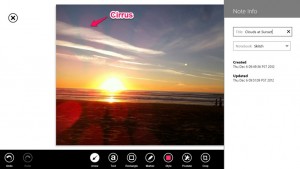 Skitch Touch is a really handy productivity app. With the advent of smartphones and fast internet connection. And this makes visual communication a very popular tool. And Skitch Touch comes in here for us Windows 8 users. This is the best app right now in the app store for this type of communication.
To begin with, the interface is bare bones and no frills. But this doesn't have to mean it is bad thing. The interface is simple and gets the job done. There are many options for editing the the photos from your library. You can create lines and scribbles to express ideas. You also can annotate maps, webpages, and screenshots. You can also pixelate and there are many other advanced options to satisfy your needs.
You also can take snap shots from your webcam and start editing them. There is also an option to save and sync all your edited images with Evernote so that you won't miss anything. Also there is the option to share your images via charms bar to any application that accepts images. Also you can search the app via Charms bar. Also the app supports more than 10 international languages like Chinese, Thai, Swedish, Polish, etc.
But during the usage of app, I found a few things lacking in the app. There was no option to resize the size of canvas. For images cropped and they are resized back to big size decreasing clarity. There was also a genuine need for more colors in the app. The amount of colors in the app available at default is seriously low. Also by default, the maps feature was lackluster. The built in maps weren't good and accurate, and options to view other views of the map and etc, would useful.
Conclusion and download link
In conclusion, this app is great if you really have a need for this kind of an app. This app is the best in its class in the app store and does a great job in editing and sharing the images. The app does a really great job if you have touch input. A definite must for Windows RT users. The app does have its share of cons though. But the developers are pretty active and release new updates often patching bugs and adding new features to it. I think you should download this app and definitely give it a try.
Price: Free
Supported OS: Windows 8, Windows RT
Supported architectures: x86, x64, ARM
Related Posts