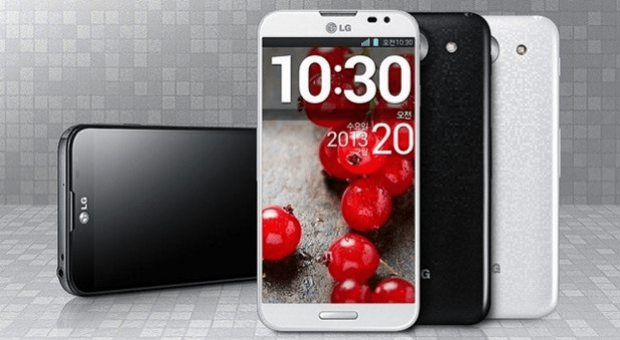 LG has announced their oft-rumored Optimus G Pro along with its new and not-so-new specs. The device has a 5.5-inch 1080p display, and LG notes that they used a curved glass on the phone to give a sort of "2.5D" effect. Its CPU is the new Snapdragon 600 running at 1.7Ghz that was announced during CES.
Other specs include the typical 2GB of RAM, LTE capability, 32GB of internal storage expandable with a microSD card and 13-megapixel camera. A new software addition is a dual record function, allowing you to use both cameras simultaneously.
But perhaps more interestingly, is the look of the device. Switch that 'LG' logo out for another South Korean company that starts with an S and you've got a whole other device. While the rear of the device is actually similar to the Nexus 4 which was designed by LG, the front of the device is just… sigh. Or maybe I should say "karma".
Hopefully the folks at Cupertino don't hear about this one, or LG could find themselves in the courtroom alongside Samsung!
Related Posts