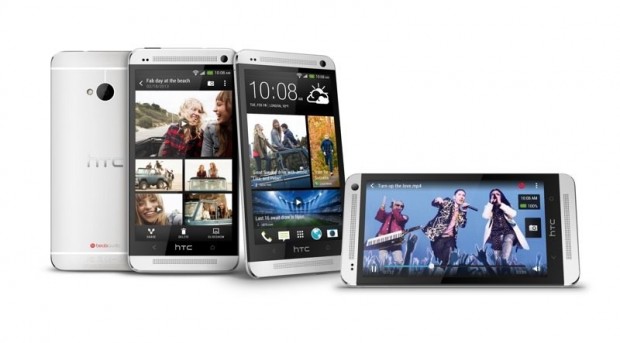 After all the rumors and leaks, HTC has officially announced their latest flagship phone, the HTC One. The phone features a 4.7-inch 1080p screen at 468ppi, making it one of the highest — if not the highest — pixel density in the smartphone market (for now anyway). Other specs include a quad-core Snapdragon 600 running at 1.7GHz, 2GB of RAM, LTE connectivity, GPS, Bluetooth, NFC, and even WiFi 802.11ac.
Despite those being some pretty awesome specs, it's still the usual spec-bump that we've come to expect. HTC hopes to different this handset through a couple of things, the first of which is the camera. If you remember, HTC teased a "new sound and camera experience for 2013." Turns out the camera experience that they were talking about is the 'UltraPixel' camera. The HTC One's camera has a custom-made sensor that can take in more light than the usual 8-megapixel camera, which will significantly boost low-light performance. The drawback, however, is photos on the device are limited to 4 megapixels in size. The camera also has optical image stabilization and an HDR video mode.
The new sound experience on the other hand is what HTC is calling the "HTC BoomSound." The phone has two stereo speakers on its front, with the largest sound chambers on a phone ever. It also features the HTC-norm Beats Audio integration and dual microphones for HDR audio recordings. Another neat little trick is the phone's power button — it also works as an IR emitter, allowing it to be used a TV remote.
Top that all off with the latest version of HTC's Android skin, Sense 5, which is making its debut with the device. Notably, it also lacks a microSD slot. Luckily for demanding users in the Asia-Pacific region, a 64GB version will be made available at a later date.
HTC is aiming for a global late-March release, and they have already signed up a total of 185 carriers. This includes US carriers of T-Mobile, Sprint, and AT&T.
So, what do you think? Is this your next phone? Let us know in the comments!
Related Posts