Just as with digital photos, audio and video files have become an integral part of our everyday lives. However, our audio and video files are not always in a desirable format and we may come across formats that are not supported by all our devices (phone, tablet, etc.). Luckily we have access to free audio/video converters like the ones reviewed in this article! These programs allow us to change format, quality, resolution, and several other parameters as we desire; they help to virtually eliminate the problem of unsupported formats on different devices.
Keep reading to learn which of these converters if worth your time and effort.
This review is part of our Best Free Windows Software section. Check out more articles on the best free Windows programs from here.
Before We Begin
When it comes to audio/video converting, there are six very important characteristics: supported input formats, supported output formats, support for electronic devices, conversion quality, conversion speed, and batch processing support.
Of all the programs featured in this article, all of these programs support a great deal of input/output file formats… to the point where it is not really worth comparing them based on it (since they all do well in that area). All of them also support a wide variety of presets for devices such as mobile phones and gaming systems, plus have excellent conversion quality and speed and support batch processing. So neither of these factors are what we used to differentiate the programs.
We of course tested each program but instead of looking at the above-mentioned parameters (since they all do well in those areas), we looked at things such as usability and features beyond conversion (e.g. basic editing features) to differentiate the programs.
All testing was performed on an Acer Aspire 5315 with a T7500 2.2GHZ Core2Duo processor and 2GB DDR2 RAM running Windows 7 Ultimate 32-bit. These are quite humble specs, so unless you have an extremely old computer, you should have no issue running all of the programs mentioned below; if I can run it, you probably can too.
With all that being said, here are the best free audio/video converters for Windows.
Table of Contents [Video to Video Converter vs AVC Any Video Converter vs Format Factory vs Freemake Video Converter vs iWisoft Free Video Converter]

Best Free Video and Audio Converter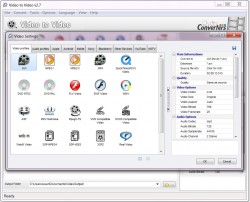 Program Name: Video to Video Converter
Developer:  Media Converters
Download Size: 28.4MB
Version Reviewed: 2.9.1.14
Requires: Windows XP/Vista/7
Pros
Supports a large number of input and output audio and video formats

Supports both HD and SD videos

Supports a large number of electronic devices (supports hundreds of devices, including iDevices, Android, BlackBerry, gaming devices, and more)
Has the ability to save customized output settings as a profile which you can easily re-use later
Has a unique 'Direct Stream Copy' feature that allows you to change the container/format of a video (e.g. go from MP4 to WMV) without re-encoding

Note: When you use 'Direct Stream Copy' you will be able to change file format but it won't change the underlying codec and you won't be able to change output settings such as resolution, bitrate, etc. — you can only change frame rate

Supports batch processing

When batch processing, you can manually customize output settings for each input file including change the output format

Allows full customization of output settings, e.g. you can manually input a custom video resolution, change bitrate, change frame rate, change codec, change volume level, etc.
Has basic video editing capabilities: add watermark, add subtitles, deinterlace, crop, pad, rotate, flip, modify brightness, modify contrast, modify hue, modify saturation, add filters (sharpen, denoise, noise, fade in, invert, deshake, kernel deinterlacer, delogo),
Has more than just video and audio converting capabilities: DVD ripper (disc, folder, image), video joiner, video splitter, audio joiner, DVD burner, audio and video mux, video to images converter, video to thumbnail converter, images to video converter, and commercial remover
Can split/join videos without re-encoding (if you use 'Direct Stream Copy')

Note: When joining videos with 'Direct Stream Copy', make sure the input formats are the same otherwise the output video may be bugged. Program does not warn you of this.

Supports the ability to keep original video resolution for output files
Can take snapshots of videos
Can automatically shut down computer after conversion
Has ability to control program CPU priority level, which helps prevent excessive CPU consumption if you plan on using your computer while you convert files
Performs very well — is fast and has great conversion quality
Has a portable version
Cons
No 2-pass encode option
Unclear if GPU (NVIDIA/AMD/DirectX) acceleration is supported. It doesn't look like it is.
DVD ripper does not bypass DRM protection
Basic video editing features are a bit hidden; you need to scroll down to the Advanced section when selecting an output profile in the Video Settings screen to access them
Support for electronic devices is very extensive. However, the list is not always up-to-date. For example, has a profile for Galaxy S II but not Galaxy S III. This does not mean you cannot use Video to Video Converter for the latest gadgets; this just means you may have to manually configure output settings for some of your gadgets. The good thing is you can save customized output settings (e.g. you create a custom profile for Galaxy S III) and easily reuse it whenever you want.
When you minimize, it minimizes itself to system tray as opposed to taskbar (meaning you can forget you have it running). There is no way to change this behavior.
Discussion
Video to Video Converter is an excellent free program that takes care of all of your video and audio converting needs. The program has a number of different uses, be it converting a video or an audio file to another format, joining or splitting video files, or ripping or burning DVDs. The converter also supports dozens of output formats and can be used to convert videos into a number of popular formats including AVI, MPEG4, XVID, MPEG2, MOV, MKV, FLV, SWF, 3GP, GIFF, DIV, MP3, etc. The following is a full list of supported input formats followedd by a full list of supported output formats: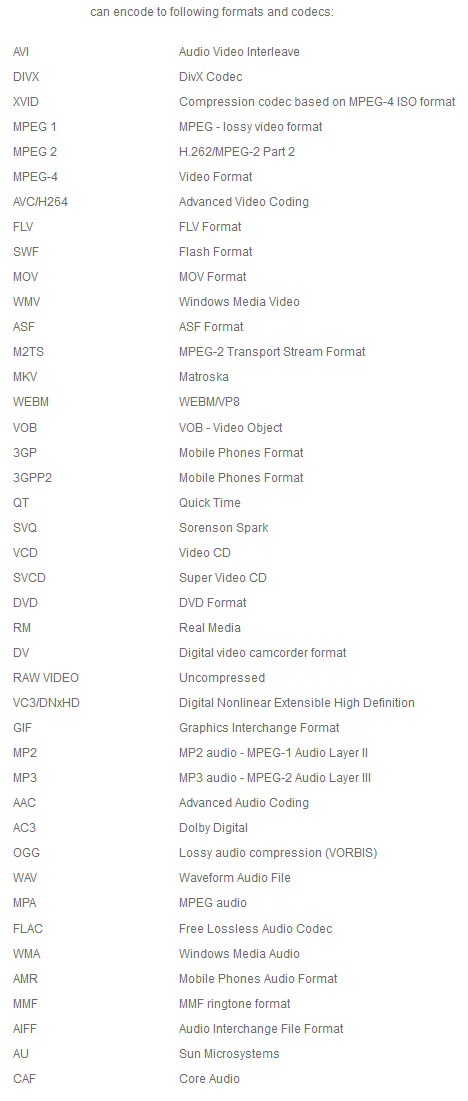 The interface of the program is fairly easy to understand. Once you add the video that you need to convert, the Video Settings screen immediately pops up. Here you can select from a huge number of output presets, including the ability to convert the video so that it is compatible with Apple iDevices or a number of Android phones available in the market. You can even convert the video so that it can be loaded onto YouTube. Although the name of the screen is Video Settings, you can actually select audio outputs from here, too.
While inexperienced users can simply select their required format and go on for the conversion process, more experienced users can tinker with the output profile, including increase or decrease the audio volume, change the video codec, size, bitrate, and framerate, add subtitles, and much more.
Just in terms of audio and video converting Video to Video Converter is an absolutely great program. However, what makes it even better is the fact that is has more than just video/audio converting tools (see 'Pros' list above) and it has a portable version. Yes, you hard that right — Video to Video Converter has a portable version, meaning Video to Video Converter need not be installed.
The advantages of having a portable version are obviously that you can take it with you on-the-go on a USB flash drive or similar portable media, making it easy to convert files regardless of which computer you are on. Potentially more importantly, however, you don't have to deal with the bundled crapware that comes with most freeware converters (all the remaining programs discussing in this article have crapware bundled during installation).
Overall, Video to Video Converter is an excellent program which is easy to use and comes with a huge number of input and output formats. Inclusion of tools beyond video and audio converting gives this a plus over rival programs and the fact that it is portable simply wins my heart.
Runner Up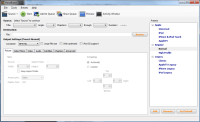 Program Name: AVC Any Video Converter
NOTE: AVC Any Video Converter comes with bloatware during installation. Keep your eyes open while installing.
Developer: Anvsoft Inc.
Download Size: 35.4MB
Version Reviewed: 5.0.3
Requires: Windows 9x/Me/NT/2000/XP/2003/Vista/7
Discussion
Any Video Converter is quite a helpful program and supports a plethora of file formats and all for free!
Any Video Converter is relatively simple to use and allows users to quickly navigate to the features they want. The lack of clutter is welcome.
The list of supported file formats and devices is extensive: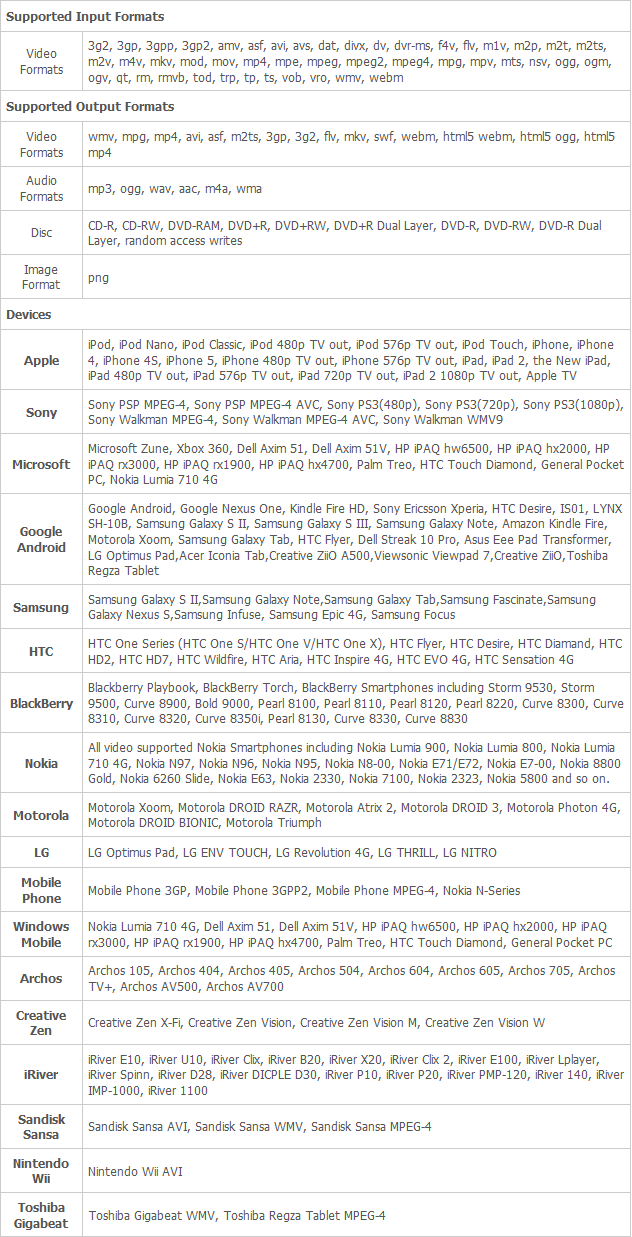 As you can see, all the popular .AVI, .WMV, .ASF, .DVR-MS, .MS-DVR, .MOV, .MP4, .3GP, .3G2, .M4V, .QT, .RM, .RMVB, .FLV, .MKV, .AVS, .M2TS, .MPG, .VOB, .DV, .M1V, .M2V, .DAT, .AMV, .MP4, .MPG, .WMV, .FLV, .AVI, .WAV, .MPEG-1 and .MPEG-2, and .MP3 formats are supported. Any Video Converter also comes with several preset device profiles such as those for Apple iDevices, Android Phones, the Microsoft Zune, the XBOX 360, and the Sony PS3 but do note the support for electronic devices is not always up-to-date, just like with Video to Video Converter. For example, no support for Galaxy S III (again).
Any Video Converter gives you the option of fully controlling output settings, plus has basic video editing capabilities (trim, crop, rotate, watermark, subtitles, adjust brightness/contrast/saturation, add effects, etc.). It can also join videos, can download online video from YouTube, and has the ability to include only a selected part of a file when carrying out a conversion. There is also a 'Play Video' option which can be used to preview videos before carrying out a conversion.
Interestingly enough, Any Video Converter supports NVIDIA CUDA GPU acceleration but provides no information if AMD/DirectX acceleration is supported.
I have not had any significant issues with Any Video Converter and it has served me well thus far. The major reason this program was not selected as number one is that it isn't portable and comes bundled with AVG Toolbar plus tries to hijack your homepage. Overall, though, Any Video Converter is a simple and effective audio/video converter and you can rely on it to complete fast and decent quality conversions.
Honorable Mention 1
Program Name: Format Factory
NOTE: Format Factory comes with bloatware during installation. Keep your eyes open while installing.
Developer: Format Factory International Inc.
Download Size: 50.9MB
Version Reviewed: 3.00
Requires: Windows
Discussion
Format Factory is a converter that allows you to convert audio, video, and image files. It offers users a comprehensive set of options while converting et still making the entire process relatively simple.
All of the conversion options for Format Factory are grouped under the following categories:
Video
Audio
Picture
ROM Device\DVD\ISO
Advanced
The number of input formats supported by Format Factory is honestly too long to list here. Just trust me when I say pretty much all video/audio file formats are supported as input.
The options found under the video category allow for converting to the following formats:
Mobile Device Compatible: .MP4, .AVI, .3GP, .AVC, Android, Apple, Sony PSP, Sony PS3, Microsoft and Nokia formats (take note that Android, Apple, Sony PSP, Sony PS3, Microsoft and Nokia formats are variants of previously mentioned formats and they aren't always up-to-date)
.MP4, .AVI, .3GP, .RMVB, .GIF, .WMV, .MKV, .MPG, .VOB, .MOV, .FLV, .SWF
The audio category allows for conversion to the following formats:
.MP3, .WMA, .FLAC, .AAC, .MMF, .AMR, .M4A, .M4R, .OGG, .MP2, .WAV, .WavPack
The picture category allows for conversion to the following formats:
.JPG, .PNG, .ICO, .BMP, .GIF, .TIF, .PCX, .TGA
The ROM Device options allow for the following options:
Convert DVD video to a video file
Convert the tracks on an audio CD to audio files
Convert the contents of a DVD/CD to an ISO/CSO image
Convert an ISO image to a CSO image and vice versa
The following are available under the advanced category:
Video Joiner
Audio Joiner
Mux Tool (this allows for the combining of a video track along with one or more audio tracks)
Media File Info (displays detailed information about any audio or video file)
Format Factory also allows for the tweaking of how the program operates. Like the previously mentioned programs, users can extensively modify the output file settings. Users can modify how video files are encoded as well as the bit rate, number of frames per second and aspect ratio for video files plus more. Subtitles and watermarks can also be added and videos can even be rotated, reflected, or even deinterlaced. With audio files the sample rate and bitrate can be modified and the number of audio channels can be selected. Users can even adjust volume levels from within the program itself.
One of the issues I had with this programs was the constant vigilance I had to keep for crapware during installation. If I wasn't careful, who knows what unwanted toolbars I would have right now. Indeed while Video to Video Converter includes no crapware and Any Video Converter includes AVG Toolbar, Format Factory goes overboard when it comes to bundled crapware. This is actually the main reason why Format Factory is #3 on our list instead of higher.
However, overall, Format Factory is a great converter.
Honorable Mention 2
Program Name: Freemake Video Converter
Developer: Ellora Assets Corporation
Download Size: 25MB
Version Reviewed: 3.2.1.5
Requires: Windows XP/Vista/7
Discussion
On opening Freemake, the first thing that will catch your attention is its gorgeous interface. The program is very well organized with icons corresponding to almost every conversion option you can think of.
Freemake offers users 5 conversion categories. These are:
Video
Audio
DVD
Photo
Paste URL
Freemake supports a large amount if input formats: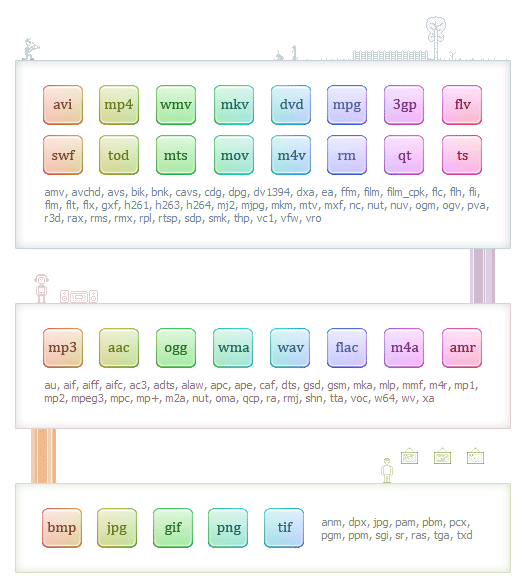 There are several output formats which users can choose to output their video/audio files as. These are .AVI, .WMV, .MPEG, .MP4, .MP3, .3GP, .MKV, .FLV, .SWF, .HTML5.  There are also device specific options for conversion. The devices supported are as follows: Apple devices, Sony devices (PSP and PS3), Xbox, Samsung devices, Android devices, Nokia, and Blackberry Devices; out of all the programs featured so far, Freemake Video Converter probably has the most up-to-date support for electronic devices.
Video files can also be output to DVD format via burning or to a YouTube friendly format. Users can also paste URLs from a variety of websites in order to download online videos; over 10,000 online video websites are supported, including YouTube and Vimeo. This is quite the handy feature and saves persons the time of having to search for an additional program to carry out this task. There is also a 'join files' which allows users to join smaller files into a single larger file whenever necessary, plus the ability to burn DVDs and Blu-rays.
All output files can be customized to fit your needs. NVIDIA CUDA and Microsoft DXVA GPU acceleration is supported.
One of the other outstanding features of Freemake is the level of support offered on its site with several how-to videos available there.
I did not encounter any major problems with Freemake and the beauty of this program is that it incorporates a wide range of advanced features into a simple package — especially that video downloader. However, Freemake is a bit frisky on output format support compared to the other programs reviewed; either I missed it or formats such as .RMVB and .VOB are not available for output.
Aside from that, the major issue with Freemake is it comes with a whole boatload of crapware — even more than Format Factory. Be careful while installing this.
That said, if you need to convert a video or audio file and don't like any of the previously mentioned programs, Freemake Video Converter is a good option. Just watch out for the crapware.
Honorable Mention 3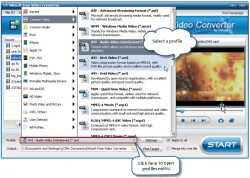 Program Name: iWisoft Free Video Converter
Developer: iWisoft Inc.
Download Size: 8.7MB
Version Reviewed: 1.2.0
Requires: Windows NT/98/Me/2000/XP/2003/Vista/Server 2008/7
Discussion
iWisoft Free Video Converter is yet another excellent video converter and, in my opinion, probably the easiest to use out of the whole lot here — and that is saying a lot because the others are easy to use, too.
Like all the previously mentioned programs, iWisoft supports a large number of input formats, output formats, and electronic devices:

Aside from video/audio converting, iWisoft has basic editing capabilities (crop video; trim audio or video; adjust gamma, brightness, contrast, and saturation; add gray, emboss, negative, or old film effects; and add watermark), can join videos, and can take snapshots of videos.
Indeed when it first came out, iWisoft was one of the best, if not the best video/audio converters out there. The issue, however, is iWisoft hasn't been updated in a really long time (over two years). It is still a very good video/audio converter that still works today but it not being updated means its support for electronic devices is woefully out-of-date (much worse than the other programs on this list) and it doesn't support modern conversion technologies like GPU acceleration.
Another issue is the program displays an extremely annoying nag screen urging users to upgrade to the paid version every single time a conversion is completed.
Overall, however, this program is very capable and cannot be ignored as an effective solution for audio/video conversion.
Other Alternatives
Related Posts