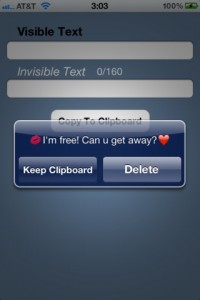 Maybe you've watched one too many Bond movies and fancy yourself a bit of a secret agent. Maybe you have a kid sister or a little cousin who is interested in cryptography. Maybe you're dating someone, but want to keep your relationship on the down-low for whatever reason. Whatever your motivations, there are plenty of people out there who want to send secret messages to people. And we all know that hiding something in plain sight is the best way to get people to overlook your hush-hush plans. For all of you readers who want a secretive message tool, there's Invisible Text, and iOS developed by Edward Akkashian.
What is it and what does it do
Main Functionality
Invisible Text allows users to send inoncuous-looking text messages to others. Beneath that innocent text, however, there is an encoded secret message from the sender. This app can be used to send secret love notes or arrange any other secret communication.
Clever way to send secret messages to friends or romantic partners
Great for hiding texts from snooping parents, siblings, or roommates
Simple design
Users that you send messages to can see the hidden messages for free in the Invisible Text app
Cons
Only has language support for English and Spanish users (but you can send any language in the actual text)
The app only lets you send "secret" messages of up to 10 characters. Want to send a longer message? Then you need to pay 99 cents for an in-app upgrade
The icon for the app clearly says "Invisible Text" and has a heart on it. Not exactly the most "secretive" icon to have on your phone
There doesn't appear to be any way to passcode lock the app
You must be using iMessage (blue send button), not regular texting (green send button) for this to work
Discussion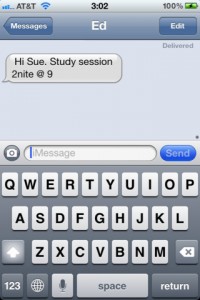 Actually using Invisible Text is pretty simple. To send a message, enter the text for both your "decoy" message and your secret message, tap the "Copy to Clipboard" button, paste into the Messages app on your iPhone and hit send.
To View a message that was sent to you that you think may contain Invisible Text's hidden messages, copy the message and then open the Invisible Text app. The hidden message, if any, will show up automatically. Tap "Delete" if you want to make sure the invisible message doesn't show next time "Invisible Text" is opened or tap "Keep" if you want it to keep it around.
But while Invisible Text definitely has ease of usability going for it, it's not super great from a secrets standpoint. For one thing, the app icon is pretty obviously indicating that the app is to be used for nefarious romantic purposes. The app icon gives away your secrets if anyone goes snooping on your phone, and it would be nice if the app could be passcode locked.
Conclusion and download link
While it may not be perfect, Invisible Text works well as a secret message app. It's probably just not good for people without passcode locked phones, or significant others/housemates that are nosy. At least it takes up virtually no room on your phone.
Price: Free
Version reviewed: 1.0.2
Requires iPhone/iPad/iPod Touch, iOS version 5.1 or later
Download size: 0.1 MB
Invisible Text on Apple App Store
Related Posts