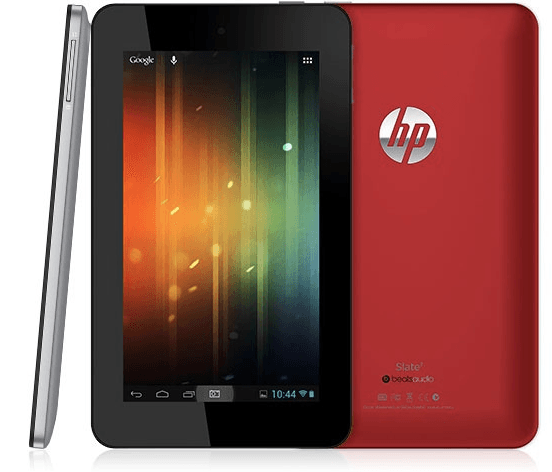 In 2010 HP bought Palm to try to make a push into the mobile market with Palm OS. That all came to an abrupt stop when HP decided to discontinue Palm OS devices. (Why they decided that, I will never know.) Now, however, HP is looking to get back in the fray with its Android-based Slate7 tablet.
Slated to go on sale in April (pun intended), Slate7 sports 7-inch 1024 x 600 display, dual-core Cortex A9 1.6GHz processor, 1GB RAM, 8GB internal storage (with support for microSD card), WiFi 802.11 b/g/n, Bluetooth 2.1, front-facing VGA camera, and back-facing 3-mp camera. Plus it has Beats Audio, support for HP ePrint, and runs on stock Android 4.1. Yes, that is vanilla Android — nothing skinned by HP, just Android 4.1 in its purest form — that supports Google Play Store.
The Slate7 will set you back $169 (plus sales tax) which puts it $30 shy of rival 7-inch tablets Amazon Kindle Fire HD and Nexus 7. Personally speaking, for only $30 more I feel you can get a superior tablet in Nexus 7 but Nexus 7 does not support microSD expansion. So, yeah. Take your pick.
[via The Verge, ComputerWorld]
Related Posts