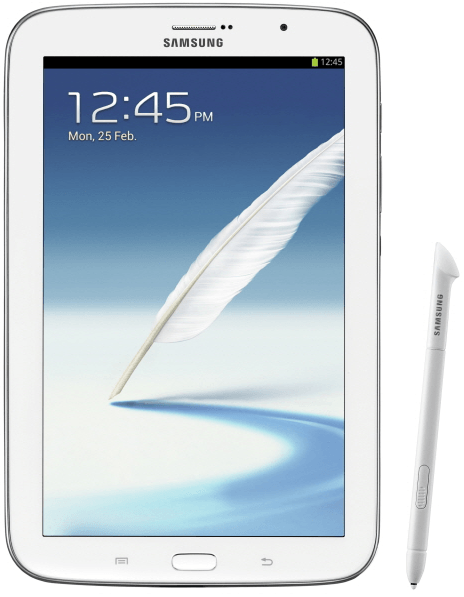 After all the leaks and rumors, Samsung has finally officially shown off its latest addition to the Galaxy family: the Galaxy Note 8.0. The Note 8.0 slides right in nicely with Samsung's current lineup, coming in between the smaller Galaxy Note II (5.5-inch) and the larger Galaxy Note 10.1 tablet.
The Note 8.0's specs are definitely not going to drop any jaws, but it comes off as a very solid mid-range device in terms of power. The screen is an 8-inch 1280 x 800 TFT display at 189 ppi, and powering the device is Samsung's Exynos 4 quad-core processor at 1.6GHz and 2GB of RAM. It has a 5-megapixel camera on the back and a 1.3-megapixel camera on its front, as well radios for the usual Wi-Fi 802.11 a/b/g/n and A-GPS plus GLONASS. For those looking for LTE, this device is currently an HSPA-only but an LTE variant and WiFi only model are said to be in works.
One upside (or downside) of its current 3G-only state is the Note 8.0 is not only a global device, but it's also capable of becoming your very large 8-inch phone. You'll notice on the image above that the device comes with the earpiece and mic to make this dream (or nightmare) possible. Whether or not you want to use it as a phone (please don't), it's there.
Software-wise, you'll see a lot of features from previous Galaxy devices such as the S III and Note II make an appearance here, like Smart Stay and Popup video. Samsung also packaged S Pen-optimized versions of Flipboard and Awesome Note with the Note 8.0, the latter of which is a 1 year exclusive on Android devices.
The price and availability of Galaxy Note 8.0 is unknown at this time but rumors have it the Note 8.0 will be available in parts of Asia and Europe but not the other side of the Atlantic. It will likely be priced to compete with iPad mini.
What do you think of Samsung's latest Galaxy device? Love it or hate it? Remember, something bigger (not in terms of screen size) is on the way.
Related Posts