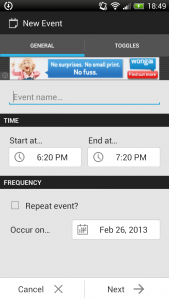 I'm sure everyone has been in a situation like this before. You're in an exam, at a meeting, or just doing something which needs your undivided attention… when suddenly your phone starts ringing and completely disrupts the atmosphere, leaving you embarrassed, and your colleagues/classmates disgruntled. Well, never again if Epsilon Labs have anything to do with it, as they've recently released Silence for Android, which seeks to rid users of such moments for good.
What is it and what does it do
Main Functionality
The aptly-named Silence app basically allows users to set specific times for specific days for when they would like their phone or tablet to be, well, silent. Silence automatically triggers silent mode during the times you specify, so you don't have to worry about doing it.
In addition, aside from simply triggering silent mode on/off, through the use of the 'Toggles' section you can set the sound settings for your ringer, media, and alarm to be changed automatically as well have your Bluetooth, Wi-Fi, mobile data, and airplane mode switched on or off automatically. Whatever you modify via 'Toggles' is automatically applied at the same time as when your device is put into silent mode.
Pros
No need to interact with device to turn on silent mode — Silence automatically enables silent mode based on the times you set (known as 'events')
Settings automatically turn back to what they were prior to silent mode being enabled, when the event timer ends
Ability to repeat events easily
Can add as many events as you want
Can import event timing based on your calendar (Android 4.0+ only)
Has 'Toggles' for additional functionality
'Holo'-themed design
Cons
Free version is ad-supported (you can purchase the Unlocker to remove ads)
Having to create separate events for different calendar can be time consuming, if you don't have an Android 4.0+ device
Does not have the ability to selectively filter calls or texts by contact. In other words, you cannot set it so certain contact's calls or messages play a sound (i.e. not silenced).
Discussion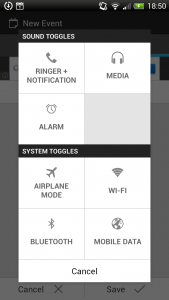 When I first came across this app I thought "Finally!". Indeed, although there are several similar apps floating around the Google Play Store, this is the first time I've downloaded any "silent-mode" type app,and it does not disappoint.
Loading up the app for the first time you're given the choice to add a new event. Afterwards, you can create a new event from scratch or to use an existing calendar event (Android 4.0+ only for calendar import). And from there are various options to customise your event — namely the ability to select the date and time you want silent mode to be activated quickly plus the ability to chose if you would like the event to reoccur (once or on specific days of the week).
The app interface is very simple and easy to use, which should be expected for such an app but is still not commonplace in Android app design. Plus this app uses 'Holo' them designs, which is a welcome pro.
Creating my first event from scratch brought about no problems, as I was able to choose the date as well as start and finish time quickly. Which then brought me to the impressive 'Toggles' section which allows you to adjust the sound settings for your ringer + notifications (vibrate included), media, and alarm, as well as the option to turn on/off airplane mode, Wi-Fi, Bluetooth, and mobile data. All these settings are immediately activated when the scheduled event begins, and will revert back to normal settings once the event is over.
Another good feature is that when you're creating an event from scratch you're able to choose whichever days you want to repeat the event as well as the date you want the repeats to last until. However, it is unfortunate that at this point you cannot do this for your existing calendar events if you don't have an Android 4.0+ device, and if you do want to add your settings to already existing calendar events you will have to manually create a separate event for each one which is time consuming.
Conclusion and download link
In conclusion, this app works better than I expected it to — so much so that I will definitely be using this regularly. The best part is Epslion Labs ( the developer) promises to add more features in the future such as calender import for devices lower than Android 4.0 and the ability to "whitelist" specific contacts, so their calls will always get through. So, for those of you who are plagued by calls, notification, and things like that at inappropriate times, I recommend that you download Silence immediately.
Price: Free
Version reviewed: 2.0.5
Requires: Android 2.1 and up
Download size: 977kb
Related Posts